News
Battle of the Bulb-Outs
Milpas Street Showdown Looms Before Council
In the world of local politics, the modest bulb-out has emerged as an unlikely, if potent, dividing line. Like school prayer, gun control, or abortion, there's no middle ground where bulb-outs—otherwise known as curb extensions—are concerned. With a new, and much more evenly split, city council, bulb-out critics wasted little time finding a test case on which to flex their newfound political muscle. Leading the charge is Jim Westby, the quietly influential political strategist behind Santa Barbara SAFE Streets. Westby also played a key role in the unsuccessful mayoral campaign of Councilmember Dale Francisco and in the successful campaigns of new councilmembers Frank Hotchkiss and Michael Self.
This Monday, Westby hosted a press conference— along with Eyeglass Factory owner Rick Feldman —to verbally eviscerate plans to install a bulb-out by the intersection of Milpas and De la Guerra streets. In general, they claim that bulb-outs are unproven, social engineering experiments that do more harm than good. More specifically, they claim this particular bulb-out is a solution desperately in search of a problem to fix. With crosswalks and a stop light already in place, they argued, this intersection is already perfectly safe. They objected that the proposed bulb-out, which would extend six feet out into Milpas and De la Guerra streets, would place bicycle riders and pedestrians in greater jeopardy by putting them closer to the path of oncoming traffic. In addition, they argued that buses, trucks, and fire engines would be hard pressed to navigate the newly engineered intersection, already a dicey affair for big rigs. The only way this can work, they maintained, would be by removing the right-hand turn lane on De la Guerra; and the loss of this lane, they argued, would cause long lines of frustrated rush-hour motorists.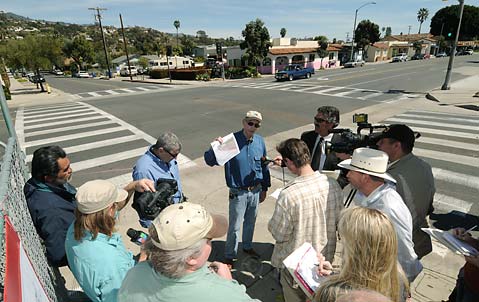 At Monday's press event, Westby and Feldman were challenged by David Pritchett of the city's Transportation and Circulation Committee, who pointedly wondered why they didn't care about the safety of nearby high school and junior high school students. But when Westby and Feldman take their case to the City Council next Tuesday, they will find at least three council members—Self, Hotchkiss, and Francisco—who campaigned that bulb-outs constituted a stupid waste of money and were inflicted upon the body politic by utopian-minded urban planners intent on getting rid of the automobile. Councilmembers Grant House and Das Williams, by contrast, have spoken in defense of bulb-outs, as has Mayor Helene Schneider. New Councilmember Bendy White, more of an agnostic where bulb-outs are concerned, could be the swing vote.
This particular bulb-out was included in plans by developer Jarrett Gorin to convert an abandoned gas station site into an eight condo, mixed-use development. The intersection in question does not have a history of safety problems; other intersections down Milpas, however, do. But Gorin didn't offer to build a bulb-out by Cota, Ortega, or Gutierrez streets; he did offer to build it at De la Guerra, after being appraised by city staff that Santa Barbara's pedestrian master plan specifically calls for bulb-outs along the Milpas Street corridor. In addition, Gorin has offered to expand the width of the sidewalk in front of his development by four feet.
City traffic engineer Rob Dayton said bulb-outs offer "the highest quality crossing we can offer pedestrians." Not only do bulb-outs shorten the distance pedestrians have to travel, he said, but they dramatically increase pedestrians' ability to see oncoming cars and trucks before venturing into the crosswalk. Dayton insisted that the right-turn lane on De la Guerra Street will remain, explaining that the street will be re-striped to accommodate both the bulb-out and the turn lane. If large trucks begin executing their turns from the proper spot, Dayton said, they should be able to navigate the reconfigured intersection.
While Feldman and Westby frequently cited concern for bike riders in their critique of bulb-outs, not all bicycle advocates are eager to take their help. Ed France of BiCi Centro, located by Salsipuedes and Gutierrez Streets, objected, "What's galling is that people who are hostile to cyclists are cloaking their arguments with concern about cyclists to come out against safety improvements that would benefit cyclists."