Positively State Street
Gram Rabbit Brings New Tunes to SOhO
Biko Hosts Turbo Fruits, Jamie Green Celebrates CD Release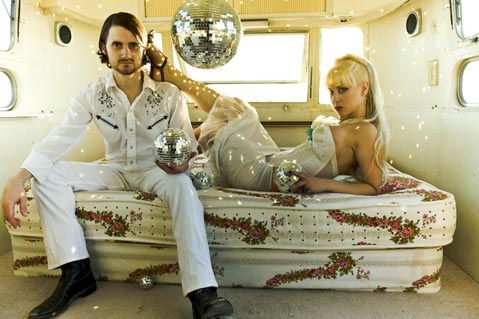 DOWN THE RABBIT HOLE: Back in 2005, Joshua Tree fusion rockers Gram Rabbit were heralded by L.A. Weekly as the county's best new band. While the duo's eclectic mix of electronica and psych punk didn't catch on large-scale, their trippy tunes—and über-devoted fan base—remain as strong as ever. Next Thursday, Club Mercy brings the desert dwellers to our beachside oasis in support of their soon-to-be-released fourth CD, Miracles & Metaphors.
Upon first listen, Miracles finds the GR pair (multi-instrumentalists Jesika von Rabbit and Todd Rutherford, respectively) exploring a musical world that's both stranger and more mature than what we've heard in the past. While lead single "Candy Flip" is all effected lyrics, thumping beats, and rave-ready speed synths, the majority of the tracks move far outside the realm of party music. "Wheels in Motion" play off Gram Rabbit's signature fuzzy, industrial guitar lines, but takes things slow, employing chimey keys and downright pretty harmonies. Elsewhere, Miss von Rabbit channels her best Gwen Stefani against a backdrop of slowly building synths and computer effects on "Off with Your Head." The result is a musical onslaught that jumps back and forth between hard-hitting rock and bubblegum pop with relative—and catchy—ease.
Gram Rabbit plays a late, 21+ show at SOhO (1221 State St.) on Thursday, April 1, at 9 p.m. For tickets and info, call 962-7776 or visit clubmercy.com.
FRUIT LOOPS: If you caught last month's southern surf rock explosion at the Biko Co-Op Garage, courtesy of Strange Boys and Chain and the Gang, you know that I.V.'s favorite DIY venue knows how to get down. This Monday, Biko plays host to another dance-party-worthy southern comfort, Tennessee's Turbo Fruits, who'll take to the stage with Goletans Ketchup and Adult Braces. The Fruits swing through town following a veritable smorgasbord of show dates at Austin's annual South by Southwest fest with some of indie rock's more notable rising stars (Surfer Blood, Dum Dum Girls, and Lovvers, for starters).
The Tennessee trio is another in the growing lot of throwback rockers who know how to layer it on. Over the course of one track, they'll mix hoedown style foot stomps, spiraling '60s surf rock guitars, Elvis Presley's signature sexy snarl, and something that's part punk fury, part southern jazz jug band. Whatever you want to call it, the combination epitomizes infectious fun. Turbo Fruits take to the Biko Co-Op Garage (6612 Sueno Rd.) on Monday, March 29, at 7:30 p.m. For show details, visit sbdiy.org.
CLOSE TO HOME: Also this week, plenty of Santa Barbara's own are getting some serious stage time. On Saturday, March 27, Muddy Waters Café (508 E. Haley St.) welcomes back the young guns of Windmill Vandals. The bluesy garage rockers, who recently scored a musical plug on the second coming of TV's 90210, are quickly gaining steam among the S.B. musical community. (And yes, they're all still in high school.) These Vandals join S.B.'s Tripdavon and L.A. art punksters Kitten at 8 p.m. Call 966-9328 or visit myspace.com/muddycafesb for show details.
And if you're out early on Thursday, April 1, and want to check out the pre-Gram Rabbit festivities, S.B. singer/songwriter Jamie Green will be unveiling her latest release, Chase the Rain, with an all-ages show at SOhO starting at 8 p.m. If the album's title track is any indication, this will be Green's best recording to date, complete with jazzy guitar lines, hints of R&B style groove, and her signature powerhouse vocals that speak to her empowered lyrics and strong-yet-feminine stage presence. (Think Ani DiFranco meets Toni Braxton.) For show info, call 962-7776 or visit sohosb.com.