Visual Arts
Japanese Woodblock Prints at SBMA
Hokusai: Selected Works from the Permanent Collection
In recent years, the Santa Barbara Museum of Art has hosted some significant touring exhibitions, including its current show of 19th-century paintings from the Walters Art Museum. In all the excitement at what's hanging on the walls, it's easy to forget that beneath the gallery floor there's an underground storage room filled with works comprising the museum's impressive permanent collection.
On view now in a side room off the museum's Asian Gallery, you'll find a small but satisfying exhibition of color woodblock or ukiyo-e prints by Katsushika Hokusai, the Japanese master artist whose work gained international recognition even within his lifetime. These prints come primarily from books Hokusai produced during the early 19th century, including the celebrated Thirty-six Views of Mount Fuji. The works are drawn exclusively from the museum's permanent collection, and together they form a picture of Hokusai's artistic versatility and development.
The earliest works included in the collection come from an 1802 edition of The Book of Amusements from the Eastern Capital. In "Four Men Making Saddles," hunchbacked figures huddle around their work, hammering metal armor and scrubbing leather. Every object is described in fine detail: the bridles hanging from the eaves of the shop, the puppies tussling underfoot. In later works, such as those taken from the series Wondrous Views of Famous Bridges in All the Provinces (1831-1832), Hokusai combines that same attentive detail with areas of abstraction. Buildings with thatched roofs nestle against fantastic cliff faces in "The Hanging Cloud Bridge at Mount Gyodo, Ashikaga Province." Beyond them, stylized, dragon-like clouds reach their long tails into distant valleys. "Fukui Bridge, Echizen Province" is a similar blend of detail in the foreground — figures scurrying over a bridge, bearing packages bound in string and bundles tied to sticks — with a minimalist landscape of misty hills.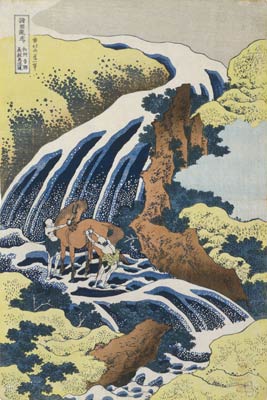 Hokusai gained fame for his landscapes of Mt. Fuji, including "The Great Wave of Kanagawa," but this collection reveals his genius for placing human figures in powerful natural settings. That skill is best expressed in two prints from the book A Journey to the Waterfalls of All the Provinces (1831-32). "Waterfall Where Yoshitsune Washed His Horse, Yoshino, Yamato Province" captures the incredible rushing torrent of water spilling between rocks down a mountainside, yet it includes an equally eloquent rendering of the men who work together in the cascade's spray — one holding the startled horse, the other lunging dynamically as he wrings water from the beast's hide. Similarly, "Roben Waterfall, Oyama, Soshu Province" depicts a group of men bathing in the pool at the base of the falls. In this case, the dramatic landscape is balanced by a subtler human drama in which men scrub their wet limbs and blow into cupped hands, invigorated by the cold mountain water.