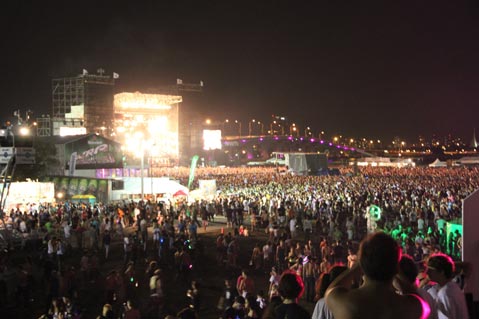 On March 26 and 27, the annual Ultra Music Festival in Miami broke all its previous attendance records with two sold out days of dance and alternative music on ten stages, performed in front of over 100,000 people. Headliners David Guetta and Benny Benassi welcomed stars like Kelis, will.i.am, and P. Diddy to the stage for cameos as thrilled crowds raged to the bass-heavy beats. The Indy's team, made up of reporter Stacy Wahl and photographers Sebastian Wahl and Tamer El Shakhs, were on hand to document the March madness. Below you'll find a collection of shots and thoughts from inside the action.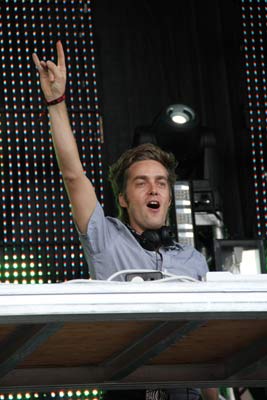 Adam Freeland
A true pioneer of the breakbeat genre, Freeland's early evening set at the Biscayne Stage on Friday, March 26 was made up predominantly of tracks off Cope™ Remixed, which dropped at the beginning of 2010. The album was released on Freeland's own Marine Parade label, featuring all songs from the original Cope™, but this time remixed by over 20 different producers, resulting in a double album covering a range of different electronic genres and sounds.
Infected Mushroom
Well known as psytrance innovators, Infected Mushroom (IM) have become one of the biggest electronic bands on the planet. Twice ranked among the world's ten best DJs by the U.K.'s DJ Magazine, the Israel-bred, L.A.-based duo brought an energy that could not be tamed to the Ultra Festival. Their explosive live set featured guitars, live drums, intensely passionate vocals, and Alice In Wonderland-style stage props, making them among Ultra's most surprising performances.
Root Society Dome
The 2010 Ultra Music Festival got a vital bass supplement when a second Bassnectar set was added to the lineup of the Roots Society Side Stage on Friday, March 26.
The Root Society Dome has been described as "the biggest party dome on the planet." On teaming with UMF, Root Society founder Captain Jeff Taylor said, "I know Ultra is the place to release the Root Society brand after seven years in the desert sanctuary Burning Man. If you're addicted to bass, you will be in this dome!"
Benga
Benga Adejumo is a dubstep music producer from Croydon, South London. He is an important name in the development of the dubstep movement and was one of the first dubstep producers to gain notoriety when the style was emerging in the early 2000s. Benga's Ultra set was massive and made me want to move to London and get sucked into the scene there.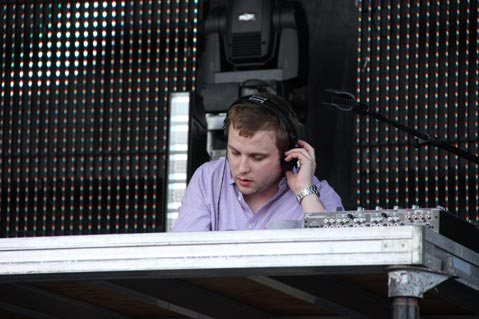 Caspa
More cherub-faced than ghostly, Caspa's set at Ultra was proof that the Ultra curators sought out artists whose names are synonymous with the underground. With an epic list of tour dates that finds him playing every corner of the globe, Caspa still finds time to host a bi-monthly night at the world famous Fabric in London. This is a DJ who will be working for a long time to come.
Skream
Another London-based dubstep great, Skream took over the Biscayne Stages decks following The Glitch Mob. With the crowd warmed up and ready to party, Skream dove headfirst into his set. Everybody got sucked into the music. With the bass massaging my entire being it was hard not to get into it, and I can honestly say that Skream's energy is downright infectious.
Rusko
Veering away from the dark, serious side of the dubstep sound, Rusko brought a highly driven energy and fun approach to the Ultra Biscayne stage on Saturday night. It is clear why his sound appeals to so many people outside of the dubstep world, as his productions are very adventurous in formula, sound, and energy. His current hit, "Cockney Thug," is one of the bounciest and most gladdening song creations I could dream of dancing around to.