Angry Poodle
Cirque du Canine
Making Money off the Volcanic Boom
UMBRELLAS OPTIONAL: When life hands you lemons, it's time to get squeezing. But the folks over at the Conference and Visitors Bureau — who get paid big bucks to promote S.B. — don't seem to get it. Or they're too palsied to have much of a grip left. Either way, look at the promotional opportunities they're wasting. With the Icelandic volcano with the unpronounceable name stranding travelers worldwide by the hundreds of thousands — turning international airports into makeshift refugee camps of hollow-eyed, lap-topped, iPodded nomads — isn't it time to promote Santa Barbara (who, by the way, was the patron saint for those facing imminent doom) as a volcano-free zone? As far as the eye can see, there's nary a volcano in sight. Earthquakes, floods, forest fires, and droughts? Sure. But what can you do? Those, as we were informed by an Iranian cleric this past week, are triggered by the practice of adultery, and hence qualify as some karmic-geologic tit-for-tat. But we in Santa Barbara already knew that, having been duly notified of the same by a sweet, but religiously extreme, right-winger named Andrea Seastrand we briefly elected to Congress in the 1990s. Thus far, no religious whack-job has figured out how volcanoes are our fault, but give them time.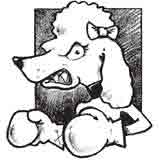 Until that happens, we in Santa Barbara need to focus on making money off these eruptions. Our tourist industry depends upon it. Bed taxes, while marginally up, are still only half of what they were two years ago. Sales taxes, while not as bad as we thought they'd be, are still down. Until that turns around, City Hall can no longer take care of us in the manner to which we'd still like to become re-accustomed. Naturally, the City Council would be happy to pass a resolution condemning volcanic activity as an assault on the environment. Perhaps the mayor could champion a 10-year plan to end volcanic eruptions in our lifetime, as well, and a 12-point prevention program designed to keep at-risk geologic formations from emerging as street-hardened 'canoes. The Community Environmental Council would issue a white paper titled "Volcano Free by '33," and prosecutor Josh Lynn — now running for District Attorney — could pick up a few North County votes in the campaign against Joyce Dudley, proclaiming in his best Dick Tracy/Clint Eastwood fashion, "If I'm elected, volcanoes will fear my name." Dudley — playing to the South Coast touchy-feely base — could then tell Lynn how he's wrong — yet again — and how it's politically incorrect to refer to "volcanic violence" because the issue is so much more complex than that. Assembly candidate Das Williams, the marathon man of area politics because he's always running for something, would propose a tax on volcanic ash, explaining how the revenues generated would help balance the state budget, thereby preserving educational opportunities for kids who otherwise will grow up to kill us all. His opponent Susan Jordan would accuse Williams of setting a dangerous precedent and selling out to the volcano lobby, while her husband, Pedro Nava, now running for Attorney General, would hold an endless series of press conferences soundly condemning volcanic activity. To curry favor with the well-heeled animal rights lobby, Nava would point out how eruptions are dangerous to furry critters on four legs. And if the volcano lived in Montecito, Supervisor Salud Carbajal would quietly take care of zoning inspectors' concerns that perhaps its fence was two feet higher than regulations allowed. Naturally, the grateful volcano would write a large campaign donation to Carbajal — even though they agree on nothing politically — allowing Salud to use the proceeds to make life miserable for Nava because of something Nava did so long ago that nobody can remember it, probably not even Carbajal. That, after all, is how we roll in Santa Barbara.
People who might object that the Icelandic eruption is just a one-shot wonder — and hence not a stable basis on which to build a promotional campaign — should think again. The fact is that at any time, six volcanoes are going off, somewhere on the planet. But the recent activity on Eyjafjallajökull could go on for as long as two years. More promising, this volcano tends to trigger an eruption of the nearby Katla volcano. And according to UCSB volcanologist Art Sylvester, Katla's a fire-breathing dragon compared to this pussycat, at least 10 times more powerful. Katla tends to go off every 60 years, but the last time was 92 years ago. That means it's way overdue. Sadly, Sylvester said, the ash from these volcanoes doesn't get high enough into the stratosphere to block sunlight and counteract the effects of global warming, as did the eruption of Pinatubo several years ago. These suckers just belch out vast clouds of stone and glass that shred lungs, pit windshields, and wreak havoc on airplane engines. They also emit a fluorine gas, which, when absorbed by vegetation and then eaten by livestock, causes the animals' teeth to rot out. When the last major eruption occurred — back in the day Benjamin Franklin was writing treaties explaining why men should urinate sitting down — one third of Iceland's population died of starvation due to the mass die-off of that nation's sheep. Who knew?
My point? If there's money to be made, we should be making it. I, of all people, should not be telling the local booster crowd how to do their job. That I have to, however, is not too surprising. Look how timid and cautious they've been about embracing the commercial opportunities in redefining Santa Barbara as a Guccified, high-end destination for gourmet pot smokers — cani-spas and potels. I understand pot is controversial, if not illegal. But how is it really any different — or worse — than inducing thousands of visitors to get skunked on wine tours of the Santa Ynez Valley, where the roads are as narrow and winding as they are scenic and beautiful. Grapes, once again, emerged as the leading cash crop in the county's billion-dollar ag industry, and that's just the raw material for high-end booze. But the value of the county's pot harvest would easily dwarf grapes and all other crops combined. With pot illegal, that production is controlled by dangerous thugs and gangsters. The obvious solution is to legalize it, regulate the hell out of it, and tax it to high heaven. Failing that, we can wait around for another volcano to erupt and scare up a few bucks from tourists all dressed up with no place (in Europe) they can go. And in the meantime, when life hands you a lemon, pucker up.