BOMBERS REDUX: Once upon a time in Santa Barbara, in the rough-and-ready '80s, a band known as the R&B Bombers–aka The Bombers—became one of the hotter tickets on the local club scene, kicking up a soulful, horn-driven R&B, jump, and blues rumpus. Possibly lubed by libations and wriggling, dancing limbs, The Bombers' sound was somehow vintage, yet all about the here and now. After various periods of dormancy and sad circumstances—including the passing of the wondrous regional guitar legend Larry Nass several years back—The Bombers have become a strong, going, grooving concern again. Starting in 2008, they began playing clubs in Ventura and elsewhere, reissued the old '82 LP, and recorded another fine new one, Bad Behavior, mostly built on suave singer, and natural-born songwriter, Joe Wilson's tunes, dripping in witty innuendo and slightly nasty swinging splendor.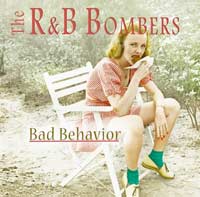 Finally, time has come for The Bombers to revisit Santa Barbara and the scene of their nocturnal party-time crime, Sunday, May 2, at SOhO. Old-timers can expect depth charges of nostalgia in hearing the charter members Wilson, bassist Steve Nelson, saxists Craig Thomas and Dave Tolegian, Craig Woods on trombone, and keyboard wiz Ken Stange, with longtime drummer Jim (Dwight Yoakum, Lucinda Williams) Christie on drums (Tom Lackner was the band's first skinsman). Also in the ranks are guitarist Steve Wachsman and Don Roberts honking on baritone and tenor. As for newcomers to the band: you're a stranger to them but once.
VENTURA'S MUSICAL HIGHWAY: Speaking of music down Ventura way, the annual Ventura Music Festival, for the next 10 days, offers multiple fine reasons for Santa Barbara County folks to make the drive down south. Classical music has always been the festival's central focus, but with careful detours into other genres. This weekend, for instance, stellar classical guitarist Sharon Isbin plays on Friday, but Sunday afternoon's major wingding on the lawn at Ventura College features Grammy-hosanna'd Herbie Hancock, celebrating a soon-to-be-released album and a new globe-tethering music concept.
ON RECORD: If the current Santa Barbara Symphony season is fairly timid program-wise—a sign of our cautious times, culturally and fiscally—a recent classical recording serves to remind us of one of the more adventuresome concerts of last season. As a centerpiece of last January's wonderful Symphony-organized guitar festival, the Los Angeles Guitar Quartet (LAGQ) worked with our orchestra on one of the earliest performances of Sérgio Assad's exciting guitar quartet concerto, Interchange. A new world-premiere recording on Telarc, performed with the Delaware Symphony Orchestra, refreshes the memory of the music's tangy cross-cultural spirit, as heard in the Granada Theatre.
Brazilian-born world citizen Sérgio Assad, the virtuoso guitarist from the Assad Brothers, has devised an important, energetic, and colorful addition to the still slender ranks of guitar and orchestra music. That is a world over which Joaquín Rodrigo's Concierto de Aranjuez looms like a winged warhorse. Lovely and timeless as Aranjuez is, the ear warms up to a fresh variation on the guitar concerto theme, especially given Assad's command of the idiom—with its tasty mix of Brazilian, Spanish, and personal flavors—and the famously taut, all-for-one collective voice of the LAGQ. On the album, Assad's piece is paired up with another lesser-known Rodrigo charmer, Concierto Andaluz, which LAGQ also played with the Santa Barbara Symphony last January. What goes around, comes around in sweet, sonorous ways.
STRING QUARTET HAVEN: In recent weeks, the Santa Barbara Museum of Art has been a haven for the sublime art of the string quartet, anomaly division. The SBMA's praiseworthy chamber music series continues to impress and to pack the intimate auditorium "chamber," and lately, we've heard glorious offbeat wares from the Biava Quartet—Shostakovich and Ginastera—and an all-French program by the Parisii Quartet, including Darius Milhaud's vibrant String Quartet No. 4, Op. 46, written in and inspired by Rio de Janeiro. Capping off the spring season on Tueday is the Ives Quartet, whose most intriguing number looks to be American composer Quincy Porter's 1930 String Quartet No. 3.