Visual Arts
Riot of Spring
Art Seen Checks out Works at Cabana Home and Marcia Burtt Gallery
CALIFORNIA SEASONS: When Edward Cella relocated his Figueroa Street gallery to Wilshire Boulevard, Santa Barbara lost one of its premier contemporary art exhibition spaces. Luckily for us, Cella's kept up his S.B. connections. Now through the month of May, Edward Cella Art + Architecture partners with Cabana Home to present recent paintings by Brian Hollister. Four large-scale, abstract oils and four smaller works on paper adorn the walls of Cabana Home (111 Santa Barbara St.), a hip home design studio in the heart of the Funk Zone. On entering the expansive space, you're greeted with "Sunriser," a luminous canvas of pale yellows, golds, and blues. Across this shimmering plane run horizontal bands like Venetian blinds framing early morning light. Indeed, each of Hollister's larger works is like a picture window facing out on a different season. "Burnt Orange and Cobalt Glory" is a riot of vibrant hues like a crimson sunset over the ocean or poppies and lupines in spring; "A Brush with Memory" is subtle and ghostly, layers of white and peach enveloping the space like a cool winter cloud bank. Though they're undeniably abstract, these works convey a powerful sense of the natural world, their colors redolent of the California coast. You've got until May 29 to check them out; a reception for the artist takes place Wednesday, May 5, 6-8 p.m.
FIELD AND FURROW: Hazy purple mountains mark a distant horizon, their foothills rolling down into the foreground. Furrowed fields, bushes, and valleys are captured in loose, energetic brushstrokes. Here and there there's a flamboyant blast of color: a semitruck in vivid red, another in sky blue. In Patricia Doyle's "A Highway Runs Through It," spring is in full and glorious riot. Doyle's work is part of Field Studies, the group show now on view at Marcia Burtt Gallery (517 Laguna St.). It's a satisfying collection: one with a consistent theme, but great range in style and medium. Marilee Krause works magic with watercolor and pastel in "Spring Field," where understated passages of lavender and olive delineate a meadow stretching beneath an iridescent white sky. Her equally lovely "High Noon" conjures tufts of wild grass with a few sketchy lines; on the horizon, loose blots of watercolor suggest stunted trees.
In his rendition of what might well be the scene just down the road, Robert Abbott creates a vastly different world. "Bluffs Flower Farm" captures the clifftop fields at dusk, trees in silhouette, trucks and telephone poles pressing dark outlines against the muted sky. In moody purples, grays, and greens, Abbott's fields are places of cool, damp earth and human industry. In his "Backlit Hills," the same deep hues attenuate as layered foothills roll into the distance.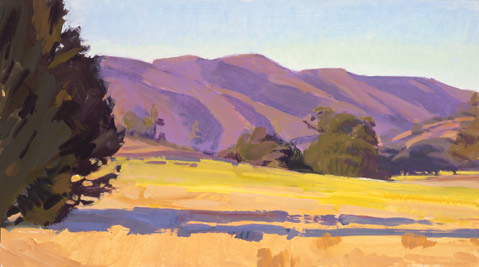 The gallery's upcoming show is Bright and Beautiful, a fitting description of the direction Burtt's work seems to be taking. Her "Midsummer Shadows" pushes her already rich palette into hypercolor: These fields spread themselves out in all their chartreuse glory beneath unabashedly purple mountains, while the trees cast deep blue shadows streaked with red. This is the earth vivified and exuberant with spring.
Also on view are works by Susan Petty and Ann Sanders. In "Nipomo Wheat Field," Petty shows off her mastery of watercolor—wet, loose strokes yielding the restless sway of dry grasses. Sanders's "Sierra Spring" brings careful delicacy to a majestic scene, snow-dusted peaks rising above shrub-dotted flatlands. Field Studies is on extended view through May 16; check out artlacuna.com for gallery hours.