Dance
Compañía Nacional de Danza at the Granada
Spain's National Dance Company Made S.B. Debut.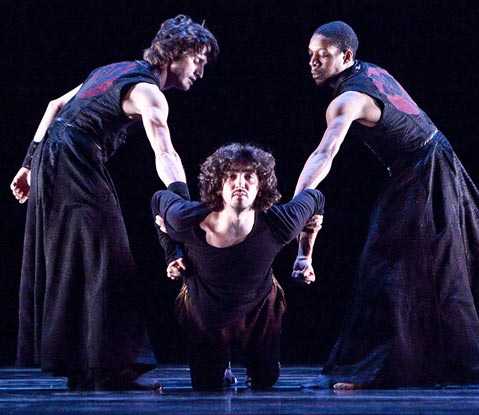 All good things must come to an end; so it seems for Nacho Duato. After two decades at the helm of Spain's national dance company, the choreographer is being asked to step down from his role. Hence Compañía Nacional de Danza's (CND) first visit to Santa Barbara was a poignant one—both an overture and a finale.
Arts & Lectures has hosted Duato's junior company, CND2, twice in recent years, but nothing could have quite prepared this audience for the level of artistry and technical prowess demonstrated by his main company. From the opening moments of Duato's early modern dance-influenced "Arenal" of 1988 to the final scene of last year's captivating and challenging "Cobalto," these performers upheld Albert Einstein's claim: "Dancers are the athletes of God." Sinuous as racehorses, they broke into full-blown power as soon as the curtain came up, and they sustained that intensity to the end, achieving an achingly beautiful balance between wild abandon and controlled precision.
The program was a chronological guide to Duato's career, beginning with "Arenal," a Spanish rendition of American modern dance. A female soloist pitted herself against a chorus. Their movement was celebratory; hers, a lament. Women in full skirts and long sleeves draped their arms into graceful over-curves and leapt in deep contractions; men in waistcoats flexed their hands and tossed off rapid, luscious arabesques. Between the dated costumes and the primitive set, "Arenal" was reminiscent of Martha Graham's early works but for the fiery, Mediterranean spirit surging through it, and the wailing Balearic songs of female vocalist María del Mar Bonet.
"Castrati," from 2002, showcased the talents of CND's male dancers. In long, black tunics, they formed a shadowy illuminati, hovering over a single, defenseless male. Too often, classically trained male dancers are relegated to heavy lifting and brief moments of virtuosic fireworks. Not so here. The choreography showcased their hyper-articulation and mastery of the full range of movement, from subtle to explosive.
If "Arenal" and "Castrati" lured the audience with in incomparable dynamism and drama, "Cobalto" came at things from another angle, challenging viewers with urgent, erotic scenes. Despite a topless female dancer and overt references to bondage, nothing about this piece was strictly pornographic. Instead, Duato toyed with the audience's expectations, teasing the imagination through the power of suggestion. The result wasn't comfortable—screeching electronic tones and harsh lighting upped the tension—yet the masterful use of unison and canon, repeated movement themes, and dramatic focus marked the work as part of the same CND lineage. Maybe "Cobalto" took things one step too far for Spain's taste, but the dance world hasn't seen the last of Duato.