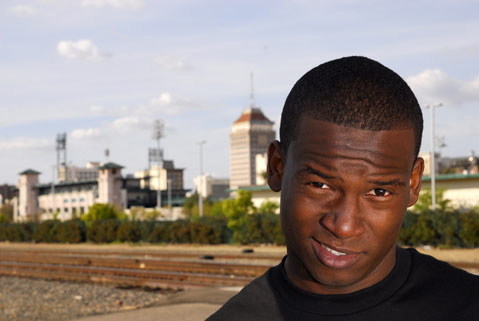 BIRTHDAYS AND DOUBLE BILLS: New-school and old-school collide this weekend when Velvet Jones (423 State St.) hosts back-to-back nights of Cali-born hip-hop featuring Too $hort and Wiz Khalifa. On Friday, Sean Healy Presents hosts Oakland's Too $hort, who'll be celebrating a birthday, as well as touting his recently released (and Lil Jon-produced) studio album Still Blowin'. The online-only release, the rapper's first on his own Dangerous Music label, finds Too $hort revisiting the laidback and pro-big pimpin' lyricism that he's come to be known for over the years. What differs most notably here are the beats, which channel everything from anthem rock ("Still Blowin'") to Motown soul ("All for Love"), making for a record that's both welcomingly familiar and undeniably contemporary.
On Saturday, it's Club Mercy playing host to Pittsburgh hip-hopper Khalifa at Velvet. At just 22, the rapper has already garnered the attention of fans and critics, scoring a record deal from Warner Bros., as well as plenty of worthy praise from music blogs like Yo! Raps and All Music. And while it's Khalifa's techno happy "Say Yeah" that's seen the most buzz of late, tracks like the slow grooving "In the Cut" (off the recently released Deal or No Deal) promise that there's more to this youngster than a good ear for a sample.
Despite all that, it's Saturday night's opener, Fashawn, who seems to be the weekend's best musical bet. The Fresno native boasts a sad-but-uplifting backstory that involves a drug-addicted mom, an incarcerated dad, and the uncle who took Fashawn under his wing. Today, the 27-year-old rapper possesses one of the most distinct and powerful voices in hip-hop. He spits socially conscious lyrics that have more to do with youthful hardships than girls and fast cars, and does so with a delivery that calls to mind luminaries like Mos Def and Roots frontman ?uestlove.
For tickets and information for Too $hort, call 965-8676 or visit inticketing.com. For Fashawn and Wiz Khalifa, visit clubmercy.com.
ROW, ROW, ROW: Also this weekend, San Diego art rockers The Paddle Boat make their big return to Santa Barbara with an all-ages show at Muddy Waters Café (508 E. Haley St.) on Saturday, May 8, at 9 p.m. The threesome (made up of singer/guitarist Jeremy Scott, multiinstrumentalist Jackson Milgaten, and drummer Dave Mead) had a fantastic—if a bit limiting—last go-round in S.B. when they played alongside Gardens & Villa at the band's Westside homestead for a tightly packed living room of friends. For this outing, the Paddle Boat guys will team up with Goleta's beloved Watercolor Paintings for an evening that's open to all ears, and rightfully so. Mixing a healthy and eclectic list of influences that range from Radiohead and Grizzly Bear to jazz great Django Reinhardt and surf-guitar hero Dick Dale, these guys are not to be missed. Their sound manages to move from slow and minimalist guitar rock to awe-inspiring instrumental builds to a cappella '60s-inspired three-part harmonies without so much as a hitch. To check them out for yourself, visit myspace.com/thepaddleboat. And for show info, call 966-9328 or visit myspace.com/muddycafesb.
FOLK REVIVALISTS: If you're still in the market for music this week, State Street stalwart SOhO (1221 State St.) is packing in the folk with two stellar mid-week performances. On Tuesday, May 11, longtime troubadour The White Buffalo stops over in support of his latest release, Hogtied Revisited. The lumbering acoustic guitarist has long been noted for his big presence and even bigger voice, and Revisited comes closer than any previous recording to capturing it truthfully. Even still, there is no substitute for seeing The White Buffalo live, and with an arsenal of new tracks under his belt, we're betting Tuesday's show to be an exceptionally impassioned one.
And on Wednesday, May 12, L.A. folk revivalists Dawes return to town for what promises to be a rollicking good time, with choruses and harmonies that call to mind 1960s icons like Creedence and CSN.
For tickets and show info, call 962-7776 or visit sohosb.com. Both shows start at 8:30 p.m.