Food & Drink
The Wine Cask
A Resurrected Santa Barbara Culinary Staple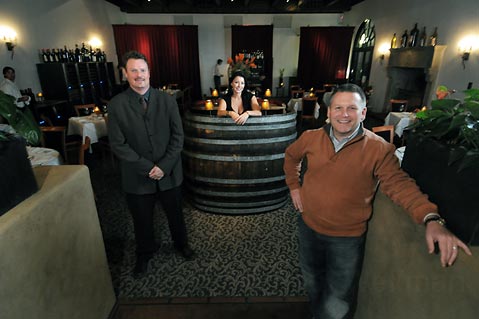 Where: 813 Anacapa Street, 966-9463, winecask.com.
What: A staple on the Santa Barbara culinary scene since 1981, recently revamped.
How Much: Starters $8-$18, mains $25-$36.
The dish: In December 2009, the acclaimed Wine Cask Restaurant reopened its doors after an unexpected closing in February 2009. Doug Margerum (former owner from '81-'07) and area restaurateur Mitchell Sjerven (of bouchon and Seagrass), along with Chef David Sundeen, combined their talent and passion for Santa Barbara cuisine to reestablish the restaurant, located in the elegant and romantic1920s Spanish-Colonial El Paseo. The Wine Cask restaurant, and its adjacent courtyard, is paired with the more casual bar/café and a focused tasting room/wine shop. The menu reads like a seasonal produce Rolodex of the Farmers Markets with an elegant and classic take. Decadent foie gras is served as a starter with a sweet French toast and lavender-apricot jam. Mains include pan-seared local whitefish with goat cheese fondue, smoked Kurobuta pork chop, and the Wine Cask cassoulet made from white beans, duck leg confit, braised pork cheek, and duck sausage. Desserts are a "do not miss," with the Farmers Market berry oatmeal crisp being a favorite, as well as the nostalgic root beer float.