News
The Last-Minute Race
Wolf and Secord Vie for Second Time for 2nd District Supervisor Seat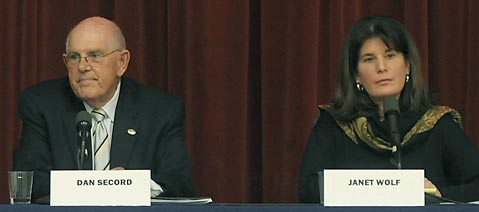 Four years ago next month, Dr. Dan Secord was the top vote-getter in a four-person primary in the race to be Santa Barbara County's 2nd District Supervisor. Because no candidate received more than 50 percent of the vote, he went into a runoff with Janet Wolf, who ended up beating him in the November general election, 52.4 percent to 47.4 percent.
This year, there will be no runoff in November. For weeks and months, no one stepped up to face off against Wolf — now a seasoned incumbent with strong support — despite many rumors and a new political atmosphere that has invaded our nation, one that has shown kindness to candidates taking on liberal incumbents. That changed on the last week candidates were able to declare, when Secord, with prodding from supporters and armed with polling data (which Wolf and her supporters said was a push poll), jumped in. The district they now fight once again to represent is the smallest geographically of the county's five districts and includes the Santa Barbara waterfront, the Mesa, the city west of Mission Street, as well as Noleta and much of Goleta.
With the county facing its third straight year of budget deficits, Secord's focus this election is simple — the ability to operate and run the county starts and ends with the budget. "If you don't have financial stability, you don't have anything," Secord said. He said he saw the warning signs when he ran four years ago and was prepared to deal with it. The former two-term city councilmember had dealt with a city budget for eight years and had taken a class taught by County Auditor-Controller Bob Geis, where the subject matter was in fact the county's budget.
But voters went with Wolf, who for the last four years has made her own impact on the county. She has taken strong stands for the environment, voting against development on the Gaviota Coast and turning in the only "no" vote against the Miramar Hotel in Montecito, citing the need for further environmental review. She jumped into her role on the board full-throttle, armed with a soft voice but hard talk, asking probing questions of staff at meetings, taking CEO Mike Brown to task, and showing she did her homework.
But with a $39-million deficit looming, Secord said Wolf hasn't done enough with the county's finances, and she has allowed the county to slip into big problems. He blames her for cozying up to unions who supported her campaign, alleging she gave more than $45 million in raises to those same unions. He blames her for paying for projects like the spay-neuter ordinance and the Goleta Valley Plan, costing thousands of dollars in staff time. The 73-year-old Secord wants, as he did four years ago, to start a finance committee of two members of the board, a duo that will review county finances every month.
Wolf, for her part, was against such an idea four years ago and remains against it. "It was a bad idea then, and it's a bad idea now," she said, explaining that each member of the board needs to be a finance expert. Wolf pushed for a budget workshop in February, where the board could get updates from departments, see how potential cuts could impact the departments, and ultimately allow the board to list priorities to CEO Mike Brown on what they wanted to cut or not cut. This was in stark contrast to how things were prior, when supervisors would get the budget book in May "practically signed, sealed, and delivered," she said. She also notes unions, in recent years, have agreed to furloughs, which saved the county in excess of $10 million, and are also discussing concessions in ongoing negotiations.
Wolf was an ardent supporter of the County Emergency Operations Center. The current Office of Emergency Services is located in the basement of the county administration building, while the current EOC — a temporary trailer — takes hours to get up and running, meaning it takes hours for information to be available to the public. Much of the money had been set aside after the Grand Jury had harped in the past on its inadequacy. Other funding was made possible by the Orfalea Foundation. Meanwhile, she was vocal in her opposition to the construction of the Cuyama Pool, which was built at some cost to the taxpayers but now sits without the funding to maintain it. "It's about being a strategic decision-maker," Wolf said. "You have to look at the entire picture."
Secord, on the other hand, opposed both capital projects, and said many things need to be deferred as the county deals with a structural deficit. "We have to align spending with income," Secord said. "If you want to straighten this out, I'm it." Secord has spent two go-rounds on the Santa Barbara Grand Jury, a group that has taken the county to task on several items while Secord has been a member, including the pension. Both candidates agree the pension is a problem, and that the county's liability has increased. When the market goes down, either employees or the county have to make up the difference, and because the employees' contribution is set, it's up to the county. They both agree the problem is not local and that it will take the board working together with employee groups to solve the issue.
While the budget has taken center stage, it's not just the county's finances at stake. After Census data is collected and organized, the supervisors will be tasked with redistricting come 2011. Should Secord upend Wolf, the board majority will lean to the right once again after two years of a more progressive board majority, which could spell trouble for 3rd District Supervisor Doreen Farr. The swing district geographically links the north and south counties, and should Secord win, the lines could be redrawn to favor a more conservative lean for the 3rd District and likely spell doom for Farr, who would be up for reelection in 2012. Both Wolf and Farr said it's necessary to wait for the Census data to emerge before concluding what should be done. Wolf said the process will take "time, thought, and understanding." Secord, who said he is currently reading books on redistricting, said he won't make political decisions but decisions "based on reality."
Wolf, who spent three terms on the Goleta School Board, has secured endorsements from all major unions, as well as most all progressive Democrats, including Rep. Lois Capps and 1st District Supervisor Salud Carbajal. Secord, who now sits as an alternate on the California Coastal Commission, is endorsed by former 3rd District Supervisor Brooks Firestone, retired city finance director Bob Pierson, and others.
Vote-by-mail ballots are out, and Election Day is June 8.