Arts & Entertainment
Thirty Seconds to Mars Returns with This Is War
Jared Leto Talks New Album, Label Troubles, and Recording for the Fans
It's mere hours from the kick-off show for Thirty Seconds to Mars's Into the Wild tour, and Jared Leto is not feeling so hot. From a hotel room in Las Vegas, the frontman quietly and scratchily warns, "My voice is a little worn out, so you'll have to bear with me." Insisting that the vocal trouble is nothing to worry about—"It's just my throat, I'll be fine," he promises—Leto continues, recalling his whirlwind of a week. "We got back from Europe about four or five days ago and shot a video the second day we were home for our second single, "This Is War," then we came out to Vegas yesterday and rehearsed all day, and today we begin our first U.S. tour in three years," he states.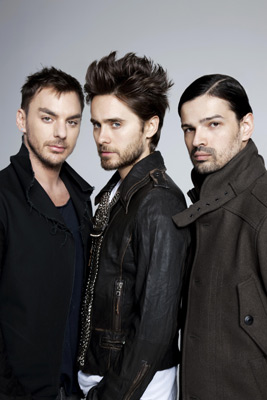 Despite his recent breakneck schedule, Leto's enthusiasm is palpable. This leg of shows, which brings the band to the Santa Barbara Bowl Friday, May 14, is Thirty Seconds to Mars's largest-scale outing yet, complete with epic stage sets, lighting, and a whole lot of audience participation. But perhaps most importantly, the tour marks the first time American audiences will bear witness to the fruits of Thirty Seconds to Mars's recent labors. Coming off a lengthy lawsuit with their label, Virgin Records, the band (collectively Jared, brother/drummer Shannon Leto, and guitarist Tomislav Miličević) finally released their long-awaited third studio album, This Is War, in December of last year. The disk, chockful of bombastic guitar riffs, string orchestras, and hundred-person vocal collectives, is undeniably the band's most ambitious to date, representing a shift in both style and sound for the trio.
"Every time you make a record, you have a big opportunity to really begin again, and it was time for us to say something new," Jared Leto says of War. "Our last record came out in 2005, which is quite some time ago, so we were all intent on just taking advantage of this opportunity. In a lot of ways, creatively, this has been a transformation for us."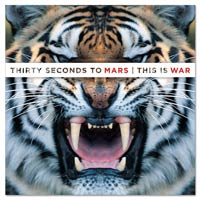 In truth, the concept of transformation has long played a role in Thirty Seconds to Mars's worldview, whether through their calls for environmental protection, or their antiwar sentiments (see the band's videos for "A Beautiful Lie" and "From Yesterday," respectively). On This Is War, however, Leto turns his calls for change inward, reflecting on the (at times volatile) relationships between the band, their label, and their devoted throngs of fans.
"This record feels like the third in a triptych," he explained. "There's a connection to the two previous CDs in that the first was really cerebral and fantastical and the second was very guttural and decisive. This record is really much more of the spirit world. It centers around the idea of conflict and the inevitability of conflict and the curse of conflict and the blessing of conflict. … We had our battles with our record company, and you can't help but have stuff like that affect the writing process, and it certainly did here."
Legal matters aside, This Is War also serves as a "thank you" of sorts to the millions-strong Thirty Seconds to Mars Army, a veritable force of fans that the band has amassed since forming in 1998. Throughout the album, the trio incorporates the voices of literally thousands of fans, all collected during a string of worldwide live recording sessions they've dubbed "The Summit."
"We've always had really active participation from our audience, and I think that's a really great thing, and we appreciate that a lot," Leto emphasized. "[The Summit] started as an experiment and ended up being this event that we held around the world in nine different countries. There were about 1,000 people who showed up to the first one, and they sang and played percussion and experimented. We kind of used the collective whole as an instrument on this record. The interesting thing about having this kind of participation is that you use it much in the way you would use an orchestra."
And if we're to believe what we read, it's that very band-to-fan relationship that's making Thirty Seconds to Mars's live show such a spectacle. Just hours after I spoke with Leto, the mohawked singer took to the stage at The Pearl in the Palms Casino to deliver one of the more riveting shows the venue's seen of late. To a sea of screaming fans, the frontman led sing-along after sing-along, charged fearlessly into the crowd on numerous occasions, and inducted 2,000+ people into his musical army with a smile.
"The transformation from the record to the live show has been pretty seamless and exciting," Leto explained just prior. "Because of this Summit element and using new technologies to include people in the recording process, it's created this enormous amount of participation from the audience, so that's become a really big part of the show. … We've grown up a lot, and our audience has, luckily, grown with us. It's been the journey of a lifetime."
4•1•1
Thirty Seconds to Mars plays the Santa Barbara Bowl with openers MUTEMATH, Neon Trees, and Street Drum Corps this Friday, May 14, at 6 p.m. Call 962-7411 or visit sbbowl.com for tickets and info.