Arts & Entertainment
Thirty Seconds to Mars at the Santa Barbara Bowl
Jared Leto Fronted a Rocking Friday Night Show
"Anybody want to get crazy with us tonight?" asked Thirty Seconds to Mars frontman Jared Leto at the start of the band's Friday-night set at the Santa Barbara Bowl. Sporting a perfect hot pink mohawk, Leto and his bandmates—brother Shannon Leto (drums) and Tomo Miličević (lead guitar)—bounded onto the stage, opening with the moody "Escape," then leading into "Night of the Hunter," both from their latest album This Is War.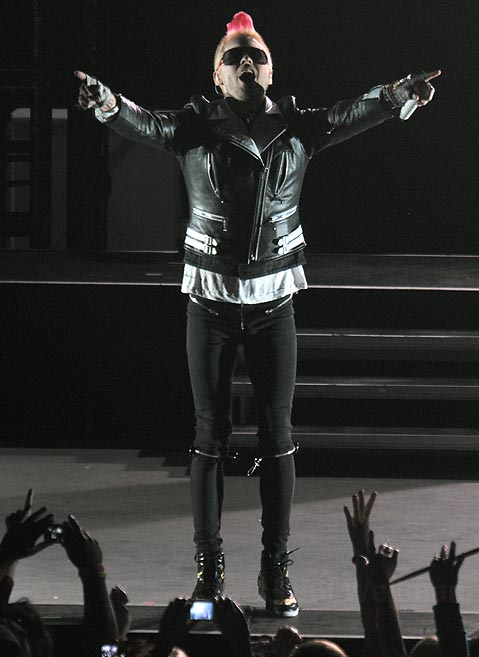 With song lengths in the five-minute range, each was an epic offering. Leto twirled and jumped around the stage, singing and screaming along to an aural swirl of keyboards, guitars, and rapid-fire drum beats. They tore through "Attack" (off 2005's A Beautiful Lie) and did a great version of the expansive call to arms "Vox Populi," pausing for nearly a minute while the audience screamed in appreciation. Strobe lights flickered endlessly, making it difficult to see the band as they continued with "Search & Destroy" and the infectious hit "This Is War," which bled into "100 Suns."
Halfway through the evening, Leto left the stage for a microphone and acoustic guitar awaiting him just behind the pit. Charming and funny, he chatted up the fans, asking for requests and playing snippets of covers, including Lady Gaga's "Bad Romance." All night, Leto had the audience in the palm of his hand, commanding them to jump up and down, raise their hands, scream, and sing along, all of which they did dutifully and eagerly.
Leto finished the mini-set with the first verse of the 2005 hit "The Kill" before heading through the crowd toward the stage to finish the song with a full band behind him. The last quarter of the show was chock-full of audience participation. The singer directed the congregation in a YouTube video, tore through "Hurricane" with the help of opening act Street Drum Corps and the Santa Barbara High School Choir, and called as many fans as could fit onto the stage to sing their single "Kings and Queens."
Embracing Bono's magnificent credo "the right to be ridiculous is something I hold dear," Leto & Co. rocked the Bowl with one of the wildest, most entertaining shows of the season thus far.