Opinion
Jennifer Shay Hubbard, Nurse
1977-2010
Jennifer died in a car accident on May 15 at 7:50 a.m. She was on her way to work at Santa Barbara Cottage Hospital and lost control of her car and hit a guard rail, and her car flipped, and she did not make it.
I had known her for seven years and considered her my best friend. I called her my Pari Gul, which translates from Farsi as angel (pari) and flower (gul). I am originally from Afghanistan, and she always referred to me as her Afghani sister. We spent countless nights on the phone crying, laughing, and supporting each other. She was a huge part of my life, and I did not realize how much I needed her. I am going to miss her so much.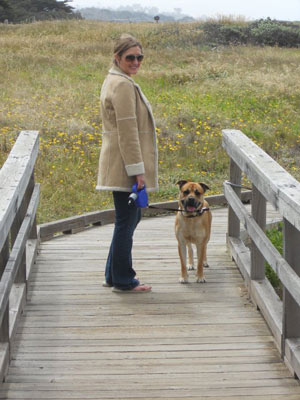 On June 25, Jennifer would have completed her 10th year at Santa Barbara Cottage Hospital. Born and raised in Ventura, where she also lived at the time of her death, Jennifer started working at Cottage straight out of the University of Southern California School of Nursing. In college, she distinguished herself as a brilliant and enthusiastic student and graduated at the very top of her class. Along the way she even published a paper. Her goal for the future was to obtain a master's from the UCLA School of Nursing and become a nurse practitioner in the field of adult oncology. She was very motivated and eager to learn new things.
Jennifer had leadership qualities and was offered jobs at administrative levels, but because she loved the patient contact, she refused those positions. Jennifer had excellent patient-teaching skills. She accomplished a lot in her brief career. She acquired certification as an oncology nurse and clinical resource nurse and was part of many hospital-wide committees. Nursing students wear eager to receive her tutelage, as she was nonjudgmental and eager to share all she knew. She earned the Bialis Award for Nursing Excellence—which caught her by surprise, and she received it in a presentation attended by colleagues and loved ones.
She had a special gift from God to touch people in a sacred way. All those that encountered her felt special. There were no boundaries for Jen when it came to caring for people. She reached deep into their hearts to start the healing process. All the patients wanted Jen to be their nurse and doctors were eager for her to care for their patients, as they knew she provided safe, informative, and compassionate care.
Jen's presence never went unnoticed, and thus her absence is painful.
Jen loved taking long walks with her mother, with whom she was very close. Her caring nature even extended to animals. She once had hamsters that she named after supermodels. She shared her home with three cats, and was also in love with her boyfriend's dog. In a recent photo, she has squirrels on her lap, as she was feeding them.
Jennifer also had the wisdom and faith to turn to God in her troubling times. To know Jennifer was to see her struggle: Jennifer had challenges, and as time went on, these demons became harder to contain, and thus had a tighter grip on her. Now she is free of her earthly struggles because God has taken her.
Those who knew Jennifer were honored, and her acquaintance was a gift to be cherished. We mourn and try to understand. We are left with memories of her sparkling, soulful eyes, her beautiful smile, her free-spirited and charismatic nature. She left a big mark in everyone's heart. She is survived by her mother, Carol, father, Dan, brother, Jason, and aunts and uncles.