Capitol Letters
GOP's Thelma and Louise
Whitman and Fiorina Running to Become First Republican Women Nominated for Top Offices
Barring a political miracle, around 8:05 p.m. next Tuesday night, Meg Whitman will be declared the California Republican party's nominee for governor. Not long after that, it appears that Carly Fiorina will win the GOP slot in the U.S. Senate race against Barbara Boxer.
It will be a historic evening, if all goes according to form, as the two millionaire former Silicon Valley executives become the first Republican women ever nominated for either of the two offices, let alone performing the feat in the same election.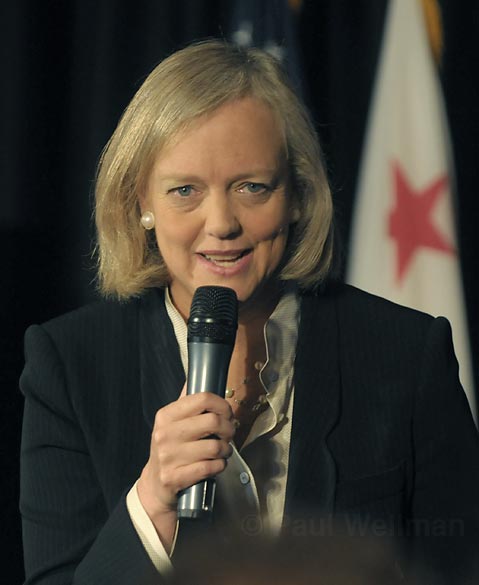 In a year when Sarah Palin is crisscrossing the country, calling for the election of GOP "Mama Grizzlies," the eMeg-Carly narrative will no doubt prove as irresistible to the national media as the "Thelma and Louise" storyline did back in 1992, when Democrats Dianne Feinstein and Barbara Boxer pulled off a similar historic trick by simultaneously winning election to the U.S. Senate in what was then hyped as "the year of the woman."
Once the novelty of two women leading a state party long dominated by cranky conservative white males begins to wear off, however, Whitman and Fiorina will each face greater political obstacles than gender as they head into the general election.
Whitman's task, in facing off against Democratic Attorney General Jerry Brown, will be complicated by having spent the last two months catering to the views of the right-wing voters who dominate the GOP primary electorate.
Running in a decidedly blue state, where Democrats own a large voter-registration edge, she must win considerable support in the general from independent, decline-to-state voters, who represent about one-fifth of the electorate, and who have held the balance of power in recent statewide contests. She'll also need to win a significant minority of Latinos, the fastest growing voting bloc in California.
Mindful of these dynamics, Whitman began her primary race campaigning as a mostly moderate candidate. But her rival, Insurance Commissioner Steve Poizner, made a strong rightward push, especially on the issue of illegal immigration. The move left eMeg little choice but to follow suit, as she also did on abortion rights, climate-change legislation, and taxes.
By the end of the primary, for example, both candidates had staked out very hard lines on the issue — no amnesty, eliminate education benefits for children of illegals, and send the National Guard to the border — that proved politically costly to Whitman. In March, before she moved to outflank Poizner on the right, she was viewed favorably among Latinos who expressed an opinion — 25-12 percent — according to a new USC/Los Angeles Times poll; just two months later, however, Latinos who had an opinion had formed a negative impression — 22-31 percent — a big net swing of 22 points against her.
More broadly, the perception of her also declined among independents — from 25-21 percent positive to 29-42 percent negative; moderates — from 29-25 percent to 29-42 percent; and women — 30-21 percent to 28-37 percent.
Not surprisingly, over the same period, Whitman also lost her lead in a simulated match-up against Brown, moving from 44-41 percent ahead to 38-44 percent behind.
Fiorina, assuming she wins the nomination, will face a similar problem in the Senate race, where she would face off against three-term Democratic incumbent Boxer.
After a months-long, closely contested primary with moderate former congressmember Tom Campbell, Fiorina poured several million dollars of her own money in the campaign in recent weeks, and appeared to crack it open, bursting to a 38-23 percent edge over her chief rival in the USC/L.A. Times survey (support for the third candidate, conservative Orange County Assemblyman Chuck DeVore, was 16 percent).
In jumping ahead of Campbell, she staked out positions considerably to his right — taking the anti-choice position on abortion rights, calling for expanded offshore oil drilling, and opposing nearly all gun control laws — that are generally at odds with the majority of Californians.
Significantly, the new poll reported that despite her big primary lead, Campbell was the only GOP contender to lead Boxer. While badly lagging Fiorina, the pro-choice, pro-gun control, anti-drilling Campbell was seven points ahead of the Democratic incumbent, compared to Fiorina, who trails by six points.
Whitman and Fiorina, of course, both will now try to get back to the political center over the next five months and, most importantly, both have the kind of deep-pocketed personal wealth that could enable them to do it.
Don't forget to vote.