Cover Story
Grill's Out for Summer!
The Indy Announces Its Sizzling Summer BBQ Winners and Dishes Up Their Recipes
It must have been somewhere between the turkey burger and the beef burger that it hit me — I had a lot of eating behind me, and miles to go before I burped (I was eating in front of a crowd, after all). Not that I expect you to sympathize with poor, barbecue sauce-smudged me, the only person who had to judge both The Independent's inaugural Sizzling Summer BBQ Contest and its Cocktail Showdown cousin, for there is no doubt I supped and sipped preposterously well. But let me say this: There's a lot of good eatin' in this town, based on the nearly 50 submissions to our first-ever (and we even might dare to hopefully say annual) contest, for the finalists were all divine.
That we had to choose one winner per category — professional chef, both entrée and side, amateur chef, entrée and side, and a democratic "we're all in this shaker together" pro-am of a cocktail challenge — is merely evidence that contests require us to make fine distinctions. I'd like to say we're all winners. Especially me, since I got to sample 14 fab dishes and down five luscious libations. The good news is you can try to recreate all these dishes and drinks at home, for our winners graciously offered to provide recipes for their victorious vittles. Summer just got a bit tastier around these parts.
But before we get to our winners, we'd also like to nod once again to our sponsors who helped make this event totally grill-rific: Whole Foods, Harry's Plaza Café, Kingsford Charcoal, 10 Cane Rum, Chopin Vodka, and Rancho San Julian Beef. We also need to thank the discerning palates of our judges, in addition to yours truly. For the food: John Jurey from Whole Foods, Elizabeth Poett from Rancho San Julian Beef, and Dave Yates from Jaffurs Wine Cellars. For the cocktails: Kevin Hebert from Harry's Plaza Café, Joanie Hudson from Santa Barbara Winery, and from The Independent's staff, Matt Kettmann and Ethan Stewart. Of course, the two events — grill-off hosted at Whole Foods, drink-off at Harry's — could not have gone as smoothly and entertainingly without our two witty, wise, and wonderful emcees: John Dickson for the food portion and Travis Manach for the cocktails. And now, on to our winners …
PRO ENTRÉE
Edie Robertson's Slow-Cooked Creole Short Ribs with Brown Sugar Rum Rub
Edie Robertson is probably best known for her 10 years as former executive chef/co-owner of the venerable Sojourner Café. Currently she runs her own catering business (455-2131, chefedie.com), while also serving as vice president of the Community Kitchen Board of Directors, feeding the hungry out of Casa Esperanza, and as vice chair of the Slow Food Santa Barbara Convivium.
About her wonderful ribs, she says, "The inspiration came from my girlfriend Kat, who spent some time in Mississippi —she does great BBQ. I tweaked the rub a little, adding rum and a couple of spices, and added more garlic over all. The Asian woman at the Farmers Market has incredible garlic that has fantastic flavor but doesn't have the harsh, long-lasting garlic taste. I was also inspired by Kat's patience in the process, the curing of the ribs overnight with the rub, the slow cooking in the oven, and the final turn on the BBQ with the sauce. They say everything is a bit slower in the South, except the eating frenzy when the ribs hit the plate!"
Chef Edie also has advice for any local 'cuer, claiming, "As I always say and do, start with great products. We are fortunate to have such a bounty in our backyards and at the Farmers Markets. As for my recipe, the slow cooking of the ribs ensures fall-off-the bone tenderness. Experiment with different spices and flavors in the rub; the global spice combinations are endless!"
As someone who helped make vegetarian food friendly to even the beefiest of meat eaters during her years at the Soj, Robertson also had to submit a recipe that went as far as being vegan (don't be afraid). It seemed worthwhile to post her recipe for Tandoori BBQ tofu triangles, too. "I created the tofu recipe for all the folks who are vegetarian and feel left out during BBQ season, their only option a plate of grilled veggies and corn with no entrée," Robertson explains. "It has been my niche to prepare tofu dishes in many forms, so the idea of grilling tofu came naturally. Super-firm tofu is a great option for the grill; it is very receptive to marinades and will hold its shape on the BBQ."
PRO SIDE DISH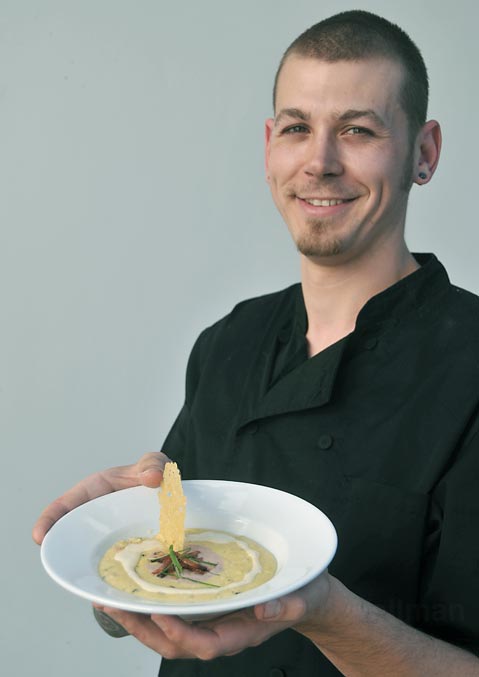 Aaron Robertson's Bacon Cheddar Grits
The wonderful kitchen at Union Ale Brewing Company (214 State Street, 845-8243, unionale.com) convinced Aaron Robertson he had to work there, with its Southern Pride smoker that holds over 300 pounds of meat and its full bake shop. A graduate of the Santa Barbara City College culinary arts program, Robertson is happy to work alongside Union Ale co-owner Matthew Chrestenson to, as he puts it, "bring great food with a Southern flair to Santa Barbara foodies."
Such Southern-inflected food is epitomized by his winning grits that the judges had a hard time not finishing, despite all the food they had to taste. After starting his workday in the kitchen at 5:30 a.m., Robertson (no relation to Edie, by the way) finished off his grits in the tailgate of his car in the Whole Foods parking lot, as if channeling Dinner: Impossible. "These grits are Matthew's recipe," he modestly admits. "I just made them a little better by adding a cheese sauce, blue grits in the middle, and a cheddar crisp for some extra garnish, and a lot of love. It felt great to win. It was my first competition, and I was happy just to be involved."
Robertson also has some specific advice for chefs at home: "Use local fresh ingredients. I feel, for instance, that Meyer lemons can be used with almost anything to give great flavors during the summer. Try taking half a lemon after you use the juice on a cocktail, then add the juice that's left to rice as it steams."
AMATEUR ENTRÉE
George Levinthal's Santa Barbara Southwest Turkey Burgers
Levinthal, a project manager in Design & Construction Services at UC Santa Barbara, has been the family chef for as long as he can remember. "I wanted to create a burger that would be a little healthier than the traditional beef burger but also had lots of flavor without using too much salt," he insists. "I've used ground turkey before in other dishes and decided to use them as burgers. The challenge for me was to keep the meat moist but also making sure that they were cooked properly."
Thrilled by his win, Levinthal has some advice for others hoping to stretch their amateur cooking wings: "I would say don't be afraid to experiment and prepare dishes that you might be afraid to try. Last year for the Fourth of July I tried baby-back ribs for the first time, and they came out great. Have fun and enjoy what you're doing. Some recipes may seem complicated and difficult, but try to rework them to your tastes and for whom you'd be making them."
AMATEUR SIDE DISH
Unlike the common current commercial mythology, Campos went to Disneyland the day before she won the competition. That made things difficult for this Oxnard resident, who is a courtroom clerk at Santa Barbara Superior Court. She got back from Anaheim at 9 p.m. the night before the contest, shopped, cooked her beans, and then brought them to work contest day.
"Around 2 a.m., I brought out my brand new Crock-Pot and proceeded to start the warming up process," she explains. "Having never owned a Crock-Pot, I was oblivious to the fact that you are not supposed to take off the lid to stir the contents. Opening the lid lets out the heat. I was opening the lid every 20 minutes so my beans wouldn't burn. By five o'clock my beans were barely warm. The clock was ticking, and I had no time to spare for my 6:30 arrival to compete. As resourceful as I am, I proceeded to scoop out coffee mugs of beans and heat them in the microwave. So going into the competition I was quite nervous and exhausted. It was quite a relief to win."
The yumminess of her chili didn't even give the slightest hint of microwaving — I promise. As for advice, Campos says, "For those inspired chili-bean makers out there, chili beans taste better the next day after cooking."
COCKTAIL PRO-AM
Mandy Huffaker's 10 Cane Caliente Cooler
Native Carpinterian Mandy Huffaker is on the management staff at Sly's (686 Linden Avenue, 684-6666, slysonline.com) and works behind the bar four nights a week, where she makes many of her own mixers, including her own bitters and tonic water. For the contest she says, "I love mango and have always wanted to create a cocktail that used mango in an application that wasn't overly sweet, or a frozen daiquiri. My goddaughter had left some Pico Limón at my house after spending a weekend with me because she loves it on cucumber. When Chef Sly suggested I enter the contest, I starting looking through my cupboards for inspiration and found the Pico Limón. I remembered the first time I had eaten mango con chile and what an interesting combination of spicy and sweet — it was addictive. I knew 10 Cane was one of the contest sponsors, and the drink kind of came organically from there."
The result is a piquant delight and particularly Santa Barbaran in a Fiesta-style way — it steals, er, lovingly appropriates something from Mexico and makes it wonderful. As for home-style mixology, Huffaker suggests, "Taste and taste and taste. For summer cocktails, specifically, think of refreshment, use plenty of good clean ice, and if there's a great fruit in season, buy it! Try it out … If it's good, purée it and freeze it so it can be used year-round. Read cocktail recipes — there are ratios that are important in a good cocktail to create the balance between the spirit and the flavor."
Huffaker's final bit of advice sums up the season, and our contest, aptly, "And don't take yourself too seriously — a great cocktail should be fun above anything else."