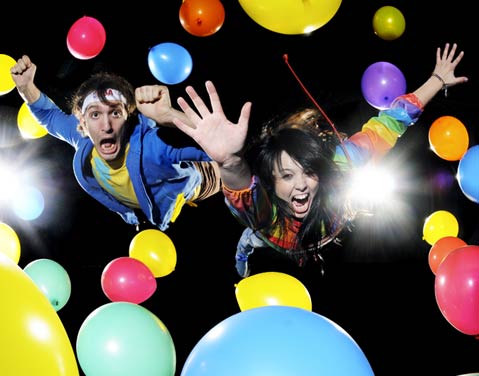 In the world of Math the Band, chaos reigns. In recorded form, the Rhode Island-based two-piece, made up of Kevin Steinhauser and Justine Mainville, exude the kind of frenzy-filled, fast-paced energy that begs to be slam-danced to. And their live shows—which take place almost nightly—are said to be some of the most raucous rock-outs out there.
On their latest recorded offering, 2009's Don't Worry, the pair employs a veritable arsenal of synths, samples, Casios, and beat-up drums to create songs that fluctuate between straightforward pop punk sing-alongs and downright silly electronic metal. On the NPR-featured album cut "Tour de Friends," Steinhauser scream sings then whispers lyrics against a wall of distortion, Nintendo samples, and chimey keys. Structurally, it's a simple pop setup. Sonically, it's the sound that gamers' dreams are made of. Elsewhere on the album, the duo blends their breakneck-speed synths with party-hearty chants ("Hang Out/Hang Ten") and cheeky instructional dance lyrics ("The Adventures of Brian Townsend").
If you ask Steinhauser, Math the Band's shtick is simple enough: "We are a punk band, only instead of having the traditional instruments, we are about 75-percent electronic," he recently told an interviewer. But you're more likely to associate the pair with their more boisterous influencers (Devo, Andrew W.K.) than their punk rock predecessors. Either way, the duo promises to bring one hell of a live show, for which both Steinhauser and Mainville have been known to get a little crazy.
This Tuesday, June 8, at 8 p.m., Math the Band brings their musical stylings to Velvet Jones (423 State St.) for an all-ages midweek show with nerdcore heavyweights MC Lars and MC Chris (of TV's Adult Swim fame). For tickets and info, call 965-8676 or visit ticketweb.com.