Arts & Entertainment
Nights Returns to the Santa Barbara Museum of Art
Fine Art Meets Live Music, Crafts, and Cocktails at Annual Summer Event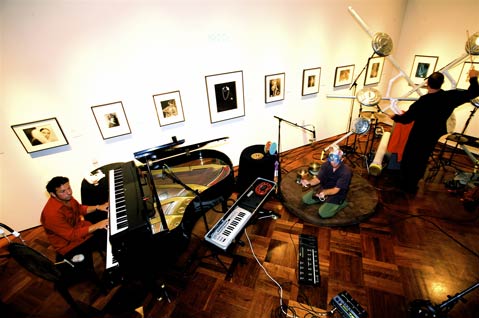 For seven years running, the Santa Barbara Museum of Art has hosted Nights, arguably the most successful and certainly the hippest big public party of the summer. Trimmed back from its original incarnation as a third Thursday thing lasting from May to September, Nights now occupies just two dates—this Thursday, June 10, and Thursday, August 19. The tighter schedule will likely raise Nights' already high-energy level to new peaks, especially this evening, when extended hours (until 9:30) and a great deejay (KCRW's Jeremy Sole) on the plaza behind the museum guarantee a funky good time.
For the early part of the evening, starting at 5:30, the action will take place inside the museum, where the exciting and imaginative participatory activities that Nights is known for will be in full effect. Artists will be on hand to assist guests as they experiment with different works of art in fun ways—like having them glued to their fingernails via the "You Wear It Well Press-On Nail Salon." In the Von Romberg Gallery, the "Annul/Pardon Altered Book Library" will offer the opportunity to put words together with images of works from the museum's permanent collection. And, in the large McCormick Gallery, the "Manhattan Jump to Centered Green" activity will celebrate and reflect on the museum's current Colorscope exhibition with opportunities to create abstract tempera paintings alongside a multimedia performance by Robin Bisio. Instant Love Mix, the latest musical group to be fronted by Tina Villadolid, will also be on hand during this creative session to deliver covers of familiar songs in unexpected arrangements.
Then at 8, it will be time to head out to the plaza, where the party will morph into a cross between art school and a dance club. It's there that attendees can try their hand at the potter's wheel and make original spin art paintings. Meanwhile, DJ Jeremy Sole will give everyone another reason to spin with his set, which is sure to be spectacular. For tickets and information, call 884-6414 or visit sbma.net.