Visual Arts
Art: The Next Generation
Exhibits Showcase Work by Young Artists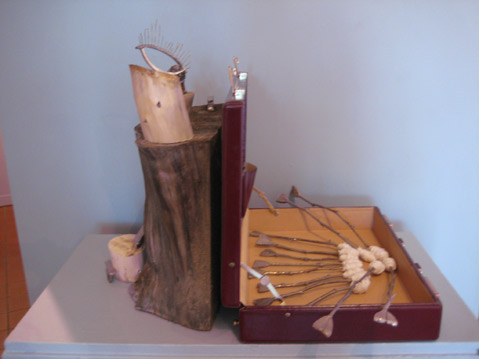 TEEN TALENT ON DISPLAY: The briefcase sits on a pedestal, propped open to reveal a quiver of arrows. Their shafts are knobby twigs cast in bronze, and cocoons of cotton string encircle their tips, making safe what might have been fatally sharp. This is "Soft Weapons," the work of high school student Angie Shen. Nearby stands "Knuckles," a work by the same artist in which metal forms suggestive of violence blend with nature, tree stumps and pinecones rendering potential weapons benign.
Shen is among 37 young artists chosen to participate in this year's Teen Arts Mentorship through the Arts Fund. Now in its 15th year, the program offers talented students an opportunity to work closely with a master artist in a single discipline for 10 to 12 weeks, culminating in a group show.
This year, for the first time ever, the program has offered bronze casting, and the resulting works show a sophisticated grasp of both technique and art history. Guided by SBCC faculty member Nevin Littlehale, Sabrina Sorich created the Dada reliquary "Conventional Chaos," in which LEGO blocks and metal coils sprout from a human head. Melanie Davis's "What Will You Feed?" references everything from Rodin to horror films; the artist used straw and wax to achieve a spidery, swirling texture to the torso and long limbs of her stooped figure.
Also new to the program this year is figurative drawing, and again the results are impressive. Marissa Sandoval's pencil sketch of a male head captures the sitter's intense gaze in delicate wavering lines, while Isaac Welsh approaches the same subject with bold angularity and emphatic shading, revealing the innate geometries of the human face.
As in years past, master artists offered traditional still-life painting and black-and-white film photography. In the latter medium, Ben Collinson experiments with short shutter speeds to capture the wavering arc of water from a drinking fountain, while Kalia DiIoia's photo quartet of apparently disparate subjects—fishermen on the beach, the county fair, a homeless woman with a shopping cart—forms a commentary on human consumption and our relationship with the environment. The show runs through July 16 at the Arts Fund Gallery (205-C Santa Barbara St.).
HOPE FOR THE FUTURE: In a reminder of what's possible when artistic talent is nurtured even earlier on, Art from Scrap (302 E. Cota St.) recently displayed art 4 all, a show of work by elementary-aged students from César Chávez, Franklin, Harding, and McKinley schools. The creative projects represented—from papier-mâché bears in plaid skirts to splatter-paint spin art done on vinyl records—were made possible by a privately funded art program that provides full-time art instructors at all four schools. Better yet, they have plans to extend to Adams Elementary School next year, as well as to schools across the county in years to come.
At the show's opening reception, proud artists showed off their creations. McKinley 2nd grader Christiany Charco pointed out her painted-wood assemblage inspired by the work of Louise Nevelson. "I found pieces I liked; I thought about where everything should go," said 5th grader Sage Gaspar of her work, which incorporated keys, bottle caps, and shells. From the excitement in the room and the vibrant individuality evident from the works on display, the future looks bright for art education in Santa Barbara's public schools.
And for a vision of where such support for the arts may one day lead, head out to the UCSB campus this week to catch Das Ist Art, the undergraduate exhibition at the Old Gym Project Space and Gallery, Building 479. The show includes work by more than 70 students and runs through Saturday, June 12, with a closing reception that day from 4-8 p.m. For more on the show, check out ucsbundergradshow.weebly.com.