Courts & Crime
Cold Spring Laptops Recovered
Sheriff's Detectives Track Computers to Bay Area; No Arrests Made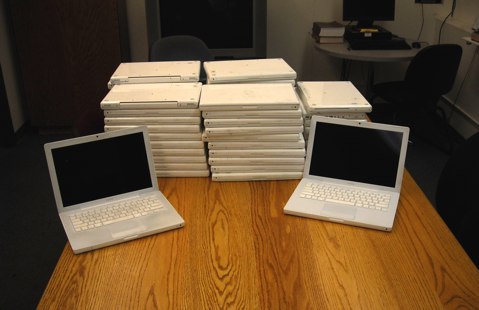 Santa Barbara Sheriff's detectives announced today, June 10, that 52 of the 60 laptops stolen from Cold Spring School earlier this week have been recovered. According to spokesperson Drew Sugars, three suspects entered the Montecito elementary school at 3:49 a.m. on Monday, June 7, breaking into several classrooms and swiping dozens of MacBooks. Their estimated worth, said Sugars, was $84,000.
Detectives immediately began working on the case, eventually receiving an anonymous tip that the stash was located in the Bay Area. Authorities recovered a majority of the computers there, said Sugars, but made no arrests. As the investigation is ongoing, no other details are being released at this point.
Sugars also noted that detectives have 12 seconds of video footage — showing the suspects walking on school grounds — to work with. They will be releasing images with the hope that someone will recognize the three suspects.
If anyone has information about the whereabouts of the last eight laptops or about the suspects, they are encouraged to call Detective Wes Johnson at (805) 684-5405 x423, or the Sheriff's Tip-Line at (805) 681-4171.