Columns
Dreamy Days in Isla Vista
Most Students Are Gone
You might not think of Isla Vista as the perfect place to take your kid for a fun-filled summer day, but if you give it a try sometime, you might be surprised. Summer is the perfect time to try out this experiment. Most of the students are gone by the middle of June, and all of a sudden there is more street parking, and I.V. gets back its relaxed beach town feel.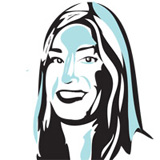 The first thing you'll want to explore is a beach. One of the best beaches for kids during the summer is Campus Point, which can be accessed through the UCSB campus, and is near Goleta Beach. It can be a little tricky figuring out where to park, you have to read the signs posted near the Marine Science Institute, but for $3 on the weekends you can have an incredible experience. The point is a favorite spot for surfers so it can be a great place to take older children who want to surf and boogie board. On days with little to no waves it's a terrific place to let your younger kids play in the ocean. You can walk quite a way out without hitting deep water. You'll see families with all sorts of beach-related equipment, food, etc. camped out on the beach. Most Campus Point beachgoers end up spending the whole day at this beautiful spot.
The next thing I would suggest is a long bike ride. During the summer there are fewer students so there is less chance that your child will collide with a bike rider gossiping on the phone about a party while weaving through the crowds. If you start at the end of El College Road near Isla Vista Elementary School, you can ride on the bike path all the way across the UCSB campus, out to Goleta Beach, and beyond. It's a great ride, and you can stop along the way to have a snack or smoothie on campus, or play at Goleta Beach.
If you would like to go the other direction, there are various ways to get out to the Ellwood area and bike along dirt paths overlooking the ocean. One way is to ride along the cliffs overlooking Devereux and bike around the slough. If you instead take the road that goes along the slough, which I try to avoid, be very careful, since cars drive along this winding road at sometimes high speeds.
Another great way to spend the day is to go for a long walk. I like to map out a route with the goal of crossing a street or walking on a paved road the fewest number of times possible. You can walk along Devereux Beach to the Ellwood area and up a once-paved path to the cliffs. From there, you can take your kids to climb some of the trees along the bluffs or walk through the Monarch Butterfly Preserve. For a shorter jaunt, you could walk through the open space near Isla Vista Elementary School and take a look at the horses near the Oracle Family Children's Center. While you can only look at the horses from afar, many small children get a kick out of watching them exercise or even just eat.
The Coal Oil Point Reserve is the perfect place to observe both the plant and animal life in the area. One of the best ways to experience the preserve is to walk along the beach starting in I.V., make your way toward Ellwood, walk past the point, and head up a sand path that takes you along a trail through the reserve. There are no large signs marking the path, but it is the only way to get from the beach to the Ellwood area on a sand and dirt path. Don't forget to look for snowy plovers as you head down the beach. You might see a family of plovers camouflaged in the sand. You also might see a snowy plover docent talking to visitors along the beach.
For a park-type experience, try Tierra de Fortuna Park, on Fortuna Road. It used to be home to a merry-go-round that was famous in the parenting world, but even without this attraction, it's a great park for small children. Or, if you are looking for an open space for a game of sport, you can head out to Ester Park, located between Camino del Sur and Camino Corte. There's a great big lawn, perfect for a soccer game.
With a lot of opportunities for summer fun, I.V. can be a great place to spend a day. And when you are hot and tired you can go to the downtown area and sit in one of the outdoor restaurants to eat and people-watch. Even without a multitude of students, there's a lot to see.
But even more importantly, a eating experience in downtown I.V. can take you back to days when there wasn't so much pressure to pay the bills and always do the right thing. You can take a few moments to relax, and realize that in I.V. you don't have to keep up appearances, you can just be.