Dance
Dichotomous Dance Event
Performance Features Sensor Technology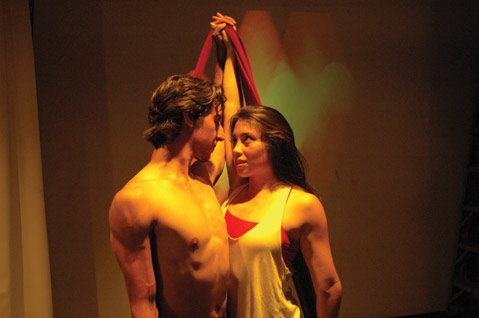 Most relationships involve some push and pull, whether or not it's apparent from the outside. It was a ballroom dance class that got software designer, media technology artist, and dance enthusiast Marco Pinter thinking about how to make the invisible visible. "The dance teacher took my hand to show me how to hold the right amount of tension in my arms, and I felt this force—this powerful bond," Pinter explained over coffee last week. "I wanted to capture for an audience what that force is."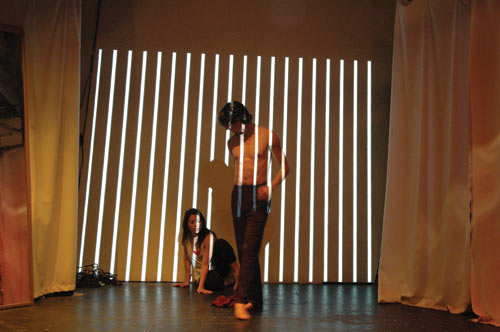 This Saturday, Pinter will present Dichotomous, a duet that sheds light on that elusive force between a man and a woman. Rather than relying on the performers alone to convey tension in their movement, Pinter has designed a sensor wrapped in stretchy fabric that "feels" the pull on the material and relays that information wirelessly to a computer, resulting in changing projections and sound effects as the dancers manipulate the prop.
Along with performers Kaita Lepore and Steven Jasso and cocreator Anaya Cullen, Pinter has explored the many ways tension shows up in our lives, from internal struggles to the power of attraction to antagonism and conflict. "This theme started emerging about male/female relationships in general," Pinter explained of the rehearsal process. "We started asking ourselves, 'Are all relationships the same?' We thought if we could explore this Mars versus Venus thing in a visceral way, stripping away all the words, that could have real impact."
Though his background isn't strictly in dance or choreography, Pinter has always been inspired by dance, and he attends every performance he can. He also works for a robotics company and has designed video and entertainment software for Mattel and Disney. Recently, he's been finding ways to combine these apparently unrelated interests. The site of their intersection is this: performance art that incorporates new media and technology. He attended a workshop in New York with Troika Ranch, a dance company that has developed a piece of software specifically for the manipulation of digital video during performance. Only after learning more about the intersection between new media and the arts did Pinter realize that some of the major players in the field are right here at UCSB. This fall, he'll begin a PhD in the department of Media Arts and Technology, a program known nationally for cutting-edge research.
In the meantime, this weekend's performance represents new territory for everyone involved. Cullen, a dance artist who also works as a costume designer for State Street Ballet, describes Dichotomous as "a duet that functions choreographically as a trio. The technology itself becomes another dancer," she explained. "This has been an intriguing and challenging way of collaborating. It opens new possibilities in terms of physical movement and in terms of what dance can address in our relationships and in our society."
The creators of the piece aren't the only ones who get to explore the edge between technology and performance; Saturday's show includes time for the audience to interact with the material, as well as a discussion of the creative process. Because Dichotomous takes place at the Pescadrome—an intimate space in the Funk Zone that's home to the Fishbon creative collaborative—Pinter and his team are expecting enthusiastic participation. "Every member of the audience will have the opportunity to interact with the performers and the technology, experiencing for themselves this new way of seeing and hearing the movement of their bodies," Pinter promised.
For Lepore, learning to move with the loop of lycra spandex and through it to control the projections and sounds has proved a real challenge. "Having the fabric is like having a dance partner who does not do what you want him to do," she explained. "There are so many things to concentrate on." Lepore considers this weekend's show a draft of an evolving project and says she's excited to get audience feedback.
The word "dichotomous" suggests disparate elements or opposing forces—as in male/female, the variety of ways tension is expressed in relationships, and the seemingly disparate disciplines of dance and technology that may not be so far apart after all. It's also a good way to describe the people involved in the creative process. "We've all come from different perspectives and backgrounds to create this piece," Lepore noted. Sounds like the kind of creative tension that yields compelling results.
4•1•1
Dichotomous takes place at 8 p.m. on Saturday, June 26, at the Pescadrome. For tickets or more information, check out fusion-artist.com/tix.