Arts & Entertainment
Street Incredibilities
Backstage at Summer Solstice in Search of the Floats to Watch
"I always say I have the best job in the world," says Claudia Bratton, Summer Solstice managing director, inhabiting for a few moments the still point of the Solstice workshop cyclone. She should know. She's been doing it for 10 years now, almost twice as long as even legendary Michael Gonzales, founder and muse of the annual zany Saturday summer parade. "You know why it's so great?" she asks, suddenly conspiratorial. "Because I get to dress up city officials and march them up State Street."
Indeed she does. Just the night before, the city's political elite (known as dignitarios over in Fiesta-land) trundled over to the workshop space with its sumptuous costume room to be decked out for the parade's annual pass-the-hat float; this year entitled Alice in Summerland. The officials? "Well, the mayor is going to be a money collector I'm calling Cotton Candy, working with Bendy White who I've decided to call The Bendable Buddy. Frank Hotchkiss is the White Rabbit, Grant House is a Dodo Bird, Michael Self is an Eaglet, Das [Williams] is going to be a Frog Footman, and Dale Francisco is a balloon carrier." Are there any political allegorical qualities to these roles, one wonders? "Read into it what you will," laughed Bratton.
Of course great changes have transpired during Bratton's decade of tenure. On the negative side, grants have grown steadily scarcer and smaller, as the economy has shriveled. "In one weird way, though, the recession has helped us," explained Bratton. "And that's the caliber of technical staff that has suddenly become available to us." A lot of unemployed skilled workers would rather do papier-mâché and balance heavy floats for a few weeks than sit around idle. Also in the plus account, there's been surprising stabilities introduced to an historically improvised venture. Besides Bratton, the role of artistic director has been steadily held for the last seven years by Ricardo Morrison, a friendly powerhouse expert in both dance and carpentry. The biggest factor, however, is the heaven-sent headquarters. Summer Solstice has had permanent digs at the corner of Ortega and Garden for the last four years, ending a 25-year tradition of annual nomadic searches for home.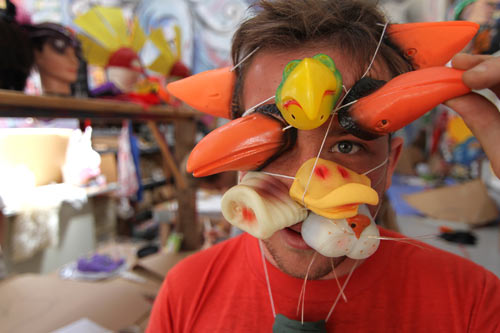 The weirdest visible change, however, is the computer. "Everything's on email now," said Bratton, who used to write grants on a typewriter. People are designing floats on computers, there's a Summer Solstice "app" known as iSolstice, and a beautiful Web site. "And we're on Facebook!" she said. Perhaps next year a virtual parade, online only? "No," said Bratton, "because the beauty of Solstice is still the collaboration you see between the artists." And the street, presumably.
As she is most years, Bratton is "tickled" by the sheer variety and dizzy ingenuity on display as the parade morphs from plans to contraptions. Here's a cheat sheet:
1) One sure draw this year will be Laura Smith's as-yet-untitled-officially magical carousel, a conglomeration of finely rendered Merry-Go-Round animals, some of which will be confined to a mock amusement ride, and others set free through some liberational property inherent in the way her floats evolve. "Here's the deal," said Smith. "I ask my daughter Sophie, who is now eight years old, what she wants to do. She tells me, and I say, 'Okay.'" This is Sophie's eighth year in the parade, by the way.
2) Another young artist with tradition behind her is Danielle Clenet, granddaughter of that Clenet. "We have one of his cars," she proudly claimed. The 16-year-old Dos Pueblos student decided she needed something Venice in the parade, and, after a Google session, came up with the idea of three giant masks, which even in their unfinished workshop shape looked classically beautiful—and for this parade, stunningly simple, though she threatens to blow the collective audience mind with a big surprise. "Three's a good even number," she joked, at her math teacher's expense. "If I could anything in the world, I would be a sculptor," she said. Don't look now, but she already is.
3) Two of my fave picks happen to be inspired by the muse of hops. "Beer," said attorney Tom Deitch, "specifically four Stellas," explaining the genesis of his float, Dancing Elvii. Along with float-partner Steve Ruggles, Deitch fashioned a cushy red velvet throne for the King, which will be surrounded by approximately 20 versions of Elvis in his bloated, war-on-drugs phase. "We had a bit of a debate, which one to go with," said Deitch, who considered Hawaiian, Christmas, and even Military Elvis. "But this one seemed the cheapest to do.
4) Another float predicated on brews comes from the febrile minds of John Sinclair and young Zac Palladino (yep, my son), who hatched their cosmic-code-cracking Dolphination concept in their backyard down across from a brewery in Fishtown, Pennsylvania. Though details remain shrouded, a critique of human-centric behavior seems assured.
5) Floats from seasoned veterans bear mention. SBHS English teacher Paul Forster, once the Bad Boy Bane of Bratton for his biting social satires (he grimly anticipated the Gulf Spill), this year dreamed up an ensemble called Waves, with kids dressed as sanderlings, peewits, and sand crabs in a float that includes my own ingenious spouse, Diane Arnold, and super-cute niece Nicole. (He promises no last minute tricks. "Some things just aren't funny anymore," Forster said.)
6) And, of course, no Solsticial fete would be complete without finale-meister Pali X, whose giant blow-up fabric spectacles bring up the rear, amazing the people. "His is called the Pineapple Peacock People," explained Bratton. "I love the alliteration." Mr. X himself thinks that peacocks are perfect because they come equipped with cosmic eyes, which makes them "ambassadors of the divine here on Earth."
7) But, of course, the theme being Carnaval, we mustn't neglect the rock-steady troupe from Brazil, which is, as always, hosted by Bahia-born impresario Mariano Silva, now in his eighth year—tied with little Sophie. "This is my year," he laughed wickedly, promising to put 65 drummers, 70 unchoreographed samba dancers, and 120 capoeiristas on the streets celebrating everything from the World Cup to the joys of family life. "I make them unchoreographed so everybody can join in, from mothers with babies to grandmothers, from 82 to 12. I'm going to get them to play like they do in Brazil. I'll say, 'Let's have fun. Let's move. Let's be free.'" Come to think of it, he has a pretty good job too.