Positively State Street
Joe Pug, Or, the Whale Headline Solstice Sings Like Hell
The Indy Gears Up for 2010 Battle of the Bands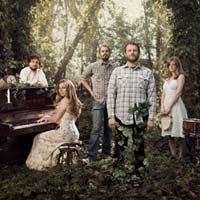 A FORCE TO BE RECKONED WITH: If you're in need of a Solstice-light Saturday night, I recommend checking out this weekend's installment of the Sings Like Hell concert series at the Lobero Theatre (33 E. Canon Perdido St.). It's there at 8 p.m. that San Fran folkies (and not-so-closeted Melville fans) Or, the Whale (myspace.com/orthewhale) team up with Chicago singer/songwriter Joe Pug (myspace.com/thejoepug) for a double bill of truly epic proportions.
Though he's only 25 years old, Pug has long been heralded for his heartfelt, sonically minimalist, and achingly Dylan-esque songcrafting. A failed playwright, and onetime carpenter, Pug has made a name for himself over the years thanks to a strict diet of self-booked cross-country tours and grassroots music dissemination. (He's said to have given away more than 15,000 samplers of his music to fans and would-be-fans around the world.) Despite it all, it wasn't until February of this year that Pug laid claim to a full-length record of his own. And the result of his long-anticipated recording sesh, the aptly-titled Messenger, proves to be more than worth the wait. The record is brimming with Pug's twangy/raspy vocals, strong yet poetic lyricism, and a flurry of acoustic guitars that fluctuate between assertive and submissive from track to track. It's music that resonates with honesty — and promises to be a great live listen.
Meanwhile, co-headliners Or, the Whale are about as far from minimalist as live acts come. The seven-piece mixes countrified ditties with garage rock-tinged blues to create a sound that's part Mumford & Sons, part The Wailin' Jennys. At their twangiest, the band call to mind visions of an old-school cowboy campfire, complete with group sing-alongs and pedal steel. At their most hard-rocking, Or, the Whale could hold their own on a bill with The Dead Weather.
"I feel like genres really have to blend just to be able to classify the music that's being made right now," explained frontman and founding member Alex Robins. "As we've developed and continued to write, I think we've moved away from trying to fit songs into a certain genre. Now we're just focused on shaping musical ideas into Or, the Whale songs." For tickets and show info, call 963-0761 or visit singslikehell.com.
IN CASE YOU MISSED IT: As of last week, The Independent's musicphiles (myself included) got to work on what will be our fourth annual Santa Barbara Bands Issue. And with this yearly rite of passage comes — you guessed it — the requisite Indy-sponsored battle-of-the-bands competition. This year, we're teaming up with New Noise (newnoisesb.com) to bring our talented winner a boatload of primo prizes, not to mention a few can't-be-missed live showcases.
If you (or your band) want to get in on the action, it's as simple as this. Head on over to independent.com/band_submission before Tuesday, August 31, and fill out the simple form to register and create a profile in our database. Once you've done that, you've scored yourself a place in this year's band issue (which will hit newsstands Thu., Sept. 30) and entered this year's contest.
Following the publication of that issue, four days of online voting will kick off to determine the top eight bands on the Central Coast. And from there, those semifinalists will gig it out live at SOhO for the top prize, and the much-coveted bragging rights that come along with being named the best band in S.B. In addition to scoring a spot on New Noise's sure-to-be-stellar 2010 lineup, the winning act will also score passes to the festival and conference, one-on-one time with some of music's leading execs and managers, and recording time at S.B.'s own Playback Studios. In short, it's an easy way to get some seriously life-changing opportunities thrown your way.
Interested parties are encouraged to visit independent.com/bands for more info or email bands@independent.com with questions. Good luck to all, and may the best band win!