Arts & Entertainment
Warped Tour at Ventura Country Fairgrounds At Seaside Park
Sum 41, All-American Rejects Headline 2010 Fest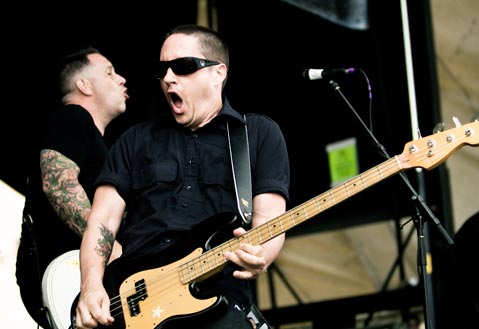 Part musical festival, part cultural affair, this year's Vans Warped Tour at the Ventura County Fairground at Seaside Park packed an impressive punch, with an all-day musical line-up that featured a wide array of well-known and seasoned artists alongside up-and-comers. Thanks to a mish-mash collection of ska, punk, and a bit of light R&B-infused tunes mixed into the groove, Warped 2010 spoon-fed its young concertgoers a lavish dish of decidedly alternative fare.
The salt-infused sea air and mid-day mist did nothing to deter the punk rock masses that descended upon the fairgrounds this past Sunday. Amongst the hefty and high-numbered acts slated to perform across the five stage setup were pop punksters Sum 41 and the All-American Rejects, old school names like The Casualties, and hard rockers like Face to Face and Andrew W.K., all of whom delivered the perfect amount of rock on their respective platforms. Yet many up-and-coming artists proved their musical worth at the festival as well.
Rising star Mike Posner graced the AP/Advent Stage to a large crowd of screaming fans, and with smooth precision, a few clap a longs, and some well placed banter he likely won over a few more. Posner delivered several hits, like "Drug Dealer," an intoxicating and mashed-up rendition of "Evil Woman," and his latest R&B-infused number, "Cooler Then Me," which turned the place from concert to karaoke party. Posner proved his popularity to any casual passerby, as the audience bombarded the stage during and post-set to get a piece of the artist.
Later, Motion City Soundtrack took their act to the fest's main stage, where they won the crowd over with hits such as "Worker Bee," "The Future Freaks Me Out," and "Her Words Destroyed My Planet." Throughout it all, keyboardist Jesse Johnson proved to be the one to watch; he played with unbridled enthusiasm, grasping his keyboard for dear life and flailing his legs in the air song after song.
As the day went on, Sum 41 took to the Glamour Kills stage and incited a peaceful riot of sorts. Along with their enthusiastic renditions of memorable tracks such as "We're All To Blame," "In Too Deep," and "Fat Lip," the band brought with it numerous opportunities to crowd surf, mosh, and get our hands on the group's inflatable guitar, which was thrown into the pit at one point or another. Throughout it all the crowd reciprocated the band's enthusiasm as lead vocalist Deryck Whibley repeatedly queried, "Are you ready to have some fun, or what?" to a sea of eager sceams.
The All-American Rejects wrapped up the day to a setting seaside sun with hits like "Move Along" and "Gives You Hell." Lead vocalist Tyson Ritter, donning an all-white ensemble, swaggered across the stage and bellowed "You want something dirty?" before belting out the classic "Dirty Little Secret," much to the contentment of adoring fans. The band finished off their set by pumping up the volume and filling the nigh sky with their signature serenades. As the All-American Rejects wrapped up their set to a chanting, yet exhausted crowd, and darkness settled over the Ventura sky, concert goers meandered out of the fairgrounds with ears pounding and hearts racing, as if to answer Whibley's original question. Yes, I think we had a whole lot of fun.