FRANKENBERRIES AND CREAM: Don't get me wrong. I'm more than the sum of all my grumpy parts. I saw Marmaduke, and I'm not ashamed to admit I laughed, I cried, and then I cried a whole lot more. Same with Shrek X and Toy Story XX. This being summer time, and I'm wondering where are all the cheap-thrill scary movies to which we're constitutionally entitled? As usual, corporate America has dropped the ball. And as usual, the public sector has been there to bail them out. In our case, County Parks and Recreation just launched its vintage monster movie series — absolutely free — beginning July 7, at the county courthouse. Hey, if this is socialism, you can call me "Comrade."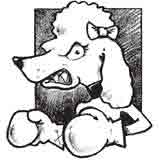 When it comes to things that go bump in the night, the State of California is certainly doing its part. This week, for example, we should get the final verdict on whether strawberry growers can spray their fields with one of the nastier known chemicals on the planet, methyl iodide. A panel of prestigious scientists hired to study the stuff charged that state regulators have embraced "safe exposure levels" 120 times higher than what the scientists recommended.
For the past 50 years, strawberry growers relied heavily upon methyl bromide, one of those silent but deadly gases sprayed into the ground to kill microscopic critters. In the wrong hands, methyl bromide could be considered a Weapon of Mass Destruction. It can cause cancer, birth defects, memory loss, dementia, cramps, a host of socially awkward tics and twitches, and on occasion, death among field workers accidentally exposed. It also strip-mines the ozone layer at a rate 50 times faster that typical aerosols and other CFCs. For this reason, the United Nations and the Montreal Protocol decreed in 1992 that it should be banned. Deadlines have a habit of getting pushed back, especially for people who produce the world's most popular fruit, candy-on-a-vine. But by 2005, the beginning of the end for methyl bromide started in earnest, and even strawberry growers got the message.
The quest for a safer but equally deadly alternative has been problematic. The best industry has come up with is methyl iodide. The good news is that the gas dissipates faster than methyl bromide, meaning it's less damaging to the ozone layer. But who cares? With climate change and ocean acidification, who bothers about the ozone layer anymore? Isn't that like worrying about herpes when you already have AIDS? And besides, I thought we fixed that problem.
The downside is we don't know all that much about methyl iodide. What we do know indicates it's a lot scarier to humans than methyl bromide ever was. It's what scientists call a highly reactive agent, meaning it's chemically promiscuous. Translated, it rearranges the deck chairs in the Titanic of your DNA. That spells cancer. Nervous system disorders. Birth defects. Back in 2007, the EPA — then under the thumb of George W. Bush and in the thrall of the industry leaders appointed to run it — gave methyl iodide a clean bill of health and established stratospherically high safe-exposure levels — 193 parts per billion. At that time, 54 prominent scientists — many of whom were Nobel Prize winners — wrote a scathing letter denouncing the scientific basis by which the EPA rendered its decision. Among them was UCSB chemistry professor Thomas Bruice, who stated in a phone interview at the time, "You don't want this being used. People will get killed." The science was basic stuff, he said, well understood by second-year chemistry students. That the federal regulators disagreed, Bruice chalked up to a fundamental misunderstanding about the morphology of their glutei maximi. "We have people who run things in government," he said, "who don't know their butt from a flat rock."
Such head-in-the-sand decision-making is what we came to expect from the Bush Administration. But not from the California Department of Pesticide Regulation (DPR). Not with a liberal Republican governor who claims to be an environmentalist. Not with both houses controlled by Democrats. And not in the year 2010. In fact, DPR assembled a team of highly qualified scientists to study the matter. Based on certain studies showing a link between exposure and fetal deaths in certain animals, the panel concluded that exposure levels should be kept low, to no more than 0.8 parts per billion. They were warmly thanked for their work by departmental officials, who promptly concluded that the safe standard level should be much higher, 96 parts per billion. Strawberry growers had complained that the operational requirements — buffer zones from schools, homes and the like — for using the stuff were already prohibitively stringent. If operators made sure to wear lots of protective clothing, respirators, and made sure the ground tarps were tightly sealed, there should be no problems. Besides, they argued, most growers live near the very fields that they fumigate; they wouldn't do anything stupid. And presumably no oil companies would want to lose billions of dollars a day either, just because they failed to ensure their blow-out preventer was working.
None of this, of course, has anything to do with Santa Barbara County, where 7,500 acres are under strawberry cultivation. Strawberries remain Santa Barbara's top-grossing legal crop, fetching $344 million last year. That's more than four times what berries brought in five years before. And it's more than twice as much as broccoli. The pickers, of course, remain the most vulnerable to exposure. But since most are here illegally, that's not a problem. If they start driving erratically because of nerve damage sustained, perhaps, from an accidental whiff, we'll have them pulled over and sent home, no doubt, for driving with an expired license. That is, after all, a very serious offense.
In the meantime, I'll see you at the movies. I'll be the guy who smuggled in the bowl full of berries. The weird thing is as great as they smell, they don't taste as sweet.