Arts & Entertainment
Los Lobos Coming to the Bowl
Veteran Los Angeles Band Opens for Steve Miller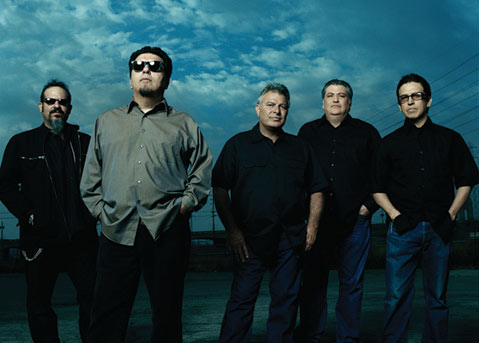 BOWLFUL OF VETS: This Saturday's Santa Barbara Bowl-side diversion is a blast from divergent rock and roll pasts. In the headliner corner, comfy-chair boomer star and closet blues artist Steve Miller is in the 805 again, with his parade—and tasty guitar licks, including unabashedly pilfered riffs and chewing-gum hooks. Beyond pop-hit duties, Miller does like to stretch: At his 2008 Bowl show, Miller groused about the 10 o'clock curfew and opted to pay the hefty fine for spilling over the witching hour. Expect Miller to stir in more blues this time out, having released his first new studio album in several years, Bingo!, dedicated to late blues harp player Norton Buffalo and traversing blues cover songs and party favorites.
Saturday's opening act comes from the next half-a-generation down, taking a more pro-active creative tack compared to laurel-resting "classic rock" icons: Los Lobos, one of America's greatest bands of the last quarter century, busted out in the early '80s and continues to both tend its old, fattening songbook and keep creative fires burning. To that end, the band is releasing yet another strong album (really, they have yet to put out a weak one), out in August. Tin Can Trust (Shout! Factory) has all the goods we expect from Los Lobos. Tasteful songwriting and savory grooves start early, with the whiskey-woodsy opener "I'll Burn It Down" and the slinky-loping "On Main Street." They heed a personal stylistic map including blues-rock, folk lyricism, flowing jams, nods to Mexican roots ("Yo Canto" and the norteño "Mujer Ingrata") and the quiet, sure brilliance of David Hidalgo's voices—via vocal cords and guitar playing.
Like the Grateful Dead, Los Lobos is an organic, veteran band that has built up its own following outside the conventional music business trenches. Thus, it feels natural to hear them take off on "Bertha," and on Tin Can Trust, the Garcia-Hunter tune "West L.A. Freeway" (from the Dead's In the Dark) is added to the Lobos book. It closes with the deceptively compact, swampy account of the Spanish conquest of Mexico "27 Spanishes."
Nearly three decades ago, the band posed the musical question, "How Will the Wolf Survive?" Through a dogged, deeply musical adventure, end-running around modern rock radio's freeze-out on interesting new music, Los Lobos is surviving and thriving, gracias very much.
FRINGE PRODUCTS, INSIDE AND OUT: For sheer mainstream jazz piano grandeur and warmth—times two—there may be no more ravishing piece of work this year than Double Portrait (Blue Note), the gorgeous new duo recording by Bill Charlap and Renee Rosnes. Yes, the pianists are married, and yes, closing the album with "Never Will I Marry" supplies a wink behind the musical glow of the reading. Charlap and Rosnes are two of current jazz's most prominent pianists, and together, they make especially empathetic magic, on a set including tunes by past Rosnes collaborators Wayne Shorter (including a lovely "Ana Maria," penned for Shorter's wife) and Joe Henderson, with Lyle Mays's handsome "Chorinho" opening the proceedings. Could this be the finest jazz piano duo album released by a major label? Possibly so.
Sinuous, smart, and free-minded drummer Tom Rainey is arguably Santa Barbara's most significant contribution to jazz (bred here, through San Marcos High School, he has been a New Yorker and jazz-world citizen for a few decades). With Pool School (Clean Feed), the drummer finally lobs his leader hat officially into the discographic ring, after earning high praises with artists as varied as Fred Hersch, Kenny Werner, Ray Anderson, and Tim Berne. On Pool School , Rainey converses, challenges, and heeds the advice of his nimble, able allies (and, incidentally, two of the more intriguing women on the current avant-jazz scene)—frequent recent cohort saxist Ingrid Laubrock and guitarist Mary Halvorson. They make bracing, uncompromising, investigative and collectively painterly music together. Pool School is from its own school of cool. Welcome to the record rack, Mr. Rainey.