Arts & Entertainment
Au Revoir Simone at Velvet Jones
Brooklyn Dream Popsters Headline Night of Female-Led Performances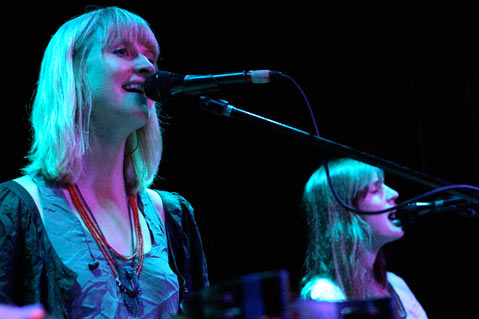 Friday night at Velvet Jones was a night for sultry songstresses, who spent the evening serenading attendees with their soothing voices and filling the space with both a strong femininity and resounding sense of power. Dubbed the "Slumber Party Tour" by show opener Alexa Wilding, Friday's lineup was brought together by none other than Brooklyn dream-pop princesses Au Revoir Simone, who produced both an impressive turnout and a killer performance.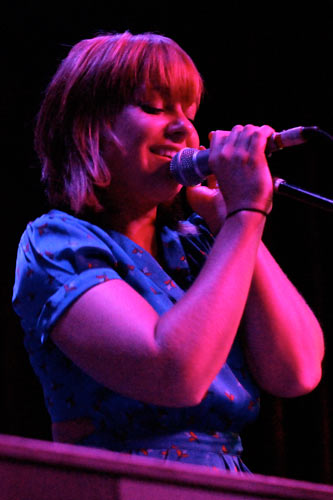 Kicking off the show was the hauntingly talented Wilding, whose vintage-feeling art rock has recently scored her some noteworthy praise in the music world. Although the chanteuse emanated pain and darkness in her music, she showed an incredibly upbeat and endearing side of herself onstage, telling in her candied voice the story of how her song "Black Diamond Day" stemmed from her pastime of stalking celebrities with her sister, with no success—until the day one actually spoke to her. Her compelling lyrics and faint guitar stroking, combined with a hint of the hardness of rock 'n' roll, offered a listening experience that was as unique as the songstress herself. Other set highlights were "Light" and the beautifully morose "Saturn."
Santa Barbara's own ThreadSpinner took the stage next, with the most sensual, sexual, and lively performance of the night. Vocalist Sarah Ziebarth's powerful voice resonated, dripping with girl power authority. With a slightly folky feel, the group produced a number of diverse sounds, but Ziebarth undoubtedly ruled the stage, calling to the audience with her come-hither disposition on tracks like "Where the Game Begins" and the soaring title track of the band's debut, "Night Chorus."
Closing out the night were headliners Au Revoir Simone, who nonchalantly captivated the audience with their wispy vocals, fluttering synth lines, and sunny organ-infused pop. Filled with a hidden creepiness, the timid beginnings of their beats reflected their casual onstage delivery, while their soft, breathy crooning and orderly, placid musical tones created a beautiful soundscape, charming showgoers. The flawless set included favorites off 2009's Still Night, Still Light, like "All or Nothing" and "Shadows," and had fans calling for an encore that was humbly granted.