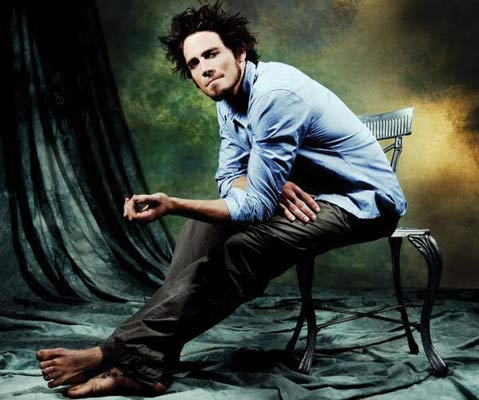 BORN TO ROCK: You can't help but feel for the spawn of rock 'n' rollers. Aside from growing up on a tour bus, they're almost expected to try (and fail) filling mom or dad's musical shoes. Kelly Osborne tried and flopped (more than once); Sean Lennon remains the rare success story. And we all remember the train wreck that was MTV's musical offspring talent search, Rock the Cradle.
It goes without saying, then, that 33-year-old Ben Taylor doesn't have it too easy. As the son of musical match James Taylor and Carly Simon, the young singer/songwriter has not one, but two Grammy-winning lineages to live up to. Lucky for us, he succeeds where so many others have failed. On his most recent recorded effort, 2008's The Legend of Kung Folk: Part 1 (The Killing Bit), Ben seems to find his own footing as an artist, mixing Ryan Adams-style sensibilities with John Mayer's signature suaveness. (He also sounds almost creepily akin to his pops in tone and inflection.)
This Monday, July 19, Taylor teams up with Nashville chanteuse Katie Herzig at SOhO (1221 State St.) for an evening's worth of delicately orchestrated folk rock and pop. The 21+ show starts at 8:30 p.m. For tickets and information, call 962-7776.
THE LATE SHOW: Also at SOhO this week, Ventura's strummers Todd Hannigan and Lee Koch return to town for a triple bill with Santa Barbara's own Omar Cowan on Thursday, July 15. With a rich and emotive voice that falls somewhere in between Nick Drake's and Eddie Vedder's, Hannigan is one of the South Coast's shining stars. Born from the same tight-knit surfing world that gave us Jack Johnson, Hannigan takes a slightly more serious approach to his songcraft, weaving poignant lyrics over intricate guitar parts and melodies. He plays with backing band the Heavy 29's. As for Koch, the delivery style is more obviously upbeat. Where Hannigan channels the brooding crooners of the 20th century, Koch falls more in line with the pop rockers and alt-country stars of more recent years. Together with his band the Grinders, the young singer/songwriter pens tunes that simultaneously call to mind a poppier Blitzen Trapper or a more soulful Jason Mraz. In either mode, he's exploring a modern take on Americana that's downright infectious. The 21+ show starts at 8:30 p.m. Visit sohosb.com for info.
GRRRRL POWER: To balance out the gender war this week, I recommend a stop by Velvet Jones (423 State St.) on Thursday, July 15, for a rock 'n' roll show of a whole different variety. It's there that L.A. outfits Sweethead and Nico Vega will team up for a double bill that is sure to incite a fair amount of sweaty pandemonium.
Formed by Queens of the Stone Age guitarist Troy Van Leeuwen and singer Serrina Sims in 2008, Sweethead has made a name for themselves by mixing vintage rock influences (The Kinks, David Bowie) with a contemporary swagger and industrial-leaning sonic palette. It's a fusion of old-school punk and an obvious love affair with synth and electrified guitar screams—and it makes for a sound and presence that's downright hard to ignore.
As return offenders to the State Street venue, Vega, I can promise, can put on a show. Fronted by the small but mighty vocal powerhouse Aja Volkman, the band is known as much for their onstage antics as they are for their hard-hitting take on garage rock. (Think The Runaways meets the Yeah Yeah Yeahs.) Since releasing their eponymous debut full-length last year, the three-piece has been busy touring with everyone from Gavin Rossdale to Shiny Toy Guns, and dishing out songs that fluctuate between melancholy ballads and in-your-face rockouts. As for the live show, prepare yourself for moshing, dancing, and a whole lot of raucous scream-alongs. The show starts at 9:30 p.m. Visit inticketing.com for tickets.