Arts & Entertainment
Maps & Atlases Explore New Territory with Barsuk Debut
Chicago Experimentalists Play Muddy Waters Café This Tuesday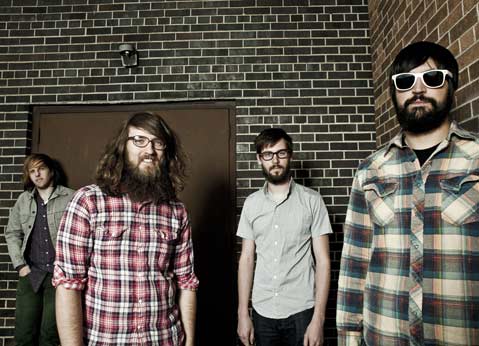 When listening to "Will," the wordless, shape-shifting lead track on Maps & Atlases' full-length debut, Perch Patchwork, it's hard to believe this is heavily toned down from the music they've made for previous releases. This Chicago-based experimental rock outfit, fronted by the plaintive-voiced Dave Davison, has moved on from the berserk progressive rock spasms of technical flashiness—for the moment, at least—in favor of a more song-oriented approach. And the change has worked well for them.
Their early EPs were products of band members experimenting together in college, overflowing with ideas, but with no specific direction for their music. With that energy propelling the creative process, said guitarist Erin Elders, it was as if the musicians were saying, "Let's take all these things that we're just sort of jamming on and all these ideas and sort of mash 'em all together and see what happens." He added, "We have a little more direction now … sometimes."
This posse of math-rockers, which started off with modest dreams of playing at the local bowling alley/punk rock venue, now spends much of its time on multi-state tours (they tour Europe this fall), often in search of the sometimes-elusive vegetarian dining establishments in the cities they visit. "The way we've gotten to know the United States is through restaurants," said Elders.
The folk-rock ideas and lyrics that Davison brings to the table are the meat of the music, but the band members chop, grind, and process those ideas in ways that individualize each song. Despite the Maps & Atlases' penchant for avant-garde composition, Perch Patchwork (their debut for Barsuk Records) is a restrained work—almost a pop ballet—full of changing time signatures and intricately arranged guitars, flutes, strings, and horns. It's folk rock for the restless.
The arrangements may be more straightforward this time around, but the instinct for experimentation remains. The playing of drummer/percussionist Chris Hainey, for instance, routinely impresses the listener with its controlled chaos. "Sometimes it's like he's like a one-man army over there in the rhythm section. It's interesting. There's so much multitasking," said Elders. "He did some marimba parts on the record, too, that definitely bring a whole other side out in the song."
In fact, the writing process for Perch Patchwork involved heavy layering and self-editing. "I think the songs definitely start off in a much more stripped-down feel," explained Elders. "There's some songs that we've sort of tried to, you know, put through the process of Maps & Atlases, and it ended up not necessarily working, or working against the song. And that's always sort of part of it, too, where it's like, 'Could this exist as a Maps & Atlases song?' or, after going through the process of layering, 'How does it work for the song?'"
As unusual as this music can seem, there's a bit of hominess that comes through the odd meters and instrumentation. Elders feels that some traits of hometown Chicago—especially the harsh seasonal changes—make themselves present on the record, even in ways that Maps & Atlases did not intend. "In some of the moments, you can almost feel some of the Chicago winter in there," he explained. "You spend an entire year writing and recording a record … some of the elements of home are going to make it in there whether you want it to or not."
Even though, with this record, they have arrived on a sound that seems both alien to the average rock fan and completely natural for the band, the guys in Maps & Atlases have no intentions of settling. Said Elders, "I think we're just one of those bands that kind of cherishes that idea of experimentation. What are we going to do next? Who knows? The next record may be something that's way too experimental and no one wants to hear it." Predictability, no surprise, is not their style.
4•1•1
Maps & Atlases play Muddy Waters Café (508 E. Haley St.) this Tuesday, July 20, at 8 p.m. with openers Cults and The Globes. For tickets and info, call 966-9328 or visit clubmercy.com.