Arts & Entertainment
Country Star LeeAnn Rimes in Santa Ynez
The Chumash Casino's Samala Showroom Goes Country
COWBOYS (AND -GIRLS) ON THE RES: Since the Chumash Casino threw its hat into the concert-venue ring in 2004, with Fleetwood Mac christening the Samala Showroom, the casino has contributed greatly to the general health and well-being of the county's musical calendar. Mostly, the casino's booking policies lean toward particular demographics, including the oldies and nostalgia-fueled classic-rocker set (Paul Rodgers, Huey Lewis, Steely Dan, Steve Winwood), Hispanic music (Pepe Aguilar, Juanes and the great Los Tigres del Norte), and soul/R&B vets (e.g., James Brown in a hot set shortly before his death, Al Green, and Earth, Wind & Fire).
Not incidentally, the casino has also thrown a cowboy hat into the regional ring, so to speak, occasionally hosting high-profile country and western artists in a region where twang previously feared to tread. We've had memorable encounters with important country stars in the showroom, including Willie Nelson, Loretta Lynn, Vince Gill, Toby Keith, and LeAnn Rimes, who returns to the Samala Thursday, July 22. The former child star, now all grown up, is a big-and-assured-voiced singer who staked her claim early on by channeling Patsy Cline's potent spirit, and has gone on to navigate the tricky matrix of old-school-meets-"Today's Country," with dignity intact.
MAW WATCH: Last week in the Music Academy of the West festival — the hottest summer classical music ticket — included memorable counters with composers living and walking among us: John Harbison's chamber charmer "Twilight Music," and the Takács Quartet's performance of New Zealander John Psathas's hypnotic, duduk-inspired A Cool Wind. This week's "living composer component" on the MAW menu includes William Bolcom on Tuesday, July 27, and whatever surprise treats show up at Friday's "Picnic Concert."
WHEN IN GOTHAM DEPT.: Among American cities, N.Y.C. is still the place most likely to show someone with any brand of cultural appetite a good time, even on a tight "passing through" timeline. Swinging through N.Y.C. for a day and a night, we quickly found cultural enticements to inspire. MoMA's summertime "blockbuster" is a dizzyingly fine maze of moments, being the legendary "decisive moments" of master photographer Henri Cartier-Bresson. This Cartier-Bresson retrospective is a revelation, expanding beyond those classic images to the broader picture of the iconic globetrotter, through decades of his camera-wielding, eyes-wide-open curiosity.
Jazz was the order of the night, as any jazz fan in the music's Mecca must pay pilgrimage. This time, we steered away from the great basement spaces in the city — the Village Vanguard, the Iridium, the Jazz Standard — instead heading to the city's finest upstairs jazz compound, Jazz at Lincoln Center, and its club venue, Dizzy's Club Coca-Cola. Dizzy's, which has mostly tamed the boorish chatter factor in the house and is now a more music-respectful zone, is something to behold and experience, with its stage set before a stunning picture window overlooking Columbus Circle and the southern rim of Central Park. Wisps of jazz nirvana can be had here when the music is good, as it was on this night — Joe Lovano's increasingly impressive Nonet (now, there's a band that would be great in the Lobero). Lovano played tunes from his nonet albums 52nd Street Themes and the challenging Streams of Expression, with Gunther Schuller arrangements, and made a visceral and brainy noise, in an inarguably inspirational jazz room.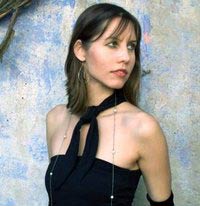 TO-DOINGS: Santa Barbaran jazz singer Nicole Lvoff has been honing her stylish, clean-burning way with a standard for a few years around town. She bumps up to a higher level with the release of an impressive debut album, Here's That Rainy Day, and she has a CD-release gig at SOhO on Monday. Her band includes pianist Woody DeMarco, who worked with Lvoff on arrangements of tunes like "Darn That Dream," "Angel Eyes" and "Don't Explain." A subtle sass factor filters into the mix on "Whatever Lola Wants" and "Fever." These standards belong to the body of great American songs, a source that keeps on giving and inviting fresh approaches. Lvoff and company supply their own take, right here in River City.