Angry Poodle
No Dog in the Hunt or No Hunt in the Dog?
GOT MILK?
GOT MILK? Some things transcend human imagination, others are simply unimaginable. But where the female buttocks is (are?) concerned, John Stag­liano, gonzo porn über-schmutzmeister, has made an obscenely lucrative living ignoring all limits and dreaming the impossible dream. Stagliano — who owns a company called Evil Angel Productions in Van Nuys — has been a frequent guest lecturer at UCSB's Film & Media Studies program, where professor Constance Penley has variously described him as the George Lucas, the Steven Spielberg, and the Woody Allen of porn. (She famously agued that Stagliano's recurring Buttman character — who traipses from film to film in search of the perfect ass — has done for anal fetishism what Woody Allen did for neuroses.)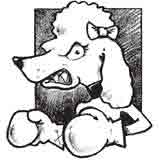 Prosecutors for the Department of Justice under the George W. Bush administration, however, had less flowery adjectives in mind when they brought Stagliano, now 58, up on federal obscenity charges. If convicted, Stagliano was looking at 32 years in the Big House, plus a fine of $7 million. Initially, it appeared UCSB's Penley — described in Rolling Stone Magazine 12 years ago as one of the eight most dangerous minds in America — would testify as an expert witness on his behalf. Federal agents went so far as to subpoena Penley's course syllabi for the class she teaches on porn cinema. With Penley on the stand, the trial — which would have been the first major obscenity showdown in the nation's capital in the past 25 years — would constitute a global shout-out for Santa Barbara and for UCSB. The free publicity thus generated would have brought tourists flocking to State Street, where they'd encounter the empty storefronts of businesses that once sold ridiculously precious products at even more ridiculously high prices. But sadly for Santa Barbara, Penley was denied her moment in the spotlight.
About two weeks ago, federal judge Richard Leon — appointed by George W. — declared Penley unfit to be an expert witness. She was to testify that the films in question, Milk Nymphos and Storm Squirters 2, had redeeming social and cultural aspects. Based on Penley's preliminary testimony — designed to determine her competence as an expert — the judge concluded that in her mind, no pornography exists for which some culturally redeeming argument could not be made. Since Penley does believe it all boils down to a matter of personal taste — "What I like is erotica, what you like is pornography," she quipped — he may have had a point. But as a matter of law, Leon appears to have overstepped his legal authority, and the decision to bump Penley could have provided solid grounds for appeal.
We'll never know for sure. That's because the prosecution's case against Stagliano collapsed, imploded, and exploded simultaneously. Prosecutors failed to establish that Stagliano's company was responsible for distributing the videos. It doesn't get more basic than that. Nor did it help that an FBI agent testifying for the prosecution stated on the witness stand that the prosecutor told him that the judge wanted him to have reviewed all the evidence thoroughly before testifying. Were that true, it would mean the judge had been indirectly coaching a witness, a major ethical breach. If that had been the case, certainly Leon would not have wanted that fact broadcast from the witness stand in federal court. Accordingly, Leon went ballistic, the prosecutor filed an affidavit averring no such exchange ever transpired, and the case was swiftly dismissed with extreme prejudice.
This is where I'm supposed to cheer that the First Amendment has survived intact. I guess. Having not actually seen Milk Nymphos, I've been told I'm not in a position to judge. But from what I hear, it's not for the faint of heart or the lactose intolerant. It features women giving themselves milk enemas and then squirting each other during a light and frothy frolic with sadomasochistic overtones. Had Penley not told me in advance this was a liberating depiction of women engaged in sexual play having orgasms for their own sake — as opposed to serving the usual coterie of phallocentric, transgressive-gazing, joyless, mechanical, white-male, oppressive imperialist stud-muffins — I may never have gotten how Stagliano had turned the misogynistic vernacular of porn so ingeniously on its head to make a subliminally and subversively feminist statement. (For the record, Penley did not actually say all of those things; she only wishes she did.) Even so, I wonder if dueling milk enemas at 30 paces is what the Founding Fathers had in mind when they wrote the Constitution. I always thought porn was supposed to appeal to one's "prurient interest." Given the plotline, you'd have to be a card-carrying member of the dairy lobby to find this arousing.
But you have to sympathize with Stagliano. It's gotten so impossible to shock anymore. Look at former Bad Boy gross-out artist John Waters; he's become mainstream cute and cuddly, eclipsed daily by the relentlessly septic assault dished out by mainstream TV. Where, I ask, is the Taliban when you really need them? But it's more than that. When the Pope — a former member of Hitler Youth — puts the ordination of women as priests in the same "grave sin" category as pedophile priests, you can safely conclude that "true north" has been obliterated from whatever passes for a moral compass. When federal officials find themselves earnestly debating whether our military interrogation techniques complied with — or exceeded — legal guidelines adopted by the Bush White House that redefined torture as any practice "likely to induce organ failure," you don't have to worry about losing your soul anymore. Like Elvis, it's left the building. The Nazis, at least, could claim they were just following orders. The attorneys who drafted our new torture rules were just doing a job. Little wonder the Supreme Court overturned a law — inspired by movies showing women in stiletto heels stomping kittens — barring animal snuff films. In this context, I guess congratulations are in order for John Stagliano and his Buttman alter-ego. He celebrated his victory with his pregnant wife and 11-year-old daughter by hoisting high their champagne flutes filled with — what else — milk. Cheers. I guess.