News
Biltmore Hosts Marrow Registration and Blood Drive
Be the Match Registry Looks to Add to Its Databank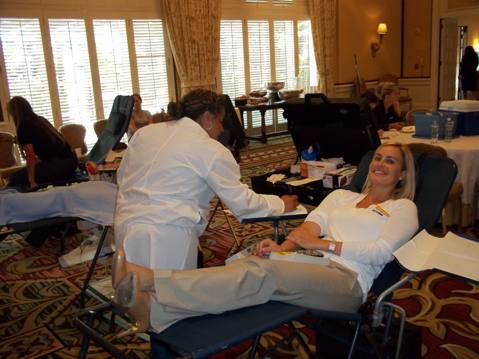 Employees at the Four Seasons Resort came together to support their colleague, Lauren Thurman, in hosting a successful community outreach event on Friday, July 30. They teamed up with the bone marrow donor organization, Be The Match, as well as United Blood Services, and managed to engage the public into committing to these two programs.
Thurman's brother, Brent, a 21-year-old student at Santa Barbara City College, was diagnosed with Acute Myeloid Leukemia in March. Brent Thurman spent a 40-day period in the hospital and had to undergo a full of round of chemotherapy. To the relief of all concerned, he received a bone marrow transplant on June 29.
Brent Thurman's suffering inspired his sister into action to raise awareness about the pressing need for more donors. As an employee at the Biltmore hotel, Lauren Thurman was able to organize the event to mobilize local people into giving blood and signing onto the bone marrow register. She and her colleagues sent out press releases and leaflets, and on the day they provided information packs and refreshments to the members of the public who came to get involved.
Donna Collins, representative for Be The Match, said that "any drive that attracts 30 people or more has done well." At the Biltmore, around 60 people signed onto the bone marrow registry, and roughly 40 people donated blood.
The success of the event organizers can be partly attributed to their efforts to strip away the myths of the bone marrow donor process. As Thurman says, "It sounds really scary. People think they're gonna scrape the marrow out of you." Thurman and her colleagues explained clearly how each of the steps in the process is simple and pain-free, and their information packets allowed people to recap what they had been told.
According to Be The Match, anyone aged 18-60 can become a bone marrow donor. To sign up, you complete a form detailing your medical record, and give a swab of your cheek cells so that your tissue type can be tested. If contacted to donate, patients give another cheek swab to confirm them as the best possible match, and they then donate through one of two methods.
Method one is peripheral blood stem cell (PBSC) donation. This most common method is a non-surgical, out-patient procedure. For five days, the donor receives injections of a drug that increases blood-forming cells in the bloodstream. On the fifth day, the donor's blood is removed through a needle in one arm, and circulated through a machine that separates out the blood-forming cells, before returning blood into the donor through the other arm. Donors may experience headaches or bone and muscle aches during the drug-injection period, but these side-effects typically disappear within 24 hours of donating.
Method two is marrow donation. This is a surgical, usually out-patient procedure. The donor is put under anesthesia, and the doctor uses needles to withdraw liquid marrow from the back of the pelvic bone. The donor's marrow fully replenishes itself within four to six weeks. After donation, donors can expect to feel some soreness in the lower back for several days. Most donors return to their normal routine in one to seven days.
Some people on the bone marrow register may never be identified as a match, whereas others might be the only person capable of saving a patient's life. People can always change their minds, and decide not to donate, when contacted. Be The Match reports that it can take up to forty hours in total — spread out over a 4-6 week period — to travel to appointments and donate. Be The Match reimburse all travel costs.
There are roughly 6,000 patients searching the Be The Match registry at any time, but fewer than four in ten patients receive the transplant they need. A major reason for this is that 73 percent of donors are of Caucasian ethnicity, so there is a lack of donors of minority ethnicities. As tissue types are inherited, patients are most likely to match someone of their own ethnicity.
Event Organizer Lauren Thurman told The Independent that she enjoyed organizing the drive, and that, "It's great to work toward something that's so important." Thurman plans to organize more community outreach events with Be The Match.