Arts & Entertainment
Stevie Nicks at the Santa Barbara Bowl
Fleetwood Mac's Leading Lady Proves She Still Knows How to Rock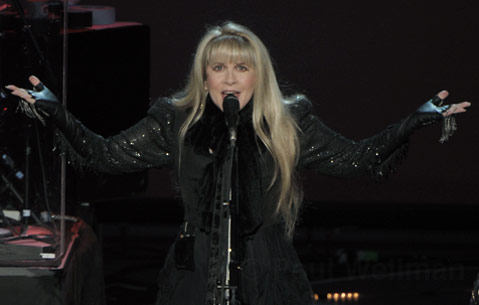 The only thing more captivating than watching thousands of hardcore Stevie Nicks fans mill around in one place is watching the woman herself, who, at 62, still sounds—and looks—as remarkable as ever. Clad in the requisite all-black ensemble and with a truckload of bedazzled scarves at her disposal, the Fleetwood Mac frontwoman delivered a powerful, emotive, and at times downright rockin' set to throngs of fans and lookalikes at the Santa Barbara Bowl this past Wednesday night.
Taking the stage as the sun began to set, Nicks wasted no time plowing through the hits. First came "Fall from Grace" from 2001's Trouble in Shangri-La, then the pulsating rhythms of "Outside the Rain" from 1981's Bella Donna. Still, it was the night's third offering, Fleetwood's timeless "Dreams," that truly injected the magic into Nicks's set. Flanked by a 9-piece backing band, Nicks postured and gestured like the ethereal alter ego of her heyday, stretching her voice to reach the high highs and the gravelly lows that many singers her age would have long ago reworked. Shortly thereafter, Nicks took to the mike for a moving salutation of a different variety, noting that the reason she had orchestrated Wednesday's show was because of a dear, ailing family friend.
"This is Cecelia's house tonight," she bellowed before addressing the eight-year-old girl directly. "Baby girl, this is your show. Rock hard, because she's out in the audience."
Throughout the night, the youngster, who is currently being treated for a rare form of soft tissue cancer, received a good deal of shout-outs from the stage and applause from the crowd, including a late-set dedication of the Fleetwood favorite "Landslide." But perhaps more importantly, the occasion served to break down Nicks's almost untouchable iconic status, humanizing her for her goodwill efforts (her night's salary went toward Cecelia's medical bills) even as fans basked in her vocal prowess.
And it was that prowess that ultimately stole Wednesday's show. Minus a few short costume (read: shawl) changes, Nicks belted out the hits ("Gold Dust Woman," "Rhiannon," "If Anyone Falls," "Edge of Seventeen") for nearly two straight hours, never looking or sounding even the slightest bit worn. She cheered along with the rapt crowd, (believably) gushed about how much fun she was having, and made sure her set was jam-packed with the stuff that the fans came to hear. Still, it was the selfishly selected slow jam, "How Still My Love," that shone the brightest. Against a backdrop of twinkling stars, Nicks belted the oft-forgotten cut off of her first solo record, and nearly brought the house down with her big vocal leaps.
By night's end, it was an almost-solo performance of "Love Is" that convincingly re-crowned Nicks as queen, leaving plenty of women in flowy skirts, mile-high boots, and draping shawls convinced that there was still plenty to come from their long-held musical idol.
Setlist
1. "Fall from Grace"
2. "Outside the Rain"
3. "Dreams"
4. "You Wreck Me"
5. "Sorcerer"
6. "Gold Dust Woman"
7. "If Anyone Falls"
8. "Face the Promise"
9. "Rhiannon"
10. "Stand Back"
11. "Landslide"
12. "How Still My Love"
13. "Edge of Seventeen"
Encore:
14. "Rock & Roll"
15. "Love Is"