Dance
Up Close with Misa Kelly
Santa Barbara Choreographer on a Mission
In a bright Guatemalan blouse and skirt, curly black hair escaping in long tendrils from beneath her straw hat, and an impish smile dancing at the corners of her eyes, Misa Kelly is hard to miss—and she wouldn't have it any other way. The 51-year-old choreographer is a champion of visibility: for herself as an artist, for the art form of dance, and for other artists who struggle to be seen. Along with her husband, Stephen, Kelly is co-artistic director of SonneBlauma Danscz Theatre, a contemporary dance theater company based in Santa Barbara. Since 1996, she's been making dances that address the full range of human experience, from dark and desperate to light and playful.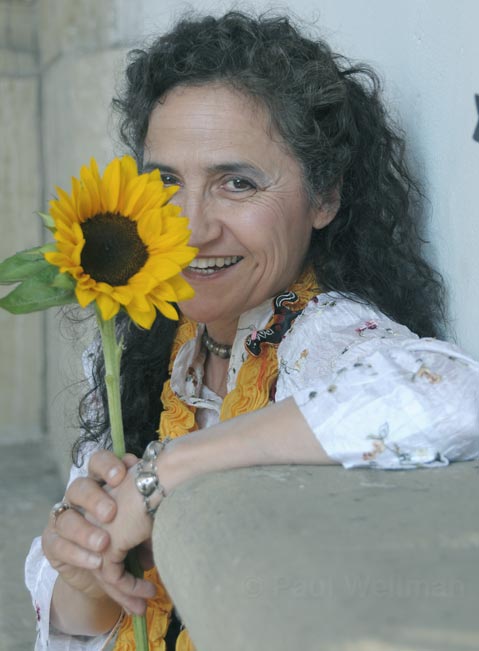 Kelly earned her BA at UCSB, double-majoring in economics and dance, and 16 years later she maintains both her creative spirit and her focus on finances. "Some of us fumble around for a long time thinking society will support us as artists," she reflected over coffee last week. "When I finally figured out that wouldn't happen, it cleared things up."
The solution Kelly has conjured up is to work full-time as a receptionist at a law firm while pursuing an equally committed career as a dance artist in the hours in between. Running a dance company means everything from holding auditions, teaching classes, and enlisting folks to manage a Web site, book tours, and write grant applications. Not many could handle the intensity of Kelly's schedule, but she seems to thrive on it. In the past few years, she's taken her company to Istanbul, New York, Monterey, Los Angeles, and Santa Cruz. She's created dances for the annual New Works showcase hosted by the Santa Barbara Dance Alliance, launched a resource Web site for dance artists internationally, and is now in the planning stages for ADaPT: A Dance and Physical Theater Festival to take place in Santa Barbara in summer 2011. On top of all that, she still performs in many of her own works and also finds time for her visual art.
Yet it hasn't all come easily; Kelly had to teach herself the ropes. And now that her artistic career is flourishing, she's eager to share her knowledge with others. At the Dance SOS Center, she shares everything from the success stories of major choreographers to how to find rental space and tap into funding. She hopes the ADaPT Festival will build community between Santa Barbara artists from across the genres. "Community is really important to me," she said. "Relationship is everything; that's why art exists—to draw us together." To learn more, check out sonneblauma.com, dancesoscenter.com, and sbadaptfest.com.