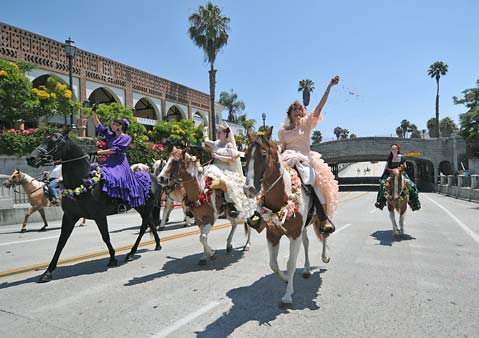 MOMENTARY MEMORIES: Fiesta may seem like a sensational (as in sensation-full) blur, a confetti-and-horse-dung-strewn perfect storm of heritage and hedonism in Santa Barbara each August. But what tends to linger, more than general impressions, are actually specific moments in the crush and the madding, giddy, teetering crowd.
There was an odd moment last week, for instance, when this columnist happened upon the big Fiesta parade toward its end. Because of an emergency being cleared away, the parade had come to a spookily peaceful standstill. It was a freeze-frame encounter in public, as if some deity or City Father on high had pressed "pause." But then the surreal gave way to the über-real again. The taut Mexican trumpets blared, the horses went into their parade gait, and the show went on, according to plan. Next came the Fire Department (an extra round of "vivas" in their direction in this post-Fire Year era) and its hose-venting dance step, and the final float was set shaking to the ululating groove of the Martinez family band. Freeze-frame moment duly corrected.
Blissful eating/listening moments included munching on a beef papusa and a taco de adobado from El Sitio (benefiting the Santa Barbara High School Dons) at Mercado del Norte, while admiring wee ones doing regional dances from Chiapas and other parts of Mexico as part of our "Old Mexico Days" celebration … I mean "Old Spanish Days." At the Eastside mercado at Our Lady of Guadalupe (which always seems like the most "real" and integrated of the mercados) a hearty, spiced-up tub of pozole and a Modelo (or two) seemed just right while watching young flamenco dancers working to Nuevo Flamenco tracks.
At the downtown mercado on De la Guerra Plaza, music and dance kept flowing on the big stage. On Saturday, we caught the lyrical relief of the fine countrified singer Rebecca Chapman serving up solid singer/songwriter business with a side order of Led Zeppelin. In another happy Fiesta tradition, Seymour Duncan, Santa Barbara's global/local guitar gear guru, led a band and jammed some shred to the tune of blues and rock workouts. Duncan dispensed some of his considerable, Roy Buchanan-influenced chops, angular and silky, by turns. (P.S. How does he get that tone? Only the tone-dresser knows for sure.)
BONING UP ON GETTING DOWN: For tonight's episode in the thankfully continuing saga of the "Santa Barbara New Music Series," at Muddy Waters, two of Los Angeles' more high-flying and low-toning adventuring musicians are in the house. This is the night when trombonist Michael Vlatkovich and tuba player Bill Roper bring their Chobraty duo to town, and it promises to be a hot one. Vlatkovich—who has been in the series twice before and was a stand-out member of Bobby Bradford's Mo'tet at the MultiCultural Center years back, is easily one of the finest and most insistently inventive jazz musicians out of L.A. Roper, who has wriggled through jazz, classical, and unnamable musical circles, was once part of a post-dadaist prankster group called Fat and Fucked Up, which put on a memorable and mischievous show at Center Stage Theater way back in the day. (P.S. Happy 20th anniversary, Center Stage.)
LOFTY BLUES GUYS, SANS GUISES: What can be said about B.B. King and Buddy Guy, bringing their double-header blues act to the Chumash Casino on Friday? King and Guy are two of the truest bluest American blues icons still kicking, breathing, and blowing.
MAW WATCH: And so we reach the bittersweet exit strategy for the eight-week Music Academy of the West (MAW) festival season, with this Saturday's orchestra concert finale at the Granada, with conductor Peter Oundjian. Yes, the whole diverse, inspiring, state-of-the-art reaffirming shooting match ends on the cushy sonic bed of Tchaikovsky's "Pathétique" Symphony, but the concert's first half offers the juicy lesser-heard treats of Barber's Symphony No. 1 in One Movement and Czech master Janáček's Taras Bulba. What would summers in Santa Barbara be, for classical geeks, without MAW? We shudder to think.