Angry Poodle
No Ifs, Ands, or Mutts
When Life Hands You a Chicken, Make Chicken Soup
WHEN LIFE HANDS YOU A CHICKEN, MAKE CHICKEN SOUP: Thank God for Donald Lee Bedford of Carpinteria, the alleged schmuck who achieved his allotted six minutes of unwanted fame by planting a miniature video spy camera in the book Chicken Soup for the Soul, and then slipping the inspirational self-help tome in the bedroom bookcase of his girlfriend's 30-year-old daughter. I'm expressing gratitude to the higher powers only because they've seen fit to confirm — by exposing this alleged sleaze-bucket — my longstanding Theory of Lee, which holds that anyone with the first, last, or middle name of Lee is statistically predisposed to engage in sociopathic behavior.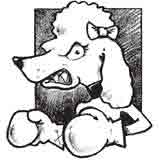 For those who like their sociopaths smart and clever, Donald Lee is clearly not your man. The video-recorder he planted was programmed to emit a blinking red light when its recording capacity had been reached. The victim in question discovered the video device when she noticed a pulsing light emanating from her bookshelf. If that weren't enough, it turns out that Donald Lee had turned the video camera on himself while putting the book in the bookcase. Having delivered himself to the prosecution on a silver platter — and with an apple stuffed in his craw — it's doubtful that Donald Lee, or his attorneys, will allow the case go to court. The only issue left to be resolved is how many of the Chicken Soup books, from author Jack Canfield's multitudinous oeuvre, Mr. Bedford will be sentenced to read.
Only slightly less shameful is not-so-poor Edward Lee, an attorney with the law firm of Best Best & Krieger, who represented the City of Bell as its top officials jerry-rigged the rules to approve salaries for its top management so stratospheric that oxygen masks were required to cash the checks. Bell's city manager was taking down nearly $800,000 a year in salary, but with all the bells and whistles factored in, accountants hired by the L.A. Times conclude the total compensation for Bell's top dog was closer to $1.5 million. Bell councilmembers were making $90,000.
When it comes to municipal finance, Bell's compensation package has emerged as the canary in the coal mine, the elephant under the rug, and the skunk at the garden party rolled into one. Frankly, I don't know what the big deal is. For years, we've been hearing how government should be run more like a business and the City of Bell has done just that, rewarding its executives with bloated salaries, short-changing its citizens with subpar services, and charging way too much in taxes. Bell residents are now in uproar, but they, in fact, approved some of these pay increases in the form of obscure ballot measures. State officials are now investigating whether Bell officials engaged in campaign fraud or other improprieties. Even if that proves to be true, everything else Bell did was perfectly legal. It was Mr. Lee's job to make it so. It turns out Lee may have been too effective for his own good. In light of the Bell scandal, he's become such a public embarrassment that he's been forced to resign from his law firm, which specializes in providing contract services to governments. Other cities, like Downey and Maywood, threatened to cancel their contracts if Lee stayed on. Given that Maywood is one of the most corrupt cities in California — if not the United States — that's saying something.
Last month, a Santa Maria judge ruled Lee Leeds, a paranoid schizophrenic, incompetent to stand trial for killing his father and three others at the family junkyard two years ago. Psychiatrists from the Patton State Hospital — where Leeds had been receiving treatment — testified Leeds could now tell right from wrong and assist in his own defense, even though they conceded he was still seeing and hearing things that weren't there. Leeds's defense attorney wasn't buying it, and neither was the judge.
It turns out Leeds snapped the same day the man accused of killing his mother — whose mental illnesses had exiled her to life on the streets — pled no contest. Leeds shot and killed his father, two junkyard employees, and one customer who all happened to be at the hallucination at the wrong time. Leeds said he thought they were with the Mexican Mafia and trying to kill him. At the time Leeds's mother was killed five years ago, his father expressed concern about the impact the murder would have on his son. He also lamented to reporters how the mentally ill cannot be legally compelled to receive treatment unless they pose an immediate danger to themselves or others. I don't know that those words would fit on his tombstone, but that's clearly where they belong.
Closer to home, LeeAnne French has emerged as the exception that proves the rule — whatever that expression means — taking over as new head honcho for Citizens Planning Association (CPA), which now boasts half a century under its belt lobbying city hall on matters of growth, development, and red-tile roofs. In recent years, CPA activists have grown long of tooth, quick to bite, and even quicker to snarl. Given that their message is at cross-purposes with the new breed of so-called smart-growthers now holding sway at city hall — quicker to trade off higher densities for more housing affordability than the traditional slow-growthers at CPA — the disagreeable delivery has not done wonders for CPA's effectiveness.
French, whose first name is a combination of her parents' middle names, has sought to rectify this by requiring her members to find something positive to say first when dealing with city officials and then couching criticisms in the most constructive — and specific — terms possible. As any musician knows, tone is everything, and the change has been a welcome relief from the previous chronic grinding. At the end of the day, real and perhaps intractable differences remain over religiously inflammatory issues like density, the dread D-word, over which the city council is now struggling. But maybe with a different delivery, they're only 98-percent intractable. Doesn't sound like much, I know, but you'd be amazed what you can do with 2 percent.