Education
Goodbye Summer, Hello School Year
SB Students Return to Class as District Gets Good Grades from State
From shy-eyed kindergartners to 12th grade Kings and Queens of Campus, the 2010/11 school year officially began Monday morning for a majority of Santa Barbara school children. Though always a reason for celebration and optimism, this year's return to class is particularly rose-colored for district administrators as early attendance numbers appear to be up and, even better, results from last year's state standardized assessment tests came back with markedly more good news than bad. District Superintendent Brian Sarvis surmised late Monday afternoon, "We are feeling very enthusiastic about the upcoming year. It's still early but, gosh, it looks like student enrollment may actually be up and, of course, we saw great student achievement gains across the board last year."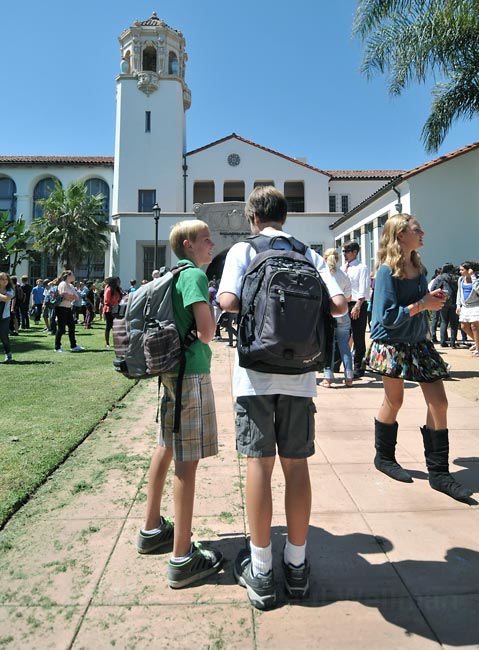 With the district beat down by annual budgetary bloodbaths, and still recovering from a massive meltdown in its Special Education department, the news of a potential uptick in enrollment numbers coupled with across-the-board improvements on its California Standardized Testing and Reporting (STAR) and California High School Exit Exam (CAHSEE) scores is a much-needed dose of good news. And while enrollment numbers need some time to become official—the district usually holds off until 10 days of classes are in the books to release actual numbers, and it isn't until the first Wednesday of October that the district submits headcounts to the state for funding—the mostly good news on the state metrics is in the books. The stats will also go a long way to informing No Child Left Behind-related Annual Yearly Progress (AYP) numbers when they are released in early September. "We are certainly anxious to capitalize on our gains from last year," beamed Sarvis.
Specifically, as per the results presented by the district's chief research and evaluation number cruncher, Dr. Davis Hayden, at last week's school board meeting, the 2009/10 school year saw some 52 percent of elementary school district students performing at a "proficient" level or better in English Language Arts, up from only 41 percent five years ago. In a similar upward trend, 58 percent of the same elementary district children tested "proficient" or better in Mathematics, as compared to 49 percent five years ago. And while the trend line is undeniably good, it is also important to note that both of the numbers are a few percentage points shy of the state's target scores. (English Language Arts has a target of 56.8 percent while the Mathematics target is 58 percent.)
At the high school level, things are also looking up, though not nearly as impressively. English Language Arts saw some 66 percent of the student body testing at a "proficient" level or better—about 1.5 percent better than 2005 and well above the state target of 56 percent—while Mathematics also saw approximately 66 percent of students at or above "proficient levels, nearly 6 percent points better than 2004/05 and also safely above the state target.
Inside these numbers, and what has long been a well-known yet hard-to-remedy trouble spot for the district, is the performance on such tests by students who speak English as a second language. And, though it appears the district still hasn't reached adequate levels in that regard, the breakdown does indicate definite progress in the elementary and, and to a lesser degree, secondary districts over the past few years.
In elementary schools, some 33 percent of English Learners were "proficient" or better in English Language Arts (ELA) compared to only 19 percent five years ago, while an estimated 45 percent fared as well on the math portion of the exam juxtaposed with 36 percent five years ago. At the high school level, things have actually taken a bit of a downturn since 2004/05 for English Learners on the ELA portion of the exam with only 24 percent testing at "proficient" or better levels versus 26 percent five years ago. On the math side, however, the good trends return with 35 percent weighing in at "proficient" or above compared to 25 percent in 2004/05. Despite these improvements, the district remains below California state averages in this regard for all categories save for elementary Mathematics.