Announcement
Contacts 'N' Coffee Celebrates Its One-Year Anniversary
Informal But Focused Networking Group Meets Every Friday
Touted as an informal yet focused networking opportunity, Contacts 'N' Coffee celebrated its one-year anniversary September 3. Showing off its vibrant membership, the group banded together for this shot after the rousing morning meeting.
Sixty members showed up for the Friday anniversary meeting which was catered by Michelle Maloney. The group originally started at Oreana Winery with 15 members and has now grown to more than 175.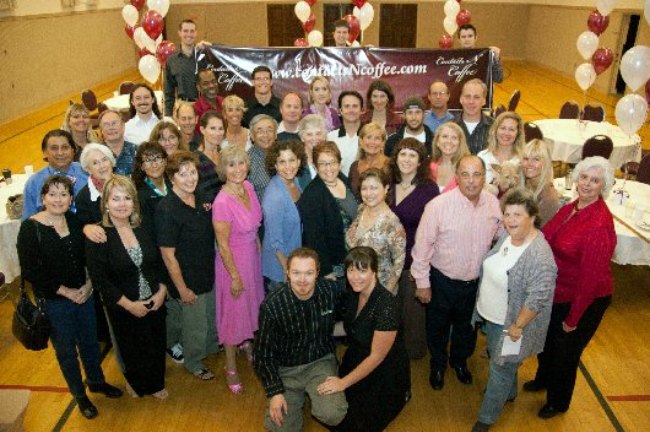 In the picture accompanying this article, kneeling in front of the group is founder, Ryan Lynch and his wife, Lisa. Ryan owns Installutopia and Lisa is the bookkeeper at Fairview Gardens.
C 'N' C starts at 8 a.m. every Friday morning for a 90-minute meet-up at the First United Methodist Church, 305 E. Anapamu Street (corner of Garden St). Everyone is welcome. No annual dues, only $5 per meeting and your first one is free.
Contacts 'N' Coffee is a rapidly growing network that gives Santa Barbara-area professionals a simple, stress-free way to make connections and build business relationships within our community. Everyone is welcome, and there are no formal membership requirements or annual dues. We meet weekly at a convenient downtown location to schmooze, have fun and share about our businesses with each other so we can all succeed and grow. To RSVP for the next meeting, or for more details, visit the website.
Other ways to connect with C 'n' C:
– contactsncoffee.com
– facebook.com/contactsncoffee
– twitter account: @contactsncoffee
– www.meetup.com/Coffee-N-Contacts:
– also on LinkedIn.com and MerchantCircle.com.