Despite some serious highlights, this year's FYF Fest made a solid argument for why bigger may not always be better. For the 2010 installment of this annual musical melee, organizers moved the festivities from a series of small-by-comparison one-offs to a one-stop grab bag of performances at the Chinatown-adjacent Los Angeles Historic State Park. In turn, concertgoers got dealt a healthy smattering of acts (chillwavers like Washed Out and Cold Cave went head-to-head with political punkers like Ted Leo and the Pharmacists and novelty acts like Dead Man's Bones) and a whole slew of technical difficulties (think $20 parking charges, food shortages, and some truly gnarly weather/venue conditions). As to whether the day was worth it, I'll leave it to my fellow FYF-ers to decide. In the meantime, we run down the musical highs (and lows) for ya below.
Warpaint
While the ladies of L.A.'s Warpaint sounded like they brought the thunder to their mid-afternoon stint on FYF's Redwood Stage, we were still waiting in line when it all went down… a line that one less-than-thrilled concertgoer approximated to stretch over a mile past the actual entrance. Yikes.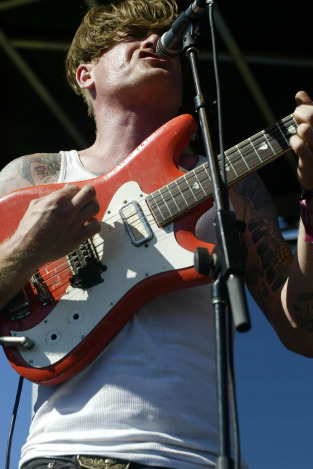 Thee Oh Sees
Upon arrival, San Fran experimentalists Thee Oh Sees provided a welcome introduction to the day. Despite the searing heat, these four delivered a loud, thrashing, and, at times, kind of melodic smattering of tunes.
Titus Andronicus
The pre-sundown highlight award most definitely gets handed to Jersey boys Titus Andronicus, who packed in a short, sweet, and heavy mix of cuts off their much-lauded recent release, The Monitor. Despite playing in the dirt pit-cum-venue that was FYF's far off Oak Stage, the five-piece won over the crowd, thanks much to a series of guy-girl vocals that were far from precious.
Local Natives
In a lineup littered with noise rock, experimentalism, and droned-out electro, L.A.'s über catchy Local Natives almost seemed like the odd men out during Saturday's fest. Still, they won the crowd over with their undeniably deft instrumentation and spot-on five-part harmonies. Tracks like "Sun Hands" and "Wide Eyes" came to glorious life thanks to dual drummers and a well-placed hand at the mixboard, an element that kept the Natives' many voices—and percussive elements—jiving throughout.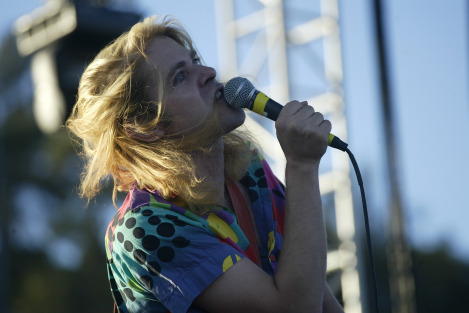 Ariel Pink's Haunted Graffiti
Anyone familiar with Ariel Pink's delightfully all-over-the-place tunes might expect the Hollywood-based music maker to be a bit, well, whackadoo. Lucky, then, that Pink and his Haunted Graffiti brought with them just as much nonsensical banter as they did tunes come their Saturday evening stint atop FYF's Oak Stage. Donning a bright orange man-satchel and an expectedly loud ensemble, Pink whined, warbled, and eventually hit his sonic high point with the disco-inspired gem, "Round and Round."
Dead Man's Bones
From far off in the distance, Ryan Gosling's Dead Man's Bones sounds like a decent Edward Sharpe & the Magnetic Zeroes knockoff, brimming with catchy group harmonies and jangly, building instrumentals. Up close, however, it was just a bit confusing. Backed by a couple lackluster players and an intricately costumed children's choir (they had a mini Abe Lincoln and a tiny Betty Boop!), Gosling hauntingly belted through tunes like "My Body's A Zombie for You" with a solid amount of conviction. Even the kiddos' turns at the mic were pretty catchy. But when the actor-turned-singer busted out the child-by-child character parade, well, the whole thing became a little tough to stomach.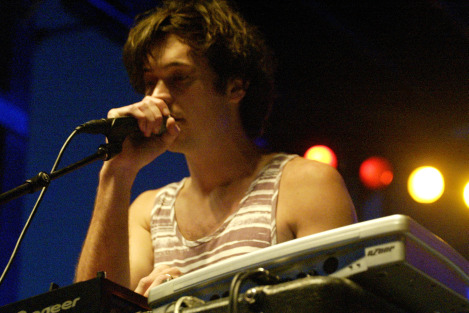 Washed Out
By the time we made our way over to the Sequoia Stage, it was near time for Washed Out. While the theatrics of Georgia boy Ernest Greene were nothing in comparison to Gosling's munchkins, the sounds that emanated from his one-man-show would prove to be some of the best of the fest. Atop an almost unlit stage, Greene delivered nearly 30 minutes worth of ambient, danceable grooves, setting an ideal stage (and limited take down) for his successors.
Cold Cave
With the sun completely set, Philly-born electro rockers Cold Cave brought some much-needed heat back to the fast-chilling night air. With a setup and sound that mimicked a less-assaulting version of Crystal Castles, these four delivered a feet-moving mix of catchy 8-bit synth parts, dark and dangerous vocal swaps, and bass-heavy beats that called out to distortion lovers like Joy Division. Delicious and danceable from start to finish.
Panda Bear
Due to Sequoia Stage sound troubles, we were forced to ditch out on Delorean's seriously behind schedule set in exchange for a glimpse at Animal Collective mastermind Panda Bear. Playing atop a mostly blacked out Oak Stage, Mr. Bear (AKA Noah Lennox) delivered just what I'd worried he would: a mess of noise, samples, and distortion that proved downright difficult to listen to. The first number (or two) were little more than droning loops, triggered again and again at a deafening volume. After that, Lennox busted out the guitar, but even his axe work was lost in the mix of his "ambient" electronic sounds. By the time Lennox took on some barely-recognizable snippets from AC's Merriweather Post Pavillion, we'd had enough, choosing instead to make a beeline back to Delorean's side of the woods.
Delorean
Despite what must have ultimately been a 40-minute holdup, the Spanish four-piece eventually triumphed over their headlining competition on Saturday night. To a crowd that was only a fraction the size it began as, the quartet pounded and played through a strong set of cuts off their recently-released Subiza. We danced, we grooved, and we even got an eerie nighttime drive-by from a well-lit Metro train. But, most importantly, we ended a hot, sweaty day of hits and near misses on an undeniably high note.