Announcement
Reading, Writing, and Environmental Education
Art From Scrap Green Schools Program Teach the Impact of Actions
This year, students in Santa Barbara County are learning how their actions affect the environment in classes and field trips taught by the Art From Scrap Green Schools program.
Teachers can sign up now for in-class lessons and off-campus field trips on a wide variety of topics, including: Healthy Watersheds and Water Quality, Waste Reduction (Reduce, Reuse, Recycle), Organic Gardening, and Composting.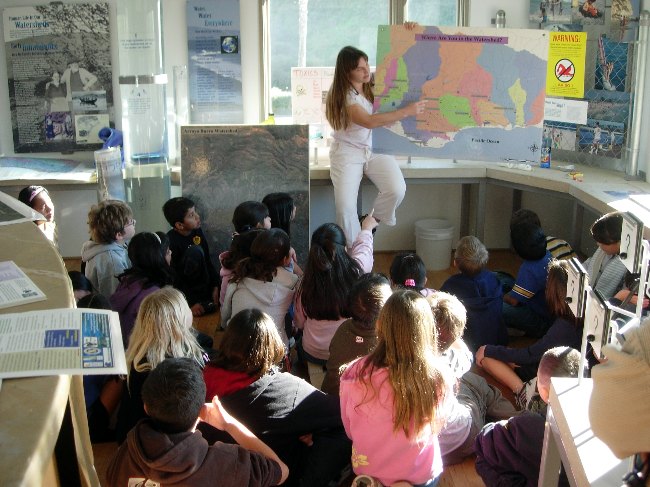 Water Quality Field Trips are taught to all grade levels at the South Coast Watershed Resource Center. Located near a creek and the ocean, the WRC is the ideal location for teaching and learning about environmental education. By immersing themselves in the natural environment, students learn first hand about sources of water pollution, the effects of plastic on marine life, solutions to pollution, and how their actions make a huge difference in keeping local watersheds clean. Classes that visit the WRC also participate in beach clean-ups. To date, Santa Barbara students have picked up thousands of pieces of trash off Arroyo Burro Beach.
Classes can also visit Art From Scrap in downtown Santa Barbara where students learn about natural resources, the landfill, the 3 R's (Reduce, Reuse, Recycle), and composting. This field trip includes a hands-on Art Workshop using reuse materials. All K-6 field trips are tailored to the CA State Standards.
AFS Green Schools in-class lessons include the Creek Kids Series for students grade 4-6, Waste Reduction in-class lessons, as well as Gardening and Composting lessons; where students learn how to prepare garden beds, plant seeds, and set up worm composting systems. This year AFS educators are working with the City of Santa Barbara Environmental Services Foodscraps Collection Program to teach local kids about the new composting program at Santa Barbara City Schools.
AFS Green Schools Educators are looking forward to a new year of teaching over 14,000 schoolchildren. To book a field trip or in-class lesson, contact AFS Green Schools Program at (805) 884-0459 x 16.
Besides providing free classes to public and private schools throughout Santa Barbara County, the AFS Green Schools Program also supports teachers with environmental education resources: including teacher training workshops, an environmental lending library, creek testing kits, classroom materials, and garden supplies.