Food & Drink
The 2010 Foodies
The Independent's New Culinary Awards Celebrate the Delicious Side of Santa Barbara
Forget opposable thumbs — what makes us human is that we treat food as more than just fuel. The best dish is art at its most complete, taking all five senses along for a magical ride.
To honor the culinary culture of Santa Barbara, The Independent is introducing our inaugural Foodie Awards. Much like our Indy Awards for theater, the Foodies publicly acknowledge the people and places responsible for making our town such a feast. This year, we began with a list of 100 nominations submitted by more than 25 tastemakers in Santa Barbara, and narrowed that down to 40 finalists. Then our eight-member executive committee labored long and hard over a fabulous dinner in Seagrass's Roosterfish Room to deliver these final 21 awards, which will be handed out by celebrity chef Cat Cora during the Sol Food Festival in Plaza de Vera Cruz (across from the Saturday Farmers Market) on Saturday, October 2 at noon.
So raise your forks and salute the 2010 Foodies!
A-RU Sushi: Fish Out of Water Award
Santa Barbara wine country isn't that far from the Pacific, but it often seems a world away. Until you step into A-RU. Korean-born Jina Bae hits the Los Angeles markets weekly to land the best fish available. "Bae's a perfectionist when it comes to choosing her fish," says Indy writer Lauren Van Mullem. "For her, the ingredients are the recipe. She also makes her own salsa, which doesn't sound like it would go with sushi, but it totally does." Call it sushi Santa Maria-style.
225 McMurray Rd., #D, Buellton; 686-9001.
The Ballard Inn & Restaurant's Budi Kazali: Culinary Heights in the Valley Award
Chef Budi Kazali has been wowing taste buds for years with his sophisticated mix of French-Asian cuisine in a surprising spot, the one-block town of Ballard (heck, it's Los Olivos's suburb). From Kurobuta pork belly with Napa cabbage fondue to hamachi sashimi with avocado and soy-yuzu vinaigrette (and that's just two appetizers), Kazali always find the perfect blend of excellent ingredients made yet better by his skills and ability to mix and match flavors. Get too blown away, you can even spend the night at the inn.
2436 Baseline Ave., Ballard; 688-7770; ballardinn.com.
Bella Dolce Bakery's Scones: Heaven Scent Bakery Award
Baked-good aficionados have known Chef Eileen Randall Cook's delectable ways for years, but getting to consume her scones baked fresh since the opening of her shop is a pleasure one shouldn't miss. No matter the flavor — which range from blueberry-Meyer lemon to maple-bacon (porkoholics, rejoice!) — the architecture of every scone is pure delight, crisp and sugar-brushed on the outside, yet moist and flaky on the inside. The two textures play off each other brilliantly, proving that in the right hands, dough is far from a simple thing.
113 W. De la Guerra St.; 962-2253.
bouchon/Seagrass/Wine Cask Waitstaff: Service Masters Award
"Mitchell Sjerven's staff exemplifies Santa Barbara-style hospitality: warm, sophisticated, accessible, easy-going," says Shannon Turner Brooks of the S.B. Conference & Visitors Bureau. Sjerven explains, "I never end up with workers who are 'just looking for a job.' In fact, my application asks a series of open-ended questions about food, wine, travel, serving, cooking, and what they like/dislike about those things. Once employed, they are provided the opportunity to expand their knowledge, advancing our mutual goals: continuous learning about food and wine."
bouchon: 9 W. Victoria St.; 730-1160; bouchonsantabarbara.com. Seagrass: 30 E. Ortega St.; 963-1012; seagrassrestaurant.com. Wine Cask: 813 Anacapa St.; 966-9463; winecask.com.
Buttonwood All Farm Dinner (with New West Catering): Farm-to-Fork Award
In a region awash with wine dinners, Buttonwood's annual pond-side soiree takes the organically grown, sustainably harvested cake. "After nearly 10 years of working with New West Catering, it finally occurred to us that we should plan an August dinner at the height of our produce season," says Sherrill Duggan O'Neill of Buttonwood, which started the dinner in 2006. "It is the epitome of eating local, since everything served was grown or raised here at Buttonwood Farm. Jeff and Janet Olsson and their staff are wonderful collaborators, and we enjoy working with them to create these amazing dinners."
Buttonwood: 1500 Alamo Pintado Rd., Solvang; 688-3032; buttonwoodwinery.com. New West: 688-0991; newwestcatering.com.
Ca'Dario's Ravioli al Burro e Salvia: Rock of Sages Award
It seems like a dish anyone can make and most anyone with an Italian surname try. But this "pasta pillow," as they call it on their menu, is a lovely place to rest one's palate. Both toothsome and light, it provides just the right amount of chew. Inside, the spinach can be tasted; it's not merely green for color's sake. The ricotta is plush but not overpowering. And then all that richly browned butter with its crispy, crackling sage finishes things off so well it's hard not to lick the plate.
37 E. Victoria St.; 884-9419; cadario.net.
C'est Cheese and Our Daily Bread: Post-Farmers Market Double Dip Award
Cheese and bread go together like spines and vertebrates — you can't have one without the other. Luckily, we have these "magical dens of happiness," as one judge put it, side by side. "On Saturdays, there's such a great energy in the store, with everyone walking up from the market to stock up on cheeses, meats, and then going to the bakery next door," C'est Cheese co-owner Michael Graham says. "Everybody's in such a great mood."
C'est Cheese: 825 Santa Barbara St.; 965-0318; cestcheese .com. Our Daily Bread: 831 Santa Barbara St.; 966-3894; ourdailybread.net.
The Cultured Abalone by Michael Hutchings: Chef Does Shell Award
Chef Michael Hutchings, a fixture in the scene before the term foodie was coined, says he's delighted to be recognized in conjunction with The Cultured Abalone. "It is a great product, and I have featured it at events in N.Y. with the Chaîne des Rôtisseurs, gala dinners at Hearst Castle, and the Taste of the Town event," he explained. "The cultured version was well received from the first when I served it at the Olive Mill Bistro as an appetizer. We were selling 20 dozen a week within a month."
The Cultured Abalone: 685-1956. Michael's Catering: 568-1896; michaelscateringsb.com.
D'Angelo Bread's Poached Eggs and Toast: Breakfast of Champions Award
Bread is basic, but here it's divine. So it's little surprise the place can nail the egg, too. "When a restaurant can make something as simple as eggs so memorable and unique, I think it deserves recognition," says Indy writer Joanie Hudson. "I've never even seen eggs poached the way that they poach them anywhere else. And paired with their whole wheat sourdough toast, butter, and jam, it's my favorite breakfast in Santa Barbara, if not anywhere."
25 W. Gutierrez St.; 962-5466.
Eric Maldonado at Lucky's Steakhouse: Super Sommelier Award
"I would like to think of Maldonado as the Federico Fellini of Santa Barbara," says film fest director Roger Durling. "He understands the necessary aspect of theater in a restaurant. He will do everything in his power to make your evening magical. His wine recommendations are impeccable, and he will always remember what you had the last time you came for dinner." When Maldonaldo waxes poetic that "wine in a bottle is a living substance and culture, but the real magic is that it's bottled sunshine," you totally believe him.
1279 Coast Village Rd., Montecito; 565-7540; luckys-steakhouse.com.
The Harbor Restaurant: Resurrected Room with a View Award
Despite the usual adage that the closer a restaurant is to the ocean, the less good the food tends to be, David Cecchini is the rare master chef who works in a gorgeous spot. That's not a shock, after his 10 years at the Wine Cask in its original heyday and then six at his own Restaurant Nu. It's all experience you taste on your plate — check out the crab cake of ultimate crabbiness, set upon a surprising little bit of puréed butternut squash, as just one example.
210 Stearns Wharf; 963-3311; harborsb.com.
Hollister Brewing Company's Beer Dinners: Ale to the Chef Award
Chef Dylan Fultineer and brewer Eric Rose seem to bring out the best in each other's talents, never more so than during HBC's every-six-weeks-or-so Beer Dinners. Attendees have enjoyed an all-seafood feast starring sturgeon, a lamb partner dinner with Windrose Farms, a cassoulet pig-out at which everyone got a pint of leftovers … "On any given night, I like to think we're a very good place," Rose says, " but nine or 10 times a year, I like to say we're the best restaurant in Santa Barbara."
6980 Marketplace Dr.; 968-2810; hollisterbrewco.com.
Jessica Foster Confections: Classy Candy Award
No candy is dandier than Jessica Foster's, for, as Shannon Turner Brooks puts it, "I love that she uses local ingredients and gets her inspiration from Farmers Market. Her presentation in craft boxes tied with ribbon is just as lovely as the elegant flavors she creates." Try her white chocolate truffle infused with fresh lavender flowers, rolled in lavender scented sugar, which can lead to swooning. "I love playing in the kitchen with foodie friends and just experimenting with flavor combinations," Foster says. "That is probably my favorite part of my business."
637-6985; jessicafosterconfections.com.
Judge for Yourself Café's Bleu Cheese and Bacon Omelette: Kill Your Hangover Award
This legally themed Santa Barbara Street eatery's menu offers a bounty of distinction. No dish exemplifies this more than the bleu cheese and bacon omelette, in which knuckle-sized chunks of fried pork swim amid a puckering sea of ripe, funky cheese. If the previous evening was a drinked-out doozy, this power-punch to the gut might be the best cure, so powerful in salty-sour flavor that it simply makes you forget your hangover altogether. Add to that some of the sweeter servers in town, and you'll find that Judge wins over the jury every time.
1218 Santa Barbara St.; 966-9000.
Julienne: Livin' la Vida Locavore Award
"Maybe people are getting a little tired of the word locavore, so Chef Justin West and Julienne should get the Loca-licious Award," suggests Westways food writer Nancy Ransohoff. "He really thinks outside the box, and presentation is exquisite." Shannon Turner Brooks adds, "From the house-made charcuterie and sparkling water to sourcing superior 100-percent Californian ingredients, they embody the 'livin' la vida locavore' principle to the fullest, while minimizing their footprint and reducing waste as much as possible. They talk the talk and walk the walk, and you can tell they have fun doing so."
138 E. Canon Perdido St.; 845-6488; restaurantjulienne.com.
Opal's A Perfect 10 Martini with Chile-Crusted Filet Mignon: Perfect Pair Award
This has nothing to do with Mad Men or romancing a chophouse past. It's just that a killer cocktail and a good steak thrill a primal pleasure for those of us both thirsty and carnivorous. Opal Restaurant & Bar takes both very seriously, with a 50/50 vodka/gin martini, adorned with a gorgonzola stuffed olive, and a perfectly cooked steak that lets its chile heat build warmth amid a wonderful roasted garlic and wild mushroom zin reduction.
1325 State St.; 966-9676; opalrestaurantandbar.com.
Plow & Angel's Grilled Marinated Tofu: Vegetarian Goes Gourmet Award
"Most restaurants' idea of a vegetarian dish is either pasta with vegetables or a plate of the vegetables of the day," says Roger Durling. "The grilled marinated tofu at the Plow is the best vegetarian dish at a fine-dining restaurant in Santa Barbara. The combination of flavors makes this hearty meal light to the taste, with just the right amount of spice." Nancy Ransohoff also points out "sitting outside on a summer evening is downright magical, and inside by the fire in winter is the coziest spot in town."
900 San Ysidro Ln.; 565-1700; sanysidroranch.com/dine2.cfm.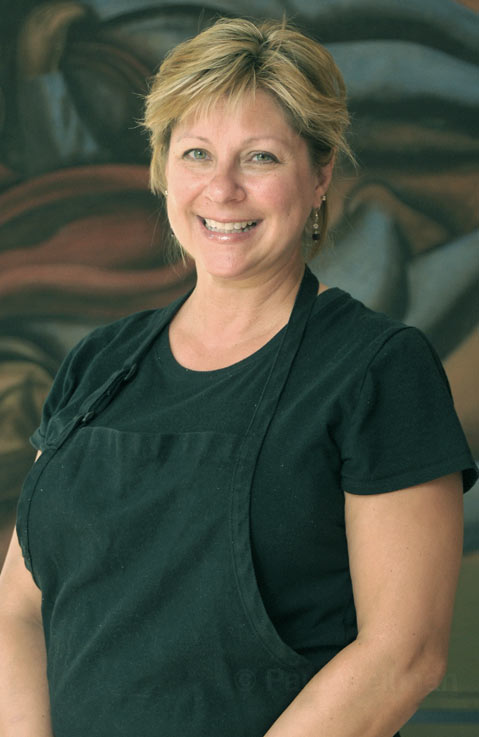 Santa Barbara Museum Café's Tapas Menu: Luscious Spain Without Wallet Pain Award
Tasty tapas trios, $14, includes a glass of wine. Sure it's from 11-5 p.m., and it's a bit hard to find, as the Café is behind the gift shop, but it beats a ticket to Spain. Many dishes are even vegetarian-friendly. "I lived and worked in a castle in Portugal for about a year," Chef Brenda Simon says. "It was 20 minutes from Spain's border, and the tapas/foods were so delicious to me that I decided I couldn't live without the tasty flavors always on my menus! They remind me of a very special place and time in my career."
1130 State St.; 884-6487; santabarbaramuseumcafe.com.
Sly's: Naturally from Scratch Award
If you can't find a dish you love at Sly's, you simply aren't trying. That's mainly because everything is made in-house. "There's two reasons we like to make things from scratch: quality and, well, a good time," Chef James Sly says. "Using great products and making things like brioche or mayonnaise or even tonic water from scratch means we end up with a great (sometimes even unique) product. Second, making things is why I became a chef. I would have a hard time accepting compliments for something that came out of a jar or box."
686 Linden Ave., Carpinteria; 684-6666; slysonline.com.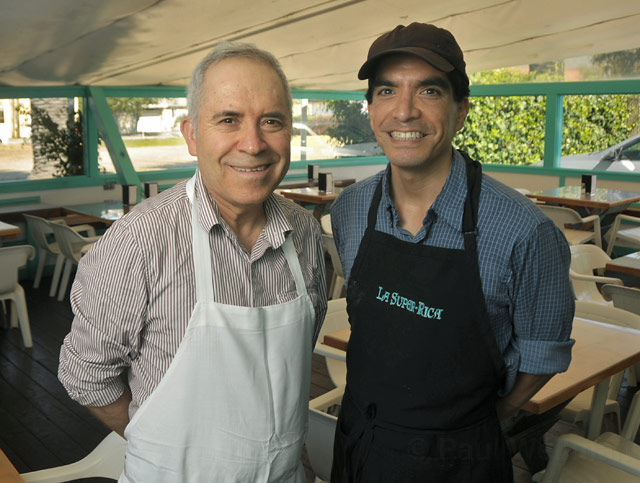 La Super-Rica Taquería's Isidoro Gonzalez: Lifetime Achievement Award
For 30 years now, the relatively ramshackle shack on Milpas has been a Mexican-food mecca for people up and down the coast. Isidoro Gonzalez has been the guiding force for all that home-cooked goodness that leaves people dreaming of their favorite number from the hand-written menu boards. The truly discerning, though, know to enjoy the daily specials, from sopes to tamales to chilaquiles.
622 N. Milpas St.; 963-4940.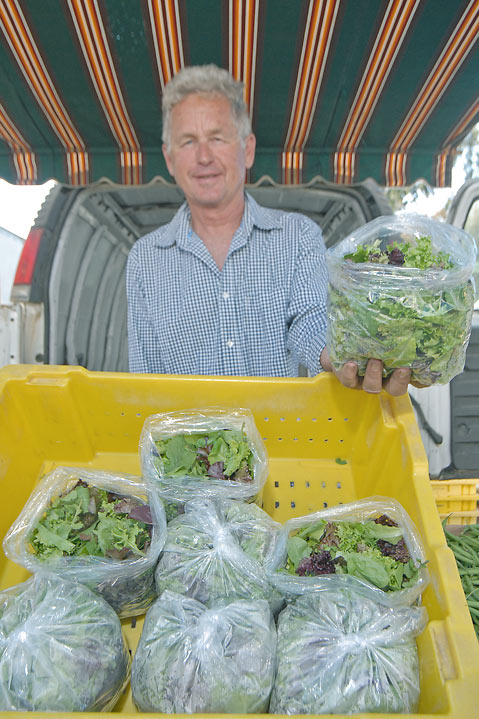 Tom Shepherd's Greens: First Farm on the Menu Award
Now it's de rigueur for restaurants to tout the source of every last ingredient, but Tom Shepherd's Greens beat all the other farms to the menu by a decade. And for good reason, as his bounty, now from a farm in Carpinteria and one on Sedgwick Ranch, is not just salad mix but a wealth of organic and delicious produce, from strawberries to dried beans to avocados to kale. If it's good enough for 25 area restaurants, shouldn't it be good enough for you?