Arts & Entertainment
Peter Wolf Plays SOhO
The J Geils Band Frontman Has New Album, Midnight Souvenirs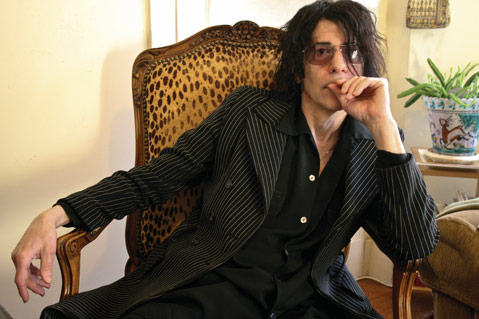 In this era of the manufactured pop tart and the manicured career revival, it's refreshing to encounter music that's as swinging, alive, and dynamic as Midnight Souvenirs, the outstanding album that Peter Wolf released in April of this year. Wolf, who knocked out such pop hits as "Centerfold" (with the J. Geils Band) and "Lights Out" (from his own first solo record), remains one of the great rock singers, capable of harnessing the feeling of the blues to the bounce of a soul backbeat. In fact, Midnight Souvenirs is the only record I've heard this year that can stand toe to toe with Exile on Main Street. I spoke with Wolf recently by phone in anticipation of his upcoming gig at SOhO.
You have been working with a cowriter, Will Jennings, a while now. I understand he lives in Santa Barbara. Will Jennings has been such an important friend to me. He's a master in the true sense of the word. He has created this place at his home in Santa Barbara that is a real haven for musicians. I use it as a stopover place where I can get together with him to recharge my batteries and develop new music with real soul. A lot of the time that I'm with Will we spend listening to music together and preparing — observing the motion of the ocean, you know?
He's not the only person whom you've brought on board for Midnight Souvenirs. There's also a great band and some really stellar guest singers. How does that reflect your attitude toward making records? In terms of how I approach recording, I tend to think of it as similar to the processes that go into making theater or making a film, because it is so collaborative and there are different phases. At first, you may have one setting where you are giving all your energy to hopefully creating the best possible material. Then it's on to picking the right studio, and finding the players who can really bring it to life. In my experience, that is how it works best — there are lots of steps, and lots of choices, and the results reflect the contributions of a whole cast of characters. That's what I've done with Kenny White for three albums, and now with Duke Levine, Larry Campbell, and the rest of the group. When we get together, it's like an ensemble, and it becomes exciting to me to see it come together, because they contribute so much. To sing with Shelby Lynne, Neko Case, and Merle Haggard all on one record — that was exciting.
You have such a vivid persona when you sing. Is that something you work for — to create a character for yourself to play? That's an interesting question, because my first impulse is to say, "no," but let me see if I can do a little more than that. When I start writing, there's just whatever mood that I'm already in, but then, as things begin to come together, it grows. But you can't just go off in any direction. It's like cooking a meal; once you've committed to an Italian dish, you aren't necessarily going to add curry. You set a tone and then work from there with whatever fits that tone. As far as the persona goes, it's mostly about maintaining your credibility. What Will Jennings and I talk about a lot is the fit of the singer to the song. That's what I'm aiming for — to give the most credibility I can to the connection between the singer and the song. When you listen to Frank Sinatra or Billie Holiday, it's not necessarily so much about showing what the best song is or who's the best singer, but instead it's about making the fit between the two so right that it transcends. It's like you can go beyond the material by merging with it. At least that's what I think.
4·1·1
New Noise presents Peter Wolf at SOhO Restaurant & Music Club (1221 State St.) on Sunday, October 3, at 8 p.m. For tickets and information call 962-7776 or visit sohosb.com.