Arts & Entertainment
Steve Martin Plays Bluegrass
Martin and the Steep Canyon Rangers Play the Granada Friday, October 8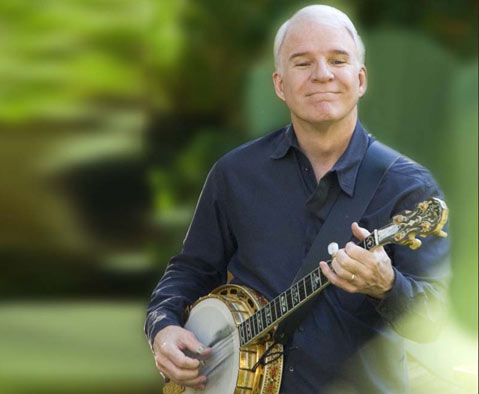 Few genres of popular music can match the sheer clarity of feeling in bluegrass. Heard live, traditional bluegrass conjures a wide range of pure emotions—absolute joy, utter loneliness, complete despair. It's no wonder then that the actor and author Steve Martin, a lifelong student of the banjo and a brilliant artist in several mediums, would find his way into the world of bluegrass.
While Martin released his Grammy-winning album The Crow in 2009—in between starring in It's Complicated and cohosting the Academy Awards—he comes to the Granada this week bolstered by the impending arrival of no less than three projects. He's got a wonderful children's book called Late for School that's out now, a new "serious" novel about the art world called An Object of Beauty scheduled for release in late November, and he just completed recording another bluegrass album, this time with the Steep Canyon Rangers.
For anyone else, this would be the apex of years of labor, but for Martin, it seems as natural as breathing. Having revolutionized stand-up comedy in the late 1970s, Martin turned to feature films and became a permanent box-office attraction, anchoring everything from The Jerk in 1979 and Pennies from Heaven in 1981 to recent hits like Bringing Down the House, Cheaper by the Dozen, and The Pink Panther films. Fulfilling the dream of many a film star before him, Martin turned his hand to writing for the stage in the 1990s and came up with Picasso at the Lapin Agile, one of the most intelligent (and most frequently produced) stage comedies of the past two decades. Now Martin has found a new passion, or reignited an old one in his characteristically thorough, amusing, and impeccably stylish manner, and we are about to witness it onstage. I spoke with Martin last week by phone from his home in Montecito in anticipation of his Friday-night performance at the Granada with the Steep Canyon Rangers.
I understand that you are something of a local. Is that the case? I've had a second home here since 1979, and I love it. Santa Barbara is really a model community.
When you appear at the Granada, will you be playing the songs from the album The Crow that won you a Grammy? Yes, for sure, but the Crow album is now a year and a half ago, so this project, the Steep Canyon Rangers, is actually more a reflection of what's been going on for me musically since then. There will be an album with this group out soon. It's going to be called Rare Bird Alert.
How would you compare writing music to writing novels or plays? I find writing music and practicing with the band relaxing. It's not something I fret about, and I have the time. People ask me how I manage to do so much, and I always remind them that, hey, I don't have a job! I don't mean to be glib, but for an actor, when you aren't making a movie, there's time to get things done.
You have come on strong with the banjo in the last two years. What is it about playing this music that appeals to you? Making music has been great for bringing new people into my life. I appreciate any situation where I'm not supposed to be the star. I like just sharing the room with other musicians, and I don't mind knowing that I may be the worst player on the stage. The fact that we're usually playing my songs does give me the last word though.
You've got a great new children's book that came out of one of the songs on The Crow. Could you describe it? Late for School began as an instrumental, but then I added the words to it, and it finally wound up being perfect for a children's book. It's a mixture of wild action comedy and that classic anxiety dream where you're struggling because you're supposed to be somewhere that you're not. There's a CD in the back that not only has the song but also contains a karaoke version so that your children can sing it. My friend John Lithgow was one of the inspirations for doing it.
How did you find the Steep Canyon Rangers? I first met them at a party in North Carolina. They're pros, and they tour all the time. When I began to look seriously at doing music live, my manager said that I needed to find a band, and not to put one together, but instead to find one that was already up and running. I needed a "plug and play" band because otherwise it would have been too much work. I feel lucky to have found these guys, and it has been a pleasure working with them to arrange the songs that I've written.
How far back does your interest in bluegrass go? I've always collected and listened to banjo music, from Bill Monroe to Sandy Bull to the Dillards. I own lots of banjo records, including a bunch of anthologies of bluegrass. To me, the music has great emotional range and depth. It's like a string quartet, but you can tap your foot to it. I'm hoping that the new songs surpass what I've done before. I'm always striving to improve.
Speaking of which, you are also anticipating the impending publication of a new novel. Yes, it's called An Object of Beauty, and it will be released in November. It's set in Manhattan during the period 1993-2009, so it follows the arc of the market from boom to bust. The main character, Lacey Yeager, is a young woman who's making her way as an art dealer, and she's a kind of "force terrible," if that phrase makes sense. The narrator is an art scholar who's in love with her, and the novel shows her impact on all the people around her. Because of the vocation of the narrator, the book also has lots of remarks about specific works of art, many of them real objects that I've known and appreciated.
Your memoir, Born Standing Up, was very well written. Was it difficult to write? I do work hard on the prose that I write, but I enjoy it. I am constantly looking to improve what I've written, to give the writing rhythm and to make sure that I've chosen precisely the right word for the moment. When I was writing Born Standing Up, there was a sentence where I worried about the choice of a single word for a whole year. I had written that after a certain performance I "lost my amateur ____,"—but it took me a long time to decide what that object should be, because it wasn't "status," because I was in fact still an amateur. What I came up with in the end was that I had "lost my amateur rattle" on that particular night, and finally I was happy with the choice. No other word was right.
4•1•1
Steve Martin and the Steep Canyon Rangers will appear at the Granada Theatre (1214 State St.) on Friday, October 8, at 8 p.m. For tickets and information, call 899-2222 or visit artsandlectures.sa.ucsb.edu.