News
Married Men of the Cloth
Catholic Community Under New, Wedded Leadership
They met in jail.
Because he lost his sight to Meningitis, she found him bible readings in Braille. In the early 60s, Keith Forster was a young Catholic priest who spoke to women inmates at a Stockton jail. Nancy was his assistant.
When he'd left Stockton to preach elsewhere, Keith and Nancy would correspond by sending each other love cassette tapes.
"He changed, I changed, but the church hadn't," Nancy said.
Under the pressure of Canon law, which forbids the marriage of priests, Keith had to choose between tradition and his feelings for Nancy. His feelings he chose, even if that meant ex-communication. On a September afternoon in 1971, the two married in Nancy's parent's backyard.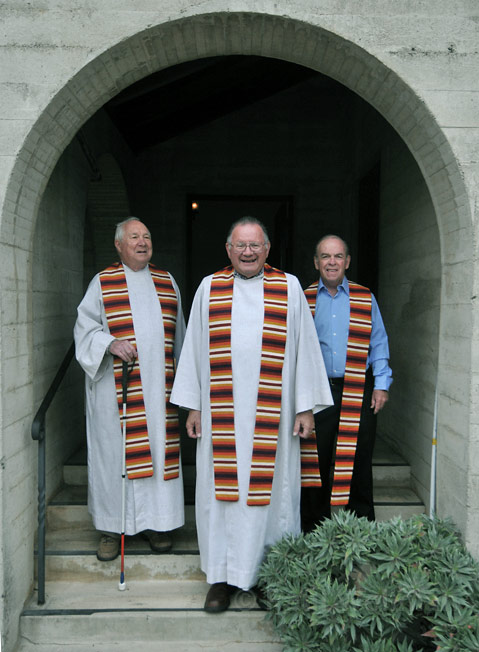 "It just felt right," Keith said.
The idea of marriage wasn't a new one amongst Catholic priests in the 60s. Keith was part of a growing movement of priests attempting to break away from the unflinching traditions of Catholicism.
The Vatican II reforms (1962-1965), summoned by Pope John XXIII, included the council of more than 3,000 bishops, and attempted to change the freedoms of lay persons, welcomed non-Catholics and allowed congregants to celebrate mass in their own language with the priest facing them. According to Forster, marriage amongst priests was a topic to be discussed amongst the reforms.
"I had high hopes for the reforms," Forster said. "Even though they never really took hold."
Last Sunday, Sept. 26, Keith Forster and John Hydar – who also left the church at one point to get married – were handed over the leadership of St. Anthony's Community, formerly St. Anthony's Franciscan Church, in a ceremony called "The Laying on of Hands".
Dudley Conneely, is also married and plays a part-time priest role with the church when he's not abroad.
"This ceremony is about the community affirming us and we are affirming our commitment to the community," Hydar said.
John first met his wife Roberta at the Ventura Mission in 1966. John was an assistant priest and Roberta was a nun teaching at the parish school. When John was transferred to a parish in Simi Valley, the two would send each other letters to stay in touch.
On a hot New Year's Day in 1969, Roberta invited John to join her in Santa Barbara for the day.
"That was the first time we talked about our feelings for each other," John said. "We figured that we felt this was more than friendship."
In July of 1969, John decided to leave the church and found work in Santa Barbara for Work Inc., a company that helps rehabilitate locals in the community with disabilities. In 1971, the two married.
"It's a church law, that's it," said John. "I have never for a moment regretted marrying this wonderful lady."
For years after he left the church, those who knew John as a priest would ask him to perform baptisms, marriage and funeral ceremonies. And for years, he denied their requests.
"I just wasn't ready for it," John said.
Then in 1992, he finally said yes.
"I'm a priest, always have been," said John.
Nowadays, he can't even count how many babies he's dipped, or wedding vows he's commenced.
Father Leo Sprietsma, who left the St. Anthony's community for health reasons after 12 years of service, believes that the Catholic Church needs to rethink it's structure but had mixed feelings about leaving the church in the hands of the married priests.
"I get a little mixed personally, even though the Vatican's view on priesthood is not aligned with that," Sprietsma said. "But since I left, they seem to be doing a good job."
"Even though they're married, they can function in emergency situations, even though they're not supposed to take on a community like that."
Under Canon Law No. 290, once a Roman Catholic priest, always a priest. Canon Law No. 843 also says that they're obligated to serve if called by a community or by anyone in need.
"That wasn't in their agenda," said Keith. "They wanted a Canonical priest."
But Keith and John were all the St. Anthony's Community had.
Although the Vatican, or even the Los Angeles Diocese does not recognize St. Anthony's Community, Keith and John are sticking to their commitment the same way they stuck to the gut feeling that led them to marriage.
Keith and John are members of Corpus, a reform group in the Catholic Church that works for a renewed priesthood of married and single men and women.
"There's no shortage of priests," Nancy said, quoting one of her favorite writers Joan Chittister. "There's just a shortage of celibate priests."
The number of Catholics per priest has dramatically risen from 1976-2009. According to futurechurch.org, the number of Catholics per priest has risen from 1,517 to 3,824.
According to CITI Ministries, more than 25,000 Roman Catholic priests have been married in the United States since the 1970s and more than 110,000 worldwide. Also, for the first 1,200 years of the Church's existence, priests, bishops and 39 popes were married before the man-made rule of mandatory celibacy was passed in 1139 at the Second Lateran Council.
Worldwide, parishes are closing their doors because of the shortage in celibate priests. In some attempts to save parishes, some bishops are given leadership over multiple churches.
"They're combining parishes, or closing them," said St. Anthony's Community member Christine Milne. "That's too much for one human being."
The transition in leadership of the community hasn't come easy. In the process, the 40-or-so people that make up the St. Anthony's Community lost about a dozen members who rejected the idea of worshipping under married priests.
"We're still friends, we just have a different way of seeing things," Keith said. "They have a different view on church rules and we respect that."
Others wouldn't have it any other way.
"The attitude the church has towards women is horrible," said St. Anthony's Community member Jude Blau. "What's better than having a priest that's married?"
"This is what society now likes. They want a feeling of community, not a feeling of a mega institutional church. We want to be in the 21st century, not the 19th."
In the back room of the church, before the "Laying on of Hands" ceremony, while some members of the community arranged yellow and white flowers of Cosmo and others helped pour boxed Franzia wine into a goblet for communion, John helped Keith dress in his alb.
"I'll help you get set up," John said, placing Keith's alb on, one arm after the other.
"Now we're in business," Keith said.