Briefs
Genocide Survivor Shares Story
Rwandan Forgives Aggressors, Builds Community Center
Rwandan native Frederick Ndabaramiye was 15 years old when Hutu rebels dragged him from a bus, killed his 18 fellow passengers, cut off his hands, and left him for dead. On Friday afternoon, the genocide survivor shared his story with 70 students at City College's Fe Bland Forum.
The Rwandan genocide began with the long-standing tension between two Rwandan ethnic groups, the Hutu and the Tutsi. In 1994, the assassination of the African country's president sparked the 100-day mass killing of an estimated 800,000 people. Attacks continued in Rwanda for years, including Frederick's fate in 1998.
The Hutus who pulled him from the bus were from a paramilitary group called the Interahamwe, armed with machetes and nail-spiked bats. They demanded he kill the other passengers to save his own life, and he refused. "Kill me first," he said.
Frederick watched as the rebels slaughtered the 18 passengers before his eyes. "They killed them one by one by machete," he said.
The rebels told him they were going to give him a message. He thought they would give him a letter or something, he said, but they pinned his arms to a log and cut off his hands.
He pleaded for just two fingers, he said. The rebels ignored his wish. They left him there to die.
But Frederick, blood gushing from his arms, managed to stumble from the scene. He was discovered by two girls who, despite their fear, bandaged him and helped him to a hospital, he said. His recovery took a full year.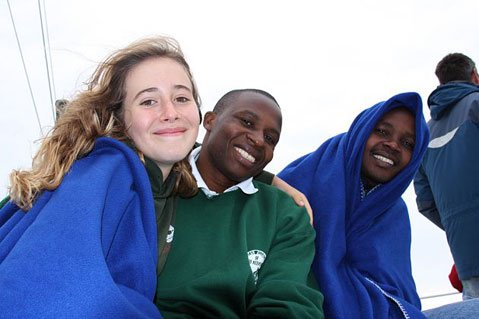 Most of Frederick's family had been killed in the genocide. It was in an orphanage that Frederick befriended a young teacher, Zachary Dusingizimana. Together, the two shed themselves of their hate, embraced forgiveness, and wanted to help other survivors do the same.
In 2005, the two founded the Ubumwe Community Center for maimed and disabled survivors. The center takes in orphans off the streets, provides wheelchairs for the crippled, offers personal counseling to coping survivors, and teaches job skills, like craft-making.
The Ubumwe Center started with helping three people a day, and now receives more than 100 people daily. The cost of living for one person per year is $85, and they are in dire need of funds, Frederick said. Also, the center is currently trying to build a pre-school.
Frederick lives and works at the Ubumwe Center in Gisenyi, Rwanda. He travels internationally to share his story. As a method of finding peace, he paints and teaches others how to paint as well.
The event was sponsored by the City College's honor society, Phi Theta Kappa, as one of the premier events for "Inspiration Month."