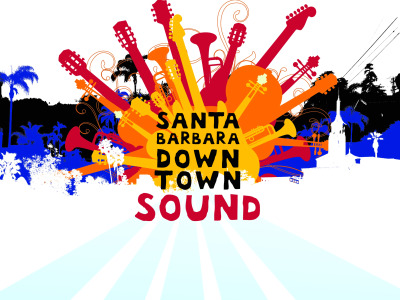 ALL GOOD THINGS MUST COME TO AN END: That's right, readers, The Independent-sponsored, New Noise-affiliated Downtown Sound competition names its winner TONIGHT. For year three, our annual battle of the bands has seen more acts—and boasted more seriously solid performances—than ever before. And after a month of hustling from all involved, only four have come away with a chance to win top honors.
This Thursday, S.B. bands Dante Elephante, Lonesome Dub, and Snakefist, and lone—and aptly named—Goletans the Goodland take to the stage at SOhO (1221 State St.) for a night of good ol' fashioned competition.
Each band will have 35 minutes to plug in, rock out, and prove their worth to a roomful of fans, friends, and hand-selected judges. And every person that shows up gets a chance to cast his or her vote for a winner. Ballots will be handed out upon entry, one per person, for fans to vote for their faves. In addition, we've got an esteemed panel of New Noise- and Indy-approved judges on board to cast their (necessarily weighted) votes. At the close of it all, we'll count the ballots, weigh in with the judges, and award one of the four the Downtown Sound crown.
Up for grabs for the winner is professional recording time at Playback Studio, $6,500 worth of gear donated by Ernie Ball, and a slot on this year's New Noise lineup, which is already laying claim to burgeoning and big-deal acts like Saint Motel, Fitz & the Tantrums, Voxhaul Broadcast, and, oh, Massive Attack and Thievery Corporation. Needless to say, tonight will be one for the record books, so show up, listen hard, and cast your vote for Santa Barbara's next big thing.
The final round of the New Noise and Independent's Downtown Sound competition is this Thursday, October 21, at SOhO at 8 p.m. The show is donation-only and is open to music fans of all ages. Visit newnoisesb.com or sohosb.com for details.
LADIES FIRST: Like bands with confusing names and even more confusing compositions? Then, boy, do we have a rock show for you. This Thursday, Canadian art rockers Women make a stop at Muddy Waters Café (508 E. Haley St.), and I can promise it will be a doozie. The Alberta-based experimentalists—who boast no actual women in their lineup—have been making their way into the indie-rock spotlight since their 2008 self-titled debut. Currently, though, the guys (collectively, brothers Matthew and Patrick Flegel, Michael Wallace, and Christopher Reimer) are touting newer wares: namely, last month's delectable sophomore effort, Public Strain (Jagjaguwar Records).
Like all good listens, Public Strain is one of those records that opens up like a fine wine. Its 11 tracks rely on a mix of sometimes-jaunty, sometimes-disjointed guitars that shine when they climax and challenge as they're getting there. Still, Strain is by no means an unapproachable, brainy experimentalist outing. Instead, Women expertly stretch the tones, colors, and structures of classic (and new-school) surf rock to its darkest, strangest limits. (Think Real Estate meets the Zombies.) If you're looking for a taste, check out lead single "Eyesore," which starts as a droney smattering of guitar twiddlings and percussion, then deconstructs into a gentle, '60s-inspired waltz of noise and harmonies.
If you still need more reason to head down, I'll advise you to Google opening act Manchild, an unsigned Calgary act that, as far as I know, doesn't contain any actual children.
Women and Manchild play Muddy Waters Café this Thursday, October 21, at 8 p.m. Call 966-9328 or visit clubmercy.com for tickets and info.