Columns
Hooked on Gaucho Water Polo
Diverse and Talented Team Is Fun to Watch
While people are always talking about Gaucho soccer, or basketball at the Thunderdome, there aren't many who have even seen a water polo game. And that is a shame because they are fun. There is nothing like the joy of watching someone swim down the pool as fast as they can, push up out of the water, and slam the ball into the net.
UCSB games are played at the campus pool, which can accommodate a few hundred people in the stands. During the big games, spectators flow out onto the pool deck. Just be careful if you end up behind the goal. You might suddenly see a ball racing toward you; remember to put your hands up.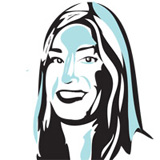 While water polo fans are a dedicated lot, the number who turn out for the games pale in comparison to the thousands that pack into Harder Stadium for a soccer game. But this will probably change. The momentum will build as more young players become involved in the sport. Also, steps have been taken toward building a new aquatics center for water polo and swimming events, which will make it more comfortable for spectators.
Right now, UCSB's water polo team is ranked number six in the NCAA (National Collegiate Athletic Association) standings, ahead of Pepperdine and Long Beach State. Cal Berkeley is in first place, USC is in second, and UCLA is in third.
In the last few weeks I've watched two UCSB games. The first, against Harvard, was an easy win for UCSB, and not very exciting. The final score was 15-6. I had just seen Social Network, however, so I managed to eavesdrop on some conversations about what Harvard students and parents thought about the depiction of their campus.
The next game I watched was much better. UCSB played fourth-ranked Stanford in a game that was both thrilling and frustrating to watch. UCSB took more shots than Stanford, but did not always score. At least three times a shot was made to the same area of the goal and easily blocked. Even though Stanford's goalie was particularly good, UCSB squandered some opportunities. Several times players hesitated when they were in front of the goal, allowing Stanford's defenders to get into position. Stanford, on the other hand, made fewer attempts, but rarely missed. The final score was 8-6. Until the bitter end I thought that maybe, just maybe, UCSB would pull it out, and score. They definitely could have done it; they came so close.
The Gauchos' water polo ranking has improved over the years. Since taking over in 2005, Head Coach Wolf Wigo has helped raise UCSB from tenth to sixth place. One way Wigo did this was by recruiting players from around the world, including Serbia, Hungary, and Australia. It might come as a surprise that water polo is particularly big in Europe: In some countries along the Mediterranean Sea, there are water polo courts set up all along the coast. Water polo players in Europe are also trained from an early age. The ball-handling skills that are crucial to the mastery of the game are second nature to them.
Wigo, who is a three-time Olympian and was a commentator during the Beijing Olympics, is a phenomenally nice guy. From talking to the mild-mannered man you would never know what a fierce competitor he is. But when you see him on the pool deck you can see the intensity with which he views water polo. Every once in a while, he throws up his hands and asks the referee that question all water polo coaches ask: Why? Referees at water polo games are notorious for calling a foul on one team for an infraction that they don't call on the other team, and for handing one the game on a silver platter.
The diverse players on Wigo's team are interesting to watch. One of my favorites is Zsomber Vincze, from Hungary. I've known him for years, but I'm still not a hundred percent positive how to pronounce his name. Vincze really puts his all into the game. It's always great to watch a skilled and passionate player.
Milos Golic, from Serbia, is another player I've kept my eyes on over the years, a great player, who scores and has a lot of enthusiasm. I remember watching him when he thought that something about the game he had just played was unfair. It was interesting; it is interesting to observe people so involved in what they are doing that their behavior is essentially candid.
While UCSB water polo might not be foremost in everyone's minds, it's a sport worth giving a try. I guarantee that you find yourself clapping and muttering under your breath as you watch players battle it out in the water.