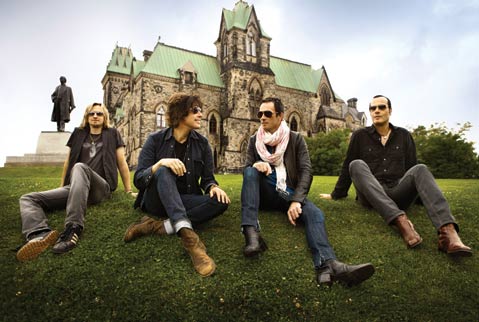 Stone Temple Pilots (STP) were among the most successful rock bands of the 1990s, releasing a string of Platinum albums and winning the Grammy for Best Hard Rock Performance in 1994. STP have also been a source of some of music's most public band drama. Singer Scott Weiland has left the group more than once in order to deal with personal issues of a much-publicized nature, yet still managed to find the time to front the super-group Velvet Revolver for several years. In the meantime, brothers Robert and Dean DeLeo and drummer Eric Kretz have stayed productive musically, forming side projects ranging from 1997's group Talk Show to the 2006 project Army of Anyone with Richard Patrick, the vocalist from Filter.
Finally, in 2008, the original lineup of Stone Temple Pilots came back together and began touring again, scoring a particularly big hit with the audience at the 2008 Voodoo Experience festival and igniting rumors that another studio album could be on the way. That record, the eponymous Stone Temple Pilots, hit stores in May 2010, peaking at number 2 on the charts and earning the group some of the best reviews of their long and illustrious career. It's a powerful record, full of painstakingly crafted, slightly retro songs that make full use of the band's extraordinary range and talent. I spoke with guitarist Dean DeLeo last week by phone from his home in Malibu.
Do you have any surprises coming in this show? Surprises. You mean like dancing monkeys wrapped in plastic? Or performing chipmunks? Maybe some musical barking dogs? No, we've been on the road with this version of STP pretty steadily since 2008 now, and we don't do anything surprising that's not in the music itself. We will have some interesting new arrangements though.
You were able to make a very good album immediately after getting the band back together. How did you do it? I believe you're only as good as those around you. I'm lucky to have spent my career working with extraordinary musicians. The secret for us is to not think about it too much. The four of us in a room seems to be all we need to write.
You have had a long run writing songs and playing music with your brother Robert. Does sibling rivalry play into that relationship? What keeps it fresh? Scott is actually the one who said this, but I agree with it, that the key thing is not to repeat what we've done before. I also have a competitive side, and my brother Robert sets the bar pretty high as far as songwriting is concerned. People assume that because I play guitar I'm the one writing all the songs, but I'm only a part of it. It's really a beautiful thing, the sibling relationship—I won't call it a rivalry—because we've learned to appreciate what we've got. Last week, we were in New Orleans eating together at K-Paul's, which is one of our favorite restaurants, and the week before that we were in Miami with our families and the nephews got a chance to hang out together. And from a musical standpoint, we are one mind.
I notice that you've parted ways with your long-time producer, Brendan O'Brien, for this one, and that you are listed as producing it yourselves. How did that come about? It's something we could have done a long time ago, because we were ready, but we went along with the label when they said "you have to use a big-name producer." It left a bad taste, though, especially for Robert, and this time, we finally did it ourselves, with a little help from Chris Lord-Alge, who mixed it for us. Sometimes it is harder to get the exact tonality you are looking for than it is to write the song. Changing guitars and tunings, using different amps and effects—it can take a while to achieve the exact sound that is in your head.
There are some references in your playing on this album to the playing of the great guitarists like Jimmy Page who came before you. Do you feel like you have become one of them? I got a call from Joe Walsh, and he said he was putting together a band together with some mutual friends, and the next thing I knew, I was onstage with Joe jamming on "Funk #49." We were playing loud, and it started sounding really good. I looked over at Joe, and he was already looking at me, and it was deep. Not exactly an out-of-body experience, but it was a moment. I thought to myself, "I've joined the club."
4·1·1
Stone Temple Pilots and special guests Black Rebel Motorcycle Club will be at the Santa Barbara Bowl on Wednesday, October 27, at 6:30 p.m. For tickets and information, call (800) 745-3000 or visit sbbowl.com.