Arts & Entertainment
Television's Glee at the Marjorie Luke Theatre
Fox Hit Gets Santa Barbara Tribute Courtesy of Show's Producer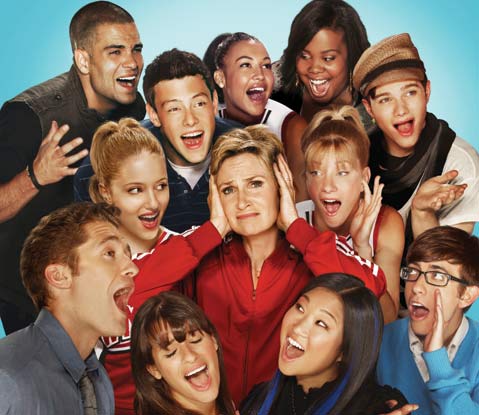 It's one of those moments that have made Glee's cheerleading coach Sue Sylvester a pop-culture phenomenon. One-on-one with Kurt, the show's outspoken, out-everything-else boy with a fantastic wardrobe and a high voice, Sue closes in for the kill. No one quite knows what's coming; the only guarantee with Sue Sylvester is that whatever it is, it will be devastating. She slips in, as she so often does, under the radar, with what at first sounds like compassion. "So you like show tunes," Sue says to Kurt, "that doesn't mean you're gay." A short pause, then she strikes — "It just means you're awful."
With this hit-and-run put-down, and a thousand others like it, Sue Sylvester (played by Jane Lynch) and the rest of the Glee pack have come careening into our living rooms bearing humor, heartache, and hit songs with an attitude that's like nothing else television has ever seen. From a small start as the critical darling of the fall 2009 season, Glee has expanded into Fox's new power­house, a teen show that appeals to adults, and a comedy with drama, music, and that most elusive of all entertainment commodities — buzz.
On Saturday, November 6, Santa Barbara will get a rare chance to commune with the people who make Glee: Co-executive producers Dante DiLoreto and Ian Brennan arrive with undisclosed members of the show's cast for an evening of clips, questions, and quips in front of a live audience at the Marjorie Luke Theatre. With Glee fever at its highest pitch, and Jane Lynch hosting Saturday Night Live, how does Santa Barbara Junior High School rate a live Saturday-night gathering with the creators, producers, and cast members of television's hottest show?
The short answer is that DiLoreto is a Santa Barbara Junior High and Santa Barbara High School (Class of 1976) alumnus. For him, the Glee at the Luke event will be a homecoming to the theater where he participated in his first shows. Along with producing partner and childhood friend actor Anthony Edwards, DiLoreto is one of the reasons why there is a Marjorie Luke Theatre where once there was just a rapidly decaying 1930s-vintage school auditorium.
Don't Stop Believing
When I spoke with DiLoreto recently from his office on the lot at 20th Century Fox Television, he was in the middle of shooting. He took a few minutes away from the action to talk about how the show came together and about what Glee's success has meant to him.
"It's been a real gift to be involved with this show from the beginning," he said, "because I remember the experience of listening to Ryan [Murphy] pitch the show to the [Fox] network, and I remember being on the set for the pilot, and, you know, we felt like we had something special, but we also knew that nothing like this had really been done before, so you don't know whether it will be a success or not until people watch."
The backstage drama of the program's rise to popularity began where many such tales do, in the high-stakes world of network scheduling. "We had been planning to air the show in the spring with the lead-in from American Idol," DiLoreto said, explaining Glee's beginnings, "but then the network gave us the go-ahead to schedule the show for the fall. Fox aired the pilot in May, and suddenly we had a nine-o'clock slot on Tuesdays in the fall lineup, and we did not know how we would do without the big lead-in. And then all the reviews came out, and they were like, 'It's our new favorite show, but of course it will be cancelled.' But that's not what happened."
Buoyed by Internet buzz and bolstered by some outstanding first-season guest performances from Broadway legends like Kristin Chenoweth and Idina Menzel, sometime over the winter of 2010, Glee went viral.
"We thought we would have to fight to remind people to watch again when the show came back on," said DiLoreto. "What we didn't know is that the social networking aspect of this property would be so huge. We actually gained audience while we were off-air because our fans were creating stuff about the show and connecting with it through their social media."
When Glee returned on April 13, 2010, with its 14th episode, ratings soared. An experienced television producer, DiLoreto was quick to qualify that triumph by noting that the spring numbers were "a unique gift that had to do with following American Idol." Regardless of how it happened, the results were more than enough to get the season's most talked-about new program renewed by Fox.
Mama Luke's Hollywood Mob
DiLoreto is only one of several former Santa Barbara Junior High students from the 1970s who have gone on to great things in entertainment, particularly television. ER's Edwards was the theater's principal donor when it was completely renovated as a joint project of the Santa Barbara School Districts and the nonprofit Santa Barbara Community Youth Performing Arts Center, Inc. back in 2003. As such, Edwards earned the right to name the facility after the drama teacher who opened the door for an entire generation of talented young people, first at Santa Barbara Junior High, and later at San Marcos High.
Luke, who died in 2007, was around to see the completion of this extraordinary project, which took a ruined Spanish Colonial Revival school auditorium built with Works Progress Administration money in 1933 and catapulted it into the 21st century with state-of-the-art lighting, sound, and stage technology and a loving attention to detail in the recreation of its original ornamentation. At the new facility's opening dedication in 2004, Luke climbed below the stage and signed "Mama Luke was here" on a pipe alongside the signatures of many of her former students.
One of Mama Luke's boys was Brad Hall, the actor and television producer who lives part-time in Santa Barbara with his wife, actress Julia Louis-Dreyfus, and their children. Hall will moderate the program on Saturday night, and he remains close to DiLoreto, who appeared with him onstage when they were both in the 7th grade. When I spoke to Hall about Marjorie Luke, he described her — appropriately enough — in Glee terms. "Marjorie Luke was funny and huge," he said, "or at least I remember her that way. Physically, she was more like Jane Lynch than Matthew Morrison [who plays Glee teacher Will Schuester], but she definitely nurtured the students who worked with her."
DiLoreto credits Luke with introducing him to musical theater. "As a 7th grader," he said, "I remember that the theater itself seemed enormous. We did The Wizard of Oz, and, under the supervision of Marjorie Luke, we created the whole thing ourselves. We built the sets, sewed the costumes, and ran the sound and the lights. All of her productions were these elaborate projects, and she just had a gift for teams and for building things with kids."
When Edwards decided that the renovated theater should be named for his former teacher, he spoke for a generation of artists who had gone from being wide-eyed youngsters to Hollywood insiders on the basis of their own talent and the remarkable foundation laid by their public-education arts experience in the Santa Barbara school system.
Hall recalls the Santa Barbara theater scene of the late '60s and early '70s as chaotic but exciting, and centered on youth: "At the time we were doing these school shows, there was no real professional theater in Santa Barbara. Ensemble Theatre Company had not started yet, and when Marjorie Luke got here in the 1960s, she was working with a blank slate. My first performance was as one of the orphans in Oliver! I think [Santa Barbara theater director and arts leader] Rod Lathim was also in that show, and Eric Stoltz. When I think about it, I can still see each of the characters in their costumes from that."
Like Hall, DiLoreto recognizes the value of what his public education in Santa Barbara allowed him to accomplish: "I realize now how much it helped me with what I do today, and I almost feel that I took it for granted, that incredible foundation that I got here for my career. That's why I think it is so important going forward that kids continue to have these opportunities in school. That's the motivation for all of us alumni who have gotten involved with the Marjorie Luke Theatre."
As in Glee, the stage and practice rooms of Santa Barbara Junior High (SBJHS) in the 1970s became a home for outsiders, and a place of refuge from the divisions and competitions that raged outside its doors like so many flying Slushee drinks. Hall described Luke's attitude and its effect on her students in terms of tolerance for difference, saying of Luke that "she was a lanky Mormon lady, and she obviously really got off on the fact that, at that time, SBJHS was so diverse. Santa Barbara had a vibrant African-American community in the '70s, and black pop music seemed to be, if possible, even bigger culturally then than it is now. And so, at a time when this was where the energy was coming from, Marjorie Luke was wildly inclusive. She used everybody that came her way."
Like Will Schuester's fictional New Directions group in Glee, the theater at Santa Barbara Junior High was a true melting pot, and a "place for us" in which theater geeks found others who shared their dreams and concerns. "Back then, the kids who really loved doing theater all did musical comedy," Hall said. "That's why it's so appropriate that Glee should be the occasion for this event, because the show brings all that great old Broadway musical stuff into the present."
On the subject of the sense of community he found in the theater, Hall waxed eloquent, saying, "For the people who are going to take this on as a career, the urge to perform becomes a need rather quickly, even at that age. There's this passion that you feel for it that can only be satisfied with a role in a show. The theater was the place where I felt my first crush, and it's where I got my first kiss." And these performances were not only pleasing and consequential for the students directly involved — they were also popular. "It seemed like all of our shows sold out," Hall remembered, "and there are people who I first met in junior high that I continue to work with today."
Why Glee? Why Now?
Given the show's hyperactive intensity and occasional forays into mind-bending surrealism (anyone fancy a trip to Season Two, Episode Two's psychedelic dentist's office?), it's still a source of considerable speculation in the television business and elsewhere how it happened that something so determinedly offbeat caught on so hard.
DiLoreto, for his part, is convinced that Glee is ahead of its time. "I believe that we are catching up with this show to where the rest of the culture already is," he said. "The world is a comedy with music, and there needed to be a television comedy with music to address that fact."
Glee has already changed the turbulent landscape of the music industry. With its now-routine finishes in the Billboard charts, the Glee cast has become the world's most successful cover band, capable of turning a 29-year-old modern rock ballad like Journey's 1981 hit "Don't Stop Believin'" into the most downloaded pre-21st-century song in the history of iTunes.
As important as Glee has proven in the music industry's battle for back-catalog viability in the digital age, it may be even more crucial in the ongoing war between rival entertainment superpowers Fox and Disney. Despite the continued success of Disney's kiddie-pop superstars Miley Cyrus and the Jonas Brothers, Fox has used the one-two punch of Glee and American Idol to gain a critical advantage in acquiring the crucial "adults 18-49" demographic. And Glee's risqué plotlines and taste for material more mature than the candy confections featured in Disney's High School Musical franchise promise to consolidate this edge with older viewers.
Perhaps the most powerful aspect of keeping the adults involved with a show that teens already love is that doing so allows Fox to reinvent for a new century something that industry insiders feared had gone the way of The Mary Tyler Moore Show — family must-see TV. Hall spoke for many of the show's fans when he said, "It's a great show for watching together. We watch it as a family."
With its unpredictable mash-up of show tunes and pop, Glee is educating its young audience in the ways of the Broadway musical even as it feeds their insatiable demand for American Idol-worthy (as in "relatively familiar") songs to sing. The current explosion of karaoke-like singing contests and YouTube cover videos coincides with an equally powerful drift on Broadway and elsewhere away from the aging conventions of the well-made, post-Oklahoma! musical.
While the wild and deep roots of Glee's aesthetic may be in the teen angst and superior pop songcraft of Spring Awakening — the Off-Broadway hit where both Lea Michele (who plays Rachel Berry) and sometime Glee cast member Jonathan Groff (Jesse St. James) first got noticed — its branches, leaves, and fruit are in the show's millions of fans and their endless output of tweets, texts, Halloween costumes, karaoke performances, dance routines, and amateur videos all relating to their favorite show. Glee is for today's teenagers what the piano bar was for people who loved show tunes — a true "place for us," a "somewhere" that, like the dream expressed in Stephen Sondheim's lyric for the song of that name in West Side Story, will offer "a new way of living" and "a way of forgiving."
For Hall, Glee demonstrates the power of creativity in an industry that's better known for following than for leading the way. He said, "I have spent a lot of time pitching shows, and when something of this high quality goes through that is also this unusual, it's good for everyone because it raises the bar."
For DiLoreto, a Santa Barbara kid born and raised, the future is bright, but not so much so that he forgets where he came from. When I asked him what it felt like to have the hottest show on television, he replied simply, saying, "I can't be the judge of that, but I am very glad that people are watching."
Come Saturday night, the Marjorie Luke Theatre will receive what may be the former drama teacher's most fitting tribute yet, when one of her students returns to the place where his theater career began, bringing with him not only a hit show, but an audience of millions who now love musicals.
4•1•1
Glee at the Luke takes place at the Marjorie Luke Theatre on Saturday, November 6, at 8 p.m. For tickets and information, call 963-0761 or visit lobero.com.